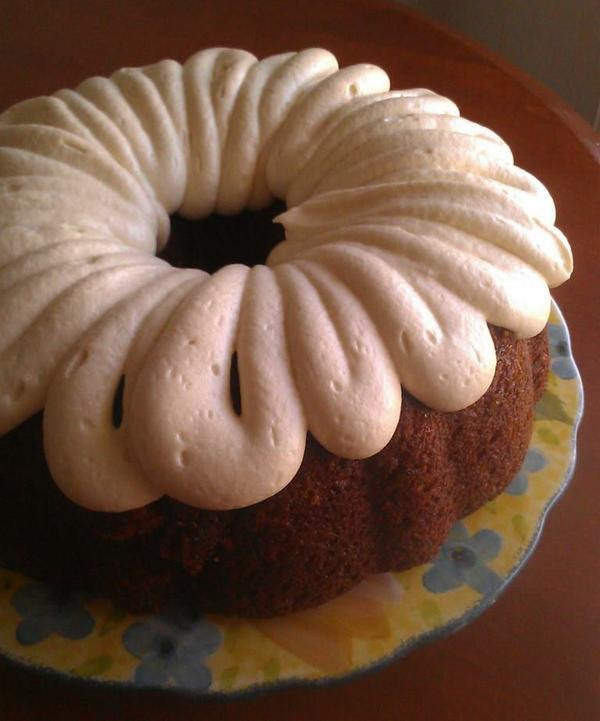 Best Carrot Bundt Cake Recipe

Carrot Cake and I have this love hate relationship. I love a good carrot cake, I hate that I can't find it. I used to actually travel 20 miles out of my way to buy Carrot Cake at this bakery in Loma Linda (so good, and I never did figure out what the crunchy bits on the side are). Sadly, they no longer make it, so was time to make my own.  Luckily I found the BEST Carrot Bundt Cake Recipe.
This one is pretty darn good, and it travels well (being a bundt), and the Cream Cheese Frosting on top is yummy enough to just sit down and eat with a spoon (fair warning, if you do choose to eat an entire bowl of Cream Cheese frosting, your pants might get a little tight). Don't fear the pineapple, it makes the carrot cake sweet and juicy (yes, I know, theoretically, carrots are sweet, but no one can legitimately claim they are juicy… I have no idea where the carrot juice comes from).
One of the absolutely fabulous things about this recipe, is that the cake itself can be made without a mixer!!!! Yup, couple bowls and a spoon or spatula are all you need (you will need a mixer, or strong arms, for the frosting).
(BTW… you can sort of claim this is health food… after all, there is a full-ish serving of carrots in every slice! But that might be a bit like the Los Angeles School Board trying to convince everyone that Catsup is a vegetable, since it contains tomatoes).
Best Carrot Bundt Cake Recipe (with Pineapple)
This Carrot Cake is loaded with pineapple and raisins, making it sweet and moist. The Cream Cheese frosting on top is fluffy and delightful!
Ingredients
Carrot Bundt Cake:

1 ¾ cup Canola Oil (or Vegetable oil)
4 Eggs
1 cup granulated Sugar
1 generous cup Brown Sugar
2 tsp. Vanilla Extract
1 ¼ cup Crushed Pineapple (from a can, drained... yes, you can crush your own pineapple)
2 ½ cups Shredded Carrots (this is where a good food processor comes in...zip and done)
½ cup Golden Raisins (yes, you can use regular raisins, but it's harder for the kids to see and pick out the gold ones.)
¼ cup toasted walnuts (no, you don't have to toast them, but they taste better that way... and if you really don't want them, leave them out)
3 ½ cups Unbleached Flour (you can use all purpose)
2 tsp Baking Powder
1 tsp Baking Soda
2 tsp Cinnamon
Cream Cheese Frosting:

8 oz. Cream Cheese (room Temperature)
½ cup Butter (room Temperature)
2 + cups Powdered Sugar
2 tsp Vanilla Extract
Instructions
Preheat the oven to 350 degrees Fahrenheit
Generously grease a bundt cake pan (the big one) .... That spray stuff works well.
Cake:

I usually start by draining the pineapple... just dump it into a strainer over a bowl, and let it stand a bit.
Grate the Carrots and set them aside (careful of your knuckles).
In a large bowl, combine the eggs, and sugar... whisk to combine.
Stir in the oil and Vanilla extract... then stir in the pineapple.
Set this bowl aside for a moment.
In a medium bowl, combine the flour, baking powder, baking soda and cinnamon. Mix it all up.
Now... dump the wet stuff (pineapple egg mixture) into the dry stuff (flour). Stir until almost completely combined (there can still be dry bits).
Add the Carrots, Raisins and nuts, and stir until blended (don't go nuts, you just want everything wet and mixed).
Pour the whole thing into the prepared bundt pan, and put it in the oven.
Bake 45-55 minutes (check with a toothpick, if it comes out with goo, go longer, you want crumb)
Bing
Set cake pan on a cooling rack for 15-20 minutes.
Moment of truth.... Grasp the sides of the pan, count to three.... Flip (BAM) onto the rack.
The cake should come out... if not, let it sit a few minutes longer and try again. If it breaks or part gets stuck in the pan, don't panic! You can hide it with frosting.
Let the cake cool completely before frosting.
Make the Frosting:

Get out your mixer. Put the Cream cheese and butter into the bowl, and beat (with whisk attachment) until sort of smoothed out. Scrape.... And slowly (with mixer on low) add the powdered sugar a bit at a time. Add Vanilla. Add more powdered sugar. When it's all in, scrape the sides, then turn the mixer on high. Let the whole thing beat for a few minutes. Stop to scrape the sides occasionally.
Decorate:

I decided to go a bit fancy... but you can spread the frosting on the cake with a knife. If you want to pipe it, load the piping bag with a big round tip, fill it up, and zig zag the frosting in tight zigs across the cake.
Enjoy
https://angrybakery.com/carrot-bundt-cake-the-kind-with-pineapple/
Piping Frosting on the Bundt Cake is Easy!
The Ateco 3 Piece Piping Set makes putting frosting onto Bundt Cakes or Cupcakes super easy. The tips are large, so you don't have to worry about "little" details. The bag washes well… and hangs to dry..
Read my complete review here—> Ateco Piping Kit
Ateco Pastry Decorating Tip, Set of 3
&
Step By Step Photos… Carrot Bundt Cake
All ingredients into the Bowl
stir until thoroughly mixed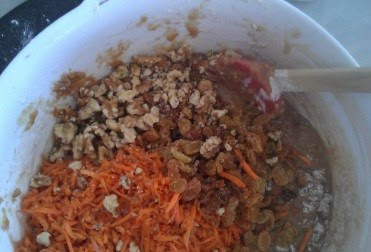 Dump into a WELL GREASED Bundt Pan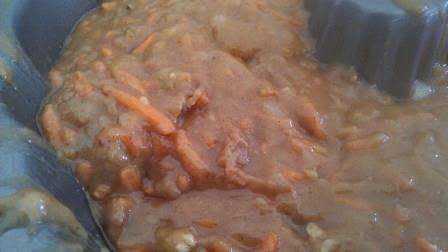 Bake until a toothpick inserted into the middle comes out clean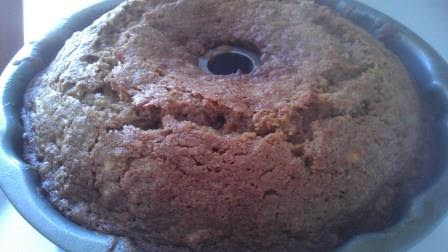 Let Cool… then Remove From Pan
Cool completely before attempting to put the Frosting on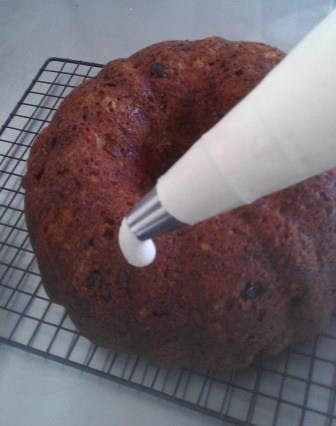 Frosting with A Zig Zag Pattern looks kind of Neat
but you can spread it on any old way
Carrot Bundt Cake with Cream Cheese Frosting