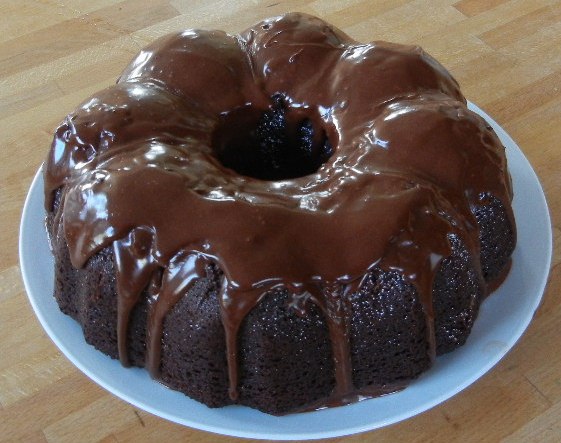 Chocolate Bundt Cake Scratch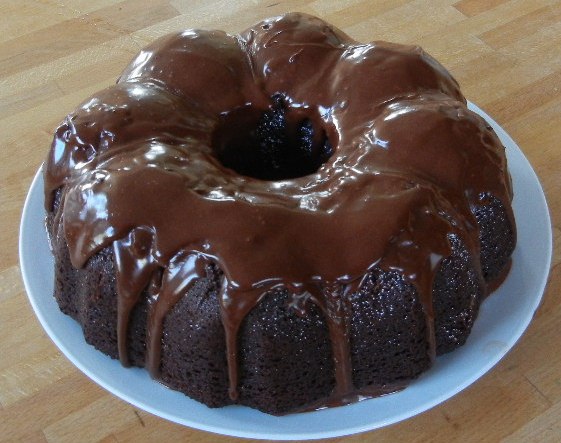 The Potluck Season is upon us. Whether you celebrate Christmas,  Hanukkah, Diwali, Kwanza, or the Lunar New Year… You are sharing food. This delicious Chocolate Bundt Cake Scratch  recipe is a good one to keep handy. You can dress it up with icing, or keep it simple with powdered sugar….Serve it warm with ice cream, and it's a party!
It travels well (I've even taken this cake to the BEACH), and tastes excellent.
This dense Bundt cake is loaded with Chocolate… well….loaded might be an understatement. You are using Chocolate Syrup as well as Melted Semi Sweet Chocolate pieces… you can then add more chocolate chips… just for fun.
Bake it low and slow…. I sometimes make an extra, since it keeps well in the freezer. Just thaw it out, and you are ready with dessert!
Chocolate Bundt Cake Scratch 
Rich and dense with incredible Chocolate Flavor. This is the cake my daughter requests EVERY time!
Ingredients
6 oz. Semi Sweet Chocolate
1 cup Chocolate Syrup
2 tsp. Vanilla Extract
1 cup Butter
1 1/2 cup Granulated Sugar
4 large Eggs
1 cup Half and Half or 1/2 cup Milk and 1/2 cup Cream
2 1/2 cups Flour
1/2 tsp. Baking Soda
Chocolate Icing:

2 cups Powdered Sugar
1/2 cup Unsweetened Chocolate Powder
3 - 4 Tbl. Milk (or more)
Instructions
Cake:

Pre-Heat Oven to 300 degrees F
Give that Bundt Pan an extra spritz of non-stick stuff....
Melt the chocolate in the microwave or over a double boiler.
Once it's melted, add the chocolate syrup and vanilla, stir well and set aside.
Put the butter in the mixer with the sugar, and beat until light and fluffy... around 4 or 5 minutes.
Beat in the eggs, one at a time, scrape down sides after each one.
Combine flour and baking soda in a measuring cup
Put milk and cream (or half and half) in another
Alternate adding flour mixture and milk mixture to the butter/egg mixture.... starting and ending with flour.
Go slow doing this, you don't want to end up wearing your ingredients.
Add the chocolate mixture... beat until completely combined. Scrape sides and bottom to get up any white streaks.
Beat some more.
Pour batter into prepared pan
Bake 1 hour 20 min
Insert a toothpick, it should come out clean.
Let cool in pan for 15 minutes, then invert on a cooling rack (you might want to double check by running a knife around that inside post in the pan)
Cool completely
Dust with powdered sugar or cover with an icing.
Chocolate Icing:

Combine all ingredients in a bowl and mix well with a whisk. If too thick, add another tablespoon of milk. If too thin, add more powdered sugar.
It will feel like thickish Elmers Glue when it's right.
Pour over cake.
EAT!!
Notes
Be sure to prepare the Bundt Pan with loads of spray stuff... this cake likes to stick... so don't let it get the best of you. (If you have a spring form pan that looks like a Bundt Pan, you may have the upper hand).
https://angrybakery.com/chocolate-bundt-cake/
You can Freeze this Chocolate Bundt Cake!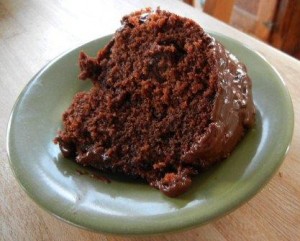 Go ahead and make this cake and freeze it! Your family will be surprised and delighted when you pull it out on a Tuesday for a surprise dessert (also good for when that kids says…"Did I tell you I need to bring a Cake to Scouts?")
Bake the Cake as usual… DO NOT top with icing.
When the cake has completely cooled. Wrap it in plastic wrap, then seal it in aluminum foil.
DON'T FORGET TO LABEL IT!!
It will keep in your freezer for 3 months.
Let it thaw on the counter… wrapped.
Unwrap and top with icing or powdered sugar.
Note- you can freeze it with icing… it's just that the icing tends to get messy.
Cute Dessert Plates for Your Cake
I love using fun colored cake plates!
Cake Boss Serveware 4-Piece Porcelain Dessert Plate Set, Mini Cakes Pattern, Print
Certified International Corp Tuscany Salad/Dessert Plates, 9
Cake Boss Serveware 4-Piece Porcelain Dessert Plate Set,
&