Strawberry Rhubarb Topped Shortbread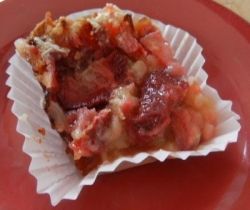 I really, really, really like Rhubarb, so, when I saw this recipe for Strawberry Rhubarb Shortbread, I thought I'd give it a try.
This is one ugly dessert… Seriously, messy looking.
I've tried often to pretty it up, but it doesn't work. It's kind of spotty looking, and gets gooey when you cut it.
BUT…appearances can be deceiving.
OH MY GOODNESS… one taste and you are hooked. My daughter was super skeptical… Rhubarb? But then she tried it. And ate and ate and ate.
Now, she eats most of it about 2 minutes after I pull it from the oven, straight out of the pan, barely waiting for it to cool.
It's that good.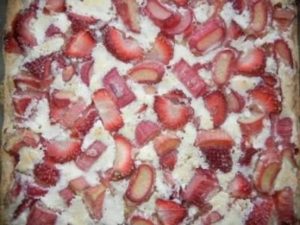 I suggest serving the Strawberry Rhubarb Shortbread (well, the bit that you didn't eat straight out of the pan) in cupcake liners. It helps the squares look neater, and keeps your hands from getting too sticky. (I realize that you are putting squares into rounds… don't panic, it will work)
You can make these with JUST RHUBARB. Leave out the strawberries, and throw in 2 1/2 cups of sliced Rhubarb instead.
For those of you who have never worked with Rhubarb…
Rhubarb looks like red celery. The best Rhubarb that is bright red and firm… not pale or flabby.
Yikes! don't eat it raw… it's SOUR. And DO NOT EAT THE LEAVES… they will make you sick. Stick with the stalk
Rhubarb is often called "pie plant" in the U.S. because it's so closely identified with strawberry-rhubarb pie.
I usually cut it into 1/3 inch slices when I prepare it for this Shortbread Recipe.
Strawberry Rhubarb Shortbread Recipe
Serves enough for you and a friend…. (8 by 8 inch pan)
Prep Time: 10 to 15 min?
Total Time: 1 hour
Ingredients
CRUST
1/2 cup (1 stick) BUTTER… room temp
5 TBL powdered Sugar
1 cup Unbleached Flour
TOPPING
2 Eggs
1/4 cup Unbleached Flour
1 1/2 cup Sugar
2 cups sliced Rhubarb
1 cup sliced Strawberries
Instructions
Preheat oven to 350 degrees F
Spray non-stick stuff (or otherwise grease- my Oma would have used the inside of a butter wrapper) an 8 x 8 pan
For shortbread crust-
Put the butter, flour, and sugar in a food processor… pulse and whirl until the mixture looks like a powder that squishes together when you pinch it.
Press the dough into the 8 x 8 inch pan
Bake for 15 to 17 minutes… brown at edges
While the crust is baking, prepare the topping
For the topping-
Put all the topping ingredients in a medium bowl. It will look like a gluey mess… DON'T Panic!! You are doing it right.
When the crust comes out of the oven, spread the topping over it, and slide the pan back in the oven. Bake until golden and set, around 40 to 45 minutes.
Cool in pan
Cut to squares
I serve this in cupcake papers… less sticky
Store in the fridge… if there's any left…