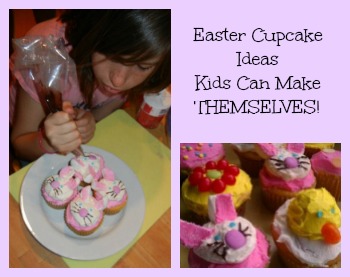 Easter Cupcake Ideas Kids Can Make THEMSELVES!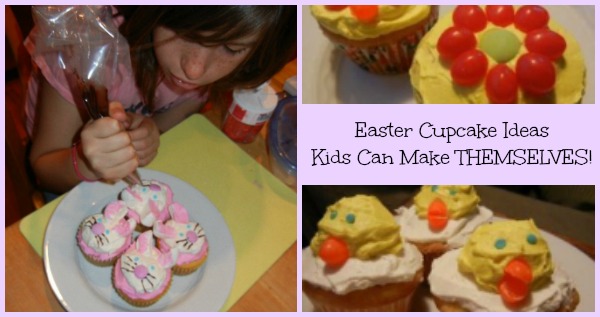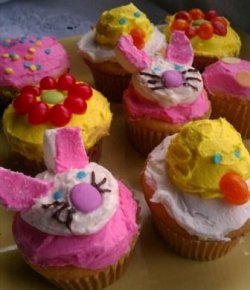 My daughter and I love to play in the kitchen together, and trying out these Easter Cupcake ideas kids can make was a lot of fun (and according to the 9 year old…a lot easier than you'd think). Yes, your kid can make cupcakes worthy of an Easter Celebration.
I've included instructions for these…and loads of other Easter Cupcakes, as well as supply lists for some of the stuff you need. Everything you need to have a fun time playing with food
So grab a kid or two, cover up with an apron… and head into the kitchen to whip up some adorable Cupcakes for Easter.
Easter Cupcakes Ideas Kids Can Make!
Easter Bunny Cupcakes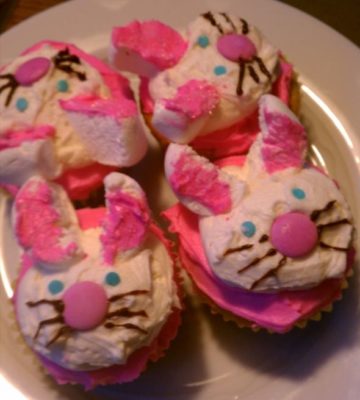 Bunny Cupcakes are a snap to make…You just need-
-cupcakes
-colored frosting (pink or yellow)
-white frosting
-large marshmallows
-candy or decors for the nose and eyes
-dark icing for the whiskers
Spread a colored frosting on the cupcakes
Mound a round lump of white frosting in the middle.
Cut the Marshmallow into 1/4ths, spread a bit of icing on the pieces for color,
Stick the Marshmallow ears into the top of the frosting
Add Eyes and a Nose
Pipe on whiskers
How to Make Bunny Cupcakes
Pillsbury Classic White Frosting – 16 oz – 2 pk
Wilton Gel Food Color Set, Primary
Kraft Jet-Puffed Original Marshmallows, 10 oz Bag (Pack of 4)
Duckling Cupcakes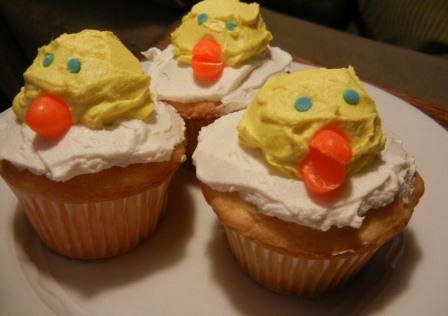 Making Duckling Cupcakes is super simple
all you need is…
-cupcakes
-white frosting
-yellow frosting
-candy for eyes
-orange jelly beans
Frost the cupcakes with white frosting
Add a round blob or yellow frosting
Cut a jellybean in half horizontally…stick it in the blob as a beak
Put eyes in.
How to Make Duckling Cupcakes
Pillsbury Classic White Frosting – 16 oz – 2 pk
Wilton Gel Food Color Set, Primary
Jelly Belly
Wilton 710-0018 Sprinkle Set Food Decorative, Pastel Blue
Flower Cupcakes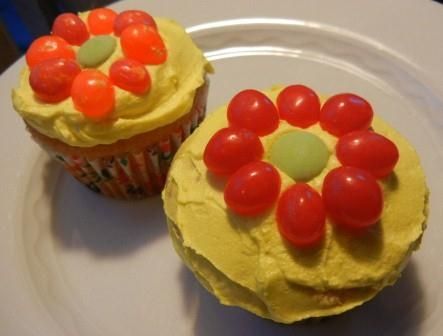 Kids can make these pretty cupcakes with only a minimum of direction. Adults should be able to knock these out easily too….
You need-
cupcakes
frosting
jellybeans
maybe m & m's
Frost the cupcakes
stick an M&M or jellybean in the center
Surround with a circle of jellybeans
ta da!
 How to Make Flower Cupcakes
Brach's Jelly Beans, 54 Ounce Bag
M&M'S Milk Chocolate Candy Party Size 42-Ounce Bag
Wilton Pink Petal Baking Cups, 24 Count
Egg Shaped Cupcakes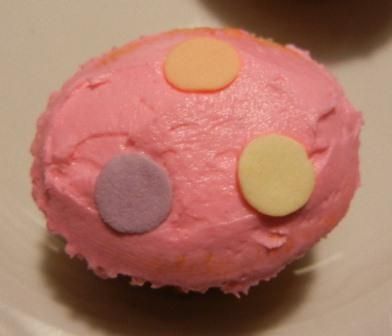 Egg Cupcakes super simple.
Sort of squeeze a cupcake so that it takes on an oval shape….spread on frosting (any color you like) and add sprinkles, large or small.
Done.
Sprinkles, Lay-ons and Other Cupcake Toppers
Wilton Jumbo Confetti Sprinkles
Easter Cupcake Kits
The easiest Easter Cupcakes of all are made with Easter Cupcake kits. Just bake the cupcake in the decorative liner, and add an adorable pick.
Meri Meri 45-2570 Easter Cupcake Kit, Set of 24 Cupcake Cases with 24 Easter Toppers
Easter Cupcake Kit
Peter Rabbit Easter Cupcake Kit
Meri Meri Cupcake Kits, Easter – Hop To It
Easter Cupcake Decorating Kit