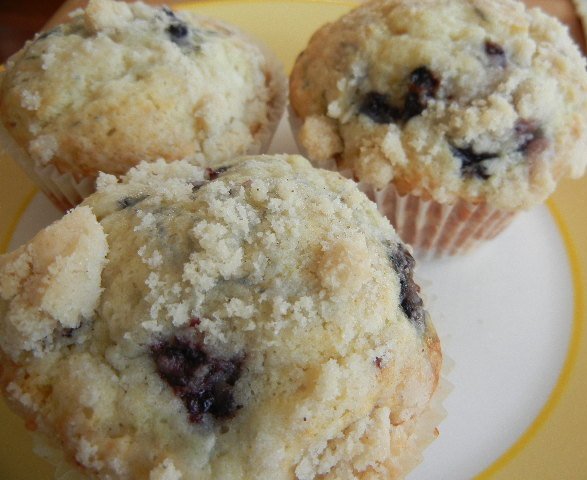 Blackberry Sour Cream Muffins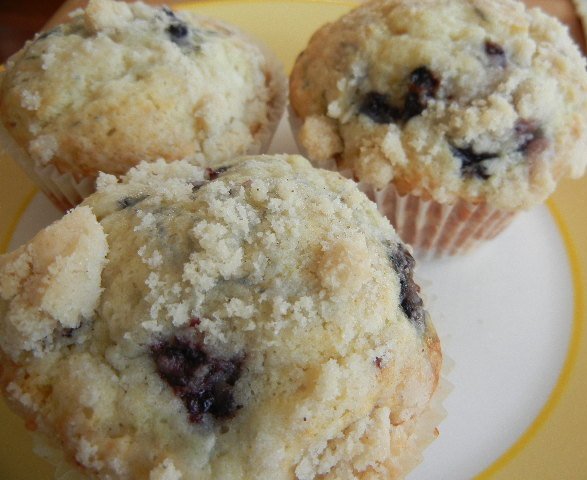 Blackberry Sour Cream Muffins are my reward for patience. You see, a few years ago I made a quick drug store run for something, and there in front of the store… among the odds and ends- discounted hair color, sad looking tomato plants, chia pets and boxes of odd Vitamins (half off) was a blackberry plant. Well… to call it a plant might be exaggerating just a bit. It was a bag of soil with 3 sticks coming out of it, and a label that read… Blackberry.
My maternal instincts kicked into gear (or was it my Charlie Brown instincts??). I bought the thing and took it home.
The whole family was very excited… my youngest was certain that in no time at all we would be harvesting vast quantities of Blackberries! There would be pies and jam, cobblers and fruit salads. Plus, the entrepreneurial side of her kicked in… she could sell some on the corner of our road.
So we planted it.
And we waited and watched… and it looked….
dead.
However, the next year, green stuff started coming out. And it grew. 
It's right outside my kitchen window, so I see it every day. Growing, flowering, doing its blackberry bush thing (or not). Maybe it doesn't like it's position because, sometimes it grabs me as I'm taking out trash. Pleading for help? All I know is-
The sum total of the harvest this year….?
2
not 2 bushels
not 2 baskets
not 2 cups
2 Blackberries
huh.
My youngest picked and ate them… she said they were delicious. (As there were only 2, I didn't think a lecture on the importance of sharing was appropriate.)
But I love blackberries, and was seriously in the mood for blackberries.
Luckily, I had some frozen ones in the freezer, and they were just fine for Blackberry Sour Cream Muffins.
So.. oven on, butter melted, Blackberries waiting, dry ingredients mixed, and I reach for the yogurt (yes, I make great muffins with yogurt).
But no yogurt. The Berry thief had eaten the yogurt.
Sigh
Undaunted, I dug into the fridge a bit, and came up with sour cream. Hmmm. You can substitute yogurt for sour cream, why not the other way around? So I did…
The result? Blackberry and Sour Cream Muffins…. light, flavorful, loaded with Blackberries. An excellent addition to the Sunday breakfast table.
I had 2… but you better not be counting!!!
Enjoy
Blackberry Sour Cream Muffins Recipe
I put Streusel (I'm such a streusel junkie) on top of these muffins before baking. To save time (and since I bake kind of a lot) I keep pre-mixed Streusel in the fridge (some people might consider that to be odd behavior... but it works for me.... Streusel at a moment's notice!) I've included the recipe so you can join me in my madness. Of course, you can always sprinkle the muffins with decorator sugar or turbinado sugar before baking.....totally up to you. You can even make them... naked (tee hee). Just make them.. you'll love them. Promise
Ingredients
MUFFIN BATTER:

2 1/4 cup Unbleached Flour
2 tsp Baking Powder
1 tsp Baking Soda
1 cup Granulated Sugar
1/2 cup Butter-melted/cooled
2 Eggs
2/3 cup Sour Cream
1/3 cup Heavy Cream
1 1/2 cup Blackberries- fresh or frozen
STREUSEL- optional:

1/4 cup Butter-cold
1/2 cup Granulated Sugar
1 cup Flour
Instructions
For the Muffin Batter:

Preheat the oven to 350 degrees Fahrenheit
Line the Muffin Pans with about 18 liners. I like to give them an insurance spritz with the non-stick spray stuff... but you don't have to
Melt the butter, and set aside to cool (to kill all my birds at once, I melt the butter in a large measuring cup, this way when it cools, I can add other ingredients without messing up another bowl).
In a medium Mixing bowl, add the flour, baking powder and baking soda. Whisk them together... you don't have to go nuts... you just want them mixed up a bit.
Is your butter cooled off a bit? Go put the coffee on, or read a bit of the paper....
Ok ... now
Add the Eggs, Sugar, Sour Cream and Heavy Cream (yes, you can substitute milk...) to the butter. Mix it all up until it looks smooth-ish. Face it, it's going to look a little yucky... just stir a bit, and it will get better.
Now add the Egg/Butter/Sour Cream mess to the Flour mix. Use a spatula to sort of fold it together.
Fold- Scrape down the side of the bowl, and up through the middle... turn bowl about 1/4 of the way around.... repeat the spatula thing.
You want the mix to just be coming together, but not totally mixed... some dry bits are ok.
Over-mixing = tough muffins. (and unless you are in a food fight? yuck)
Now throw in the Blackberries.... frozen is ok....massive chunks of ice stuck to them is not ok. Fresh is best.
Fold a little more to mix them around..... and...... STOP.
Scoop the muffin batter into the lined baking pans. I have been using an ice cream scoop with a thumb release for this. It's quick, efficient, reduces the amount of muffin batter that I end up wearing, AND it makes me look professional... like those cooking shows. (you can use a spoon and your thumb if you want)
You want to fill the muffin liners about 2/3 of the way.
STREUSEL:

Put the Flour and the Sugar in a mixing bowl. Cut or grate the butter into the bowl, and work it between your fingertips. Rubbing. Until the butter gets incorporated, and the whole thing looks like thick sand. You DON"T want to over do it. You aren't making dough. You are making sand.
Sprinkle the Streusel over the muffin batter.
Or Sprinkle the muffin batter with sugar.
Or go naked (tee hee)
Bake at 350 for 25 minutes (tops will be browning), and a toothpick inserted will come out clean.
Cool in pan on a rack for 5 minutes... pull our of pan and let cool on rack until you can't stand it anymore and you have to eat them.
https://angrybakery.com/blackberry-sour-cream-muffins/
Beautiful Blackberry Platters
Perfect for serving Blackberry Sour Cream Muffins
Gien Oiseau Bleu Fruits Cake Platter, Raspberries and Blackberries
Red Vanilla Blackberry Serving Trays, Set of 2
Villeroy & Boch Cottage 11-3/4-Inch Oval Platter
Portmeirion Pomona Platter Medium Blackberry
&
&
There are Blackberries in Every Bite
That's What Makes Blackberry Sour Cream Muffins soooo Good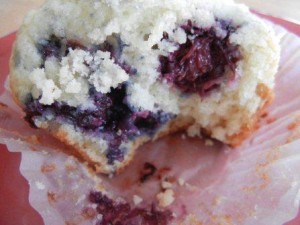 Try Growing Your Own Blackberries
Just watch out for pint-sized Berry Thieves!
1 Natchez Blackberry Plant – 2 year Organic Grown – Ready for Spring Planting
2 Apache Blackberry Plants – 2 year Organic Grown – Ready for Spring Planting
9GreenBox – Natchez Thornless Blackberry Fruit Plant Gift