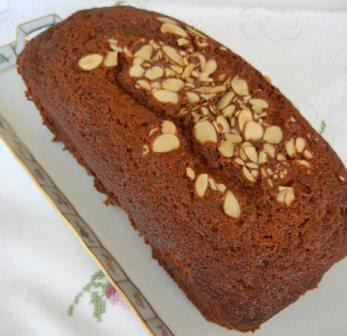 Easy Honey Cake Recipe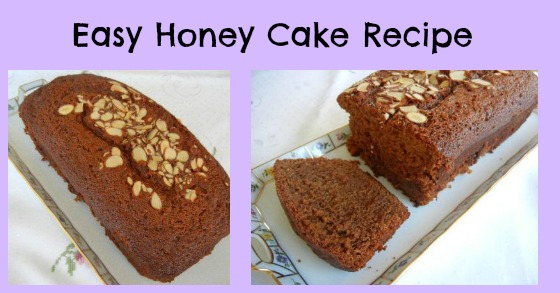 The weather turned here, and it's starting to get cooler (I think the summer here in the Bay Area lasts about 97 minutes…). Started thinking about Fall flavors, about food that warms and is comforting. I baked this easy Honey Cake recipe today. It made the house smell like heaven. And even though it is delicious today, it will be even better tomorrow…. I can't wait… (already cut myself a slice…)
This recipe was the first one I ever really researched, tested, and re-tested. You see, I had only tasted Honey Cake one time. A girl in one of my college classes brought a cake to share… I got a small piece, and fell in love with the flavors.
But she didn't have the recipe, it was her Grandmother's secret.
So, I dug through cook books (this is pre-internet folks), baking and discarding one Honey Cake after another. Too sweet, not sweet enough, not rich enough or not enough depth to the flavor.
Then one day I'm reading the LA Times… and they had an article about Honey Cakes for Rosh Hashanah. 3 more recipes to try… and then I found the one.
This easy Honey Cake Recipe is loaded with flavor from generous amounts off Honey, Cinnamon, Cloves and Coffee. It's nice enough to serve at a dinner party, and it's casual enough to eat as an afternoon pick-me-up. And a friend of mine loves it for Breakfast.
Easy to make, delicious to eat… and a lovely Hostess Gift during the Holidays.
Enjoy
Easy Honey Cake Recipe
This recipe makes 2 Loaf Shaped Honey Cakes, or 4 small loaves. Don't be alarmed at the long list of ingredients, it's an easy recipe to put together. Just put all of the ingredients go into the mixer, mix it up, then you pour it in a pan and bake it. For bonus points... sprinkle the top with sliced Almonds. This cake is good out of the oven... but it is amazing the next day. Guess the flavors have to steep a bit. After it cools, wrap it airtight in plastic wrap. Unwrap and serve the next day... or the day after.
Ingredients
3 1/2 cup Unbleached Flour
1 Tbl. Baking Powder
1 tsp. Baking Soda
4 tsp. Ground Cinnamon
1/2 tsp. Cloves
1/2 tsp Allspice
1 cup Oil (not olive)
1 cup Honey
1 1/2 cup Granulated Sugar
1/2 cup Brown Sugar
3 Eggs
1 tsp. Vanilla Extract
1 cup Warm Coffee
1/2 cup Orange Juice
Few Tablespoons Sliced Almonds
Instructions
Preheat Oven to 325 degrees Fahrenheit
Prepare 2 9 x 5 inch Loaf pans- Spray with non-stick stuff, line bottom of the pans with parchment paper, then spray again. (You don't NEED the parchment paper... but I hate when the cake sticks to the pan)
In bowl of a large Stand Mixer, combine the flour, baking powder, baking soda, cinnamon, cloves and allspice. Stir it a bit.
Set the mixer to low. Add the rest of the ingredients slowly. If you have a splash guard on your mixing bowl, this would be a good time to use it. Otherwise... wear an apron. And go slow.
The batter will be sort of like melted caramel when it's ready.
Pour into prepared baking pans.
If you like Almonds... sprinkle the top of the batter with the almonds.
Bake at 325 for about 1 hour and 15 minutes for large loaf pans
If you are using mini loaf pans, bake for 45 to 50 minutes
Honey Cake is done when a toothpick inserted into the middle comes out clean.
Let cool in pan on rack for 10 to 15 minutes.
Slide a knife around the sides to loosen... and turn the loaf out. Flip right side up onto the cooling rack.
Let cool
Slice and eat.
This cake tastes even better the next day... wrap airtight.
https://angrybakery.com/honey-cake-recipe/
Honey Cake for Rosh Hashanah
A Sweet New Year's Dessert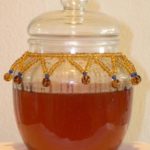 Rosh Hashanah is the Jewish New Year, and is customarily celebrated with Honey, to represent a sweet New Year.
In the Bible, Honey is often mentioned as the sweetener of the time. And Israel is referred to as the Land of Milk and Honey.
On the first night of Rosh Hashanah Apple Slices or Challah are dipped into Honey, and a prayer is said asking for a Sweet New Year.
In addition, a lot of Jewish households make honey cakes on Rosh Hashanah. Families will use a recipe that has been passed down through the generations…which might explain why I my friend's grandmother wouldn't give up hers.. Honey cake can be made with a variety of spices like cloves, cinnamon, and allspice are especially popular. Different recipes call for the use of coffee, tea, orange juice or even rum to add depth to the flavors.
I love the flavors of Honey Cake. It's sweet and spicy, like a gingerbread. Perfect for Fall and Winter baking.
And it makes the house smell WONDERFUL.
My Hand Written Honey Cake Recipe
The Mess on the Page Shows I Love It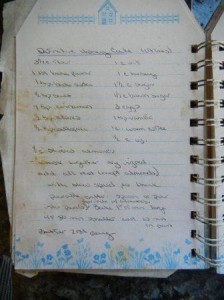 How to Fix Grainy Honey
If Your Honey Looks Like This… don't throw it away!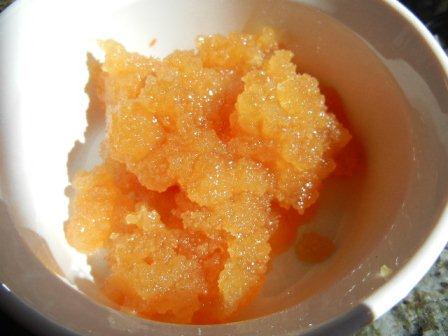 You can make it smooth again by sticking it in the microwave for a minute
Give the Honey a Stir, and it will Smooth Out again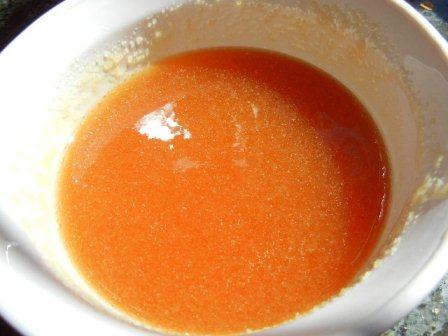 Step by Step Instructions
Line the Bottom of the Pan with Parchment
         Give it a Spritz with Non-Stick Spray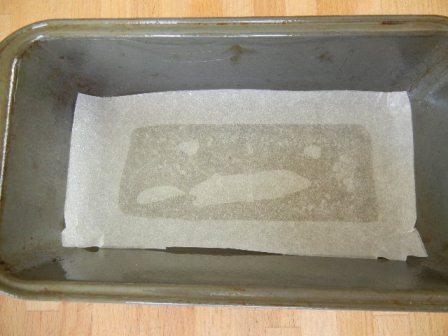 Start with the Dry Ingredients
     Lots of spices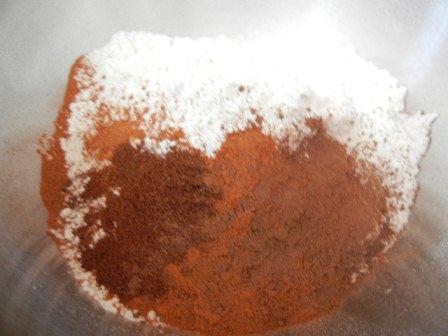 Batter will Be Caramel Colored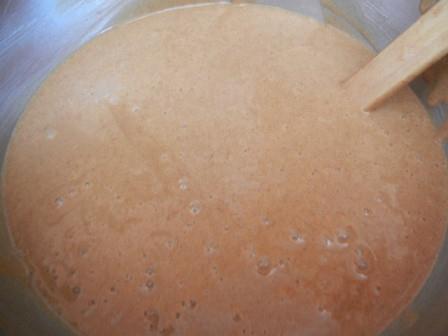 Divide the Batter Between the Baking Pans
You Can Sprinkle on Sliced Almonds… I do one… leave the other plain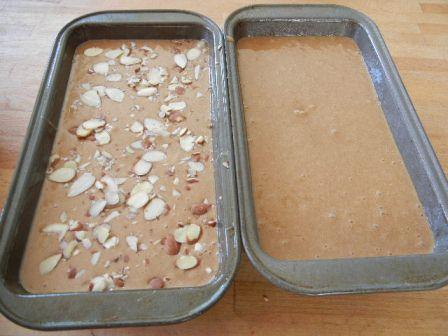 Bake 1 Hour and 15 minutes… Until a Toothpick Inserted Comes out Clean
Let  Cool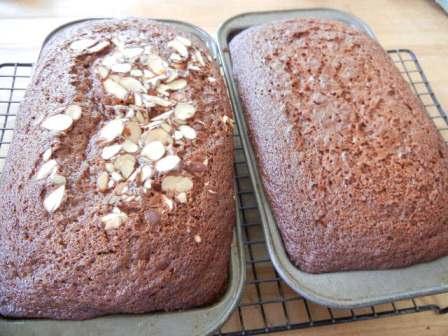 Storing Your Honey Cake
Wrap your Honey Cake in plastic wrap. It will last a few days.
You can freeze Honey Cake. Wrap it in plastic wrap… cover it with foil… then stick it in the freezer.
DON"T FORGET TO LABEL IT!!
Honey Cake as a Gift
I bake a few extra Honey Cakes and keep them on hand. Both Regular Sized, and Mini Cakes in pans that I can give away. Wrap the Honey Cakes in plastic wrap, then set it on a square of cellophane… pull the corners up and tie with a ribbon. This makes a nice gift for neighbors during the holidays. Sometimes I'll put a little one in the middle of a plate of cookies… instant dessert for a gathering of friends.