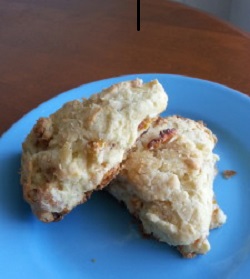 Dried Fruit Scone Recipe – with Tropical Fruit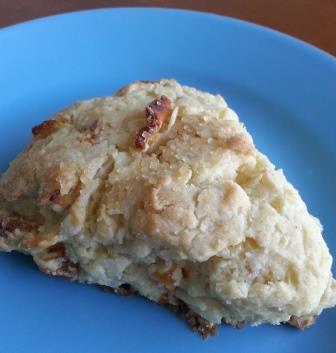 This Dried Fruit Scone Recipe is useful for people like me who hate waste. Somewhere along the line, for reasons lost in the mists of time, I purchased a small packet of chopped dried tropical fruits. Actually, I'm pretty sure that a stranger might have slipped into my shopping cart by accident, and I just didn't notice until I got home. And so, it's been sitting in the pantry for a few months, just waiting to be eaten or donated away.
I do feel guilty about donating food that I'm not sure anyone would like, so I chose to accept the challenge, and bake something with them. Scones are generally a good place to use up fruit bits, so I went to work concocting a tropical scone.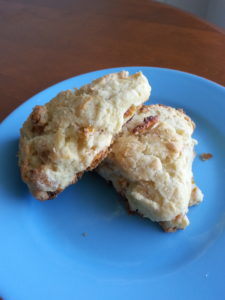 The packet was small, and contained coconut flakes, papaya and pineapple bits. I added more chopped fruits (apricots because that's what I had), and some chopped candied ginger to bring the quantity up to 1 cup.
Then I went to work.
I wanted to punch up the coconut flavor, so I combined Cream of Coconut with heavy cream. Cream of Coconut is available in the adult beverages section of the grocery store (it's used for Pina Coladas), or you can use regular heavy cream combined with a teaspoon of Coconut Extract. If you don't want to add coconut… just use 1 cup of heavy cream.
The result… a yummy flavorful scone with different flavors of coconut and papaya… along with a few hits of ginger (FYI, my youngest does not like to be assaulted by ginger, so next time I may leave it out).
As for me? I love them. These scones are a fabulous pick-me-up in the middle of a dreary day. Light, with a wonderful sugar crust, delicious warm… still delicious when they've cooled…. I'm going to have to find more tropical fruit bits.
Dried Fruit Scone Recipe – With Tropical Fruit
The secret to great scones? Frozen Butter! I keep a few sticks in my freezer at all times. Just grate the frozen butter into the flour mixture, and barely handle it. It will keep the scones light.
Ingredients
2 cups Unbleached Flour
1/3 cup Granulated Sugar
2 tsp Baking Powder
5 TBL FROZEN Unsalted Butter, grated
½ cup Heavy Cream
½ cup Cream of Coconut
1 Egg
1 cup diced dried tropical fruits- pineapple, papaya, coconut etc. (I also used apricot and candied ginger)
2-3 tsp. Sugar in the Raw to sprinkle over the top (Turbinado sugar)
Instructions
Preheat the oven to 400 degrees Fahrenheit
Lay a Baking Mat or Parchment Paper on a baking sheet
In a medium bowl, combine the flour, sugar and baking powder, just give it a good stir.
In another bowl, combine the coconut cream, heavy cream and egg. Stir to combine
Grate the frozen butter directly into the flour mixture. Rub the butter into the flour with your finger tips until it looks a bit like sand. There can be bigger bits.
Pour the wet stuff into the dry stuff.
Use a spatula to carefully mix them together. Start by turning them together a few times.
Add the dried fruit bits.
Stir until mostly combined. There can still be some dry stuff.
Turn the dough out onto a piece of waxed paper or a counter. Use your hands to shape into a disk. I like to use the wax paper to press the disk into shape without heating the dough with my hands.
Slice into 8 pieces, set the pieces on the prepared baking sheet.
Sprinkle the pieces with Sugar in the Raw -you can find Sugar in the Raw (Turbinado Sugar) in the baking section or in those brown packets at your local coffee place. I'm not advocating theft, but if a few packets happen to fall into your purse… isn't it nice to have a good use for them?
Bake for 20 minutes.
Cool a bit.
Eat.
https://angrybakery.com/tropical-fruit-scones-2/
Dried Fruit For Scones
Try different combinations!
Mariani Sun Ripened Mixed Fruit No Sugar Added Dried Fruit 36 Ounce Value Bag by Unknown
Yankee Traders Brand, Tropical Fruit Salad / Dried Fruit – 2 Lbs.
Tropical Dried Fruit Salad 1.5 Lb
Yankee Traders Dried Fruit Mix Fruit Salad, 4 Pound
Dried Diced Mango, Pineapple, Papaya Fruit Mix by Gerbs – 2 LBS, Unsulfured/Sweetened – Top 11 Allergen Free & NON GMO
&
Step By Step Instructions with Photos!
Combine the Coconut Cream, Heavy Cream and Egg in a Bowl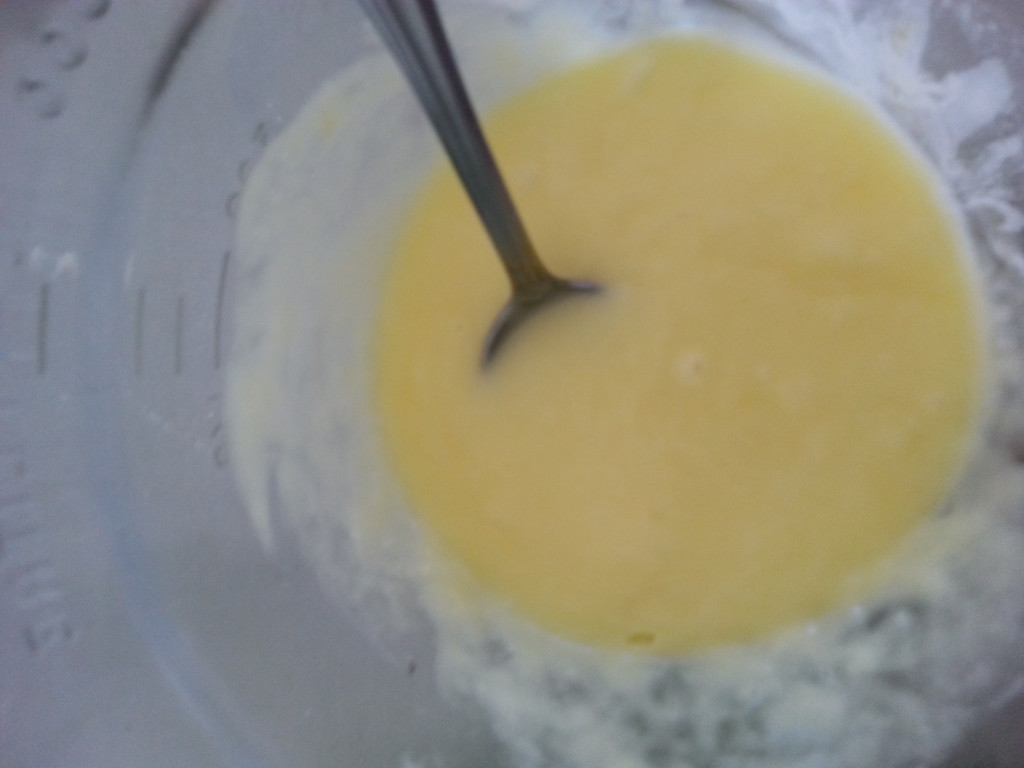 Put the Dry Ingredients in a Medium Bowl…
Grate in the Butter and then Rub with your Fingertips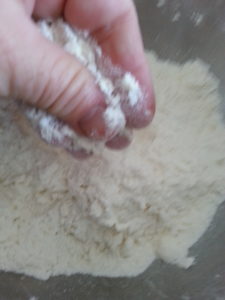 Pour the Wet Ingredients into the Dry Ingredients
Stir a few Times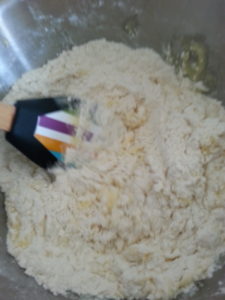 Add the Fruit Bits, Stir a Bit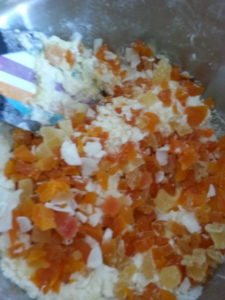 Turn out Onto Waxed Paper to Shape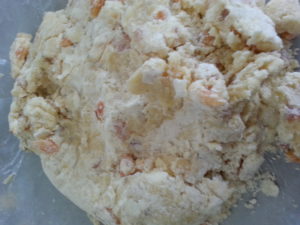 Shaped into Disk Form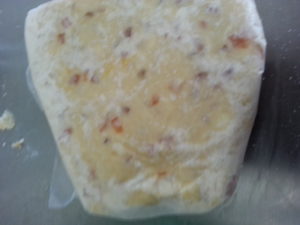 Slice and Place on Covered Baking Sheet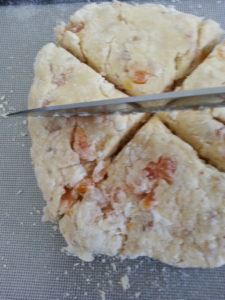 Separate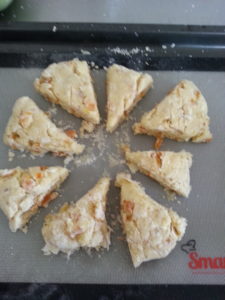 Sprinkle with Sugar in the Raw (Turbinado Sugar)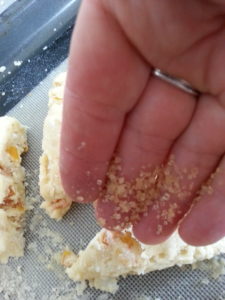 Bake 20 Minutes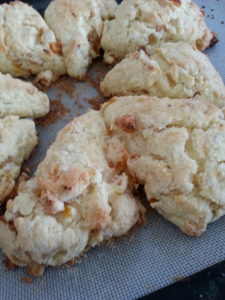 Cool and Eat