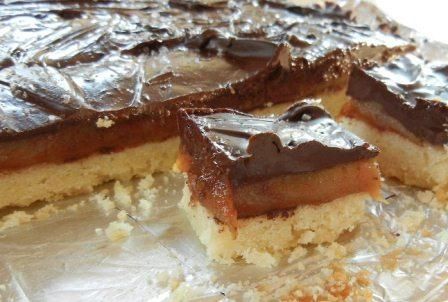 Millionaire Shortbread Bar Recipe… with Sea Salt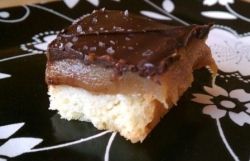 Millionaire Shortbread bar Recipe... sounds delicious, but with Sea Salt? Salt? on Caramel and Dark Chocolate? Sounds like something you'd see on one of those food shows where they are trying to pass off something icky as actual food (you can cook Brussels Sprouts any way you want to, they will still be Brussels Sprouts).
But, I have to tell you…. it's an AMAZING combination. The Sea Salt makes the Caramel SING!!
Sadly, Millionaire Shortbread with Sea Salt covers all of my vices….. caramel, chocolate and salt, with the addition of a handy cookie delivery system.
My mouth is delighted… my tummy is delighted…. and the people who sell me larger Levis are delighted….
Seriously, this is sort of a special occasion cookie, you know, like Christmas, Thanksgiving, Birthdays and Thursdays (maybe Tuesdays too…). It is a little more labor intensive than your average Chocolate Chip Cookie… but I promise you…. it's worth every morsel. .
I used Dove Chocolates for the Dark Chocolate Ganache layer… I tested with Chocolate Chips, and it was fine… I used Dove Chocolate, and it was AMAZING. If you don't have Dove… find another good chocolate brand.
Don't use Table Salt… you have to use Sea Salt. You can buy fancy Sea Salts from the gourmet stores… or you can get the sea salt grinder at your local grocery store.
Bake up a batch…invite some friends over to share… or give some away as a Holiday Food Gift From Your Kitchen.
(Or just pop the top button on your jeans… and enjoy the pan yourself.)
I've detailed the recipe with photos below…
Millionaire Shortbread Bar Recipe (with Sea Salt)
Millionaire Shortbread With Sea Salt

Millionaire Shortbread is a bit more involved to make than your average drop cookie, but it's worth the effort.
Feel free to leave off the Sea Salt, but know that it adds a punch of flavor!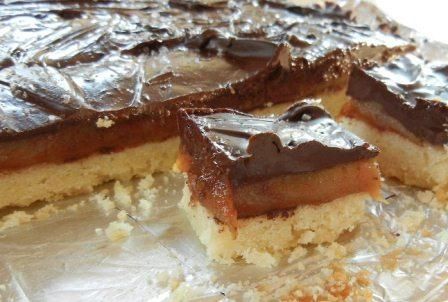 Ingredients
SHORTBREAD LAYER:
1 cup Unbleached Flour
1/2 cup Powdered Sugar
1/2 cup Unsalted Butter
CARAMEL LAYER:
1/2 cup Unsalted Butter
1/2 cup Dark Brown Sugar
2 Tbl. Light Corn Syrup
1/2 cup Sweetened Condensed Milk
DARK CHOCOLATE GANACHE LAYER:
TOP WITH:
Instructions
Preheat oven to 350 degrees Fahrenheit
Line an 8 by 8 inch baking pan with a sheet of aluminum foil.... let the edges hang over the sides... press the foil into the corners... then give it a spritz with that spray stuff.
Shortbread Layer:
Put the Flour and Powdered Sugar in the bowl of a Food Processor. Pulse it a few times to mix.
Cut the butter into small chunks... feed into the processor... run for a few seconds, then pulse until the dough starts to come together.
(Now ... a food processor is best for this... but, if you don't have one.. put the flour and powdered sugar into a mixing bowl, cut the butter, add to the flour, and work them together with a pastry cutter until it looks like thick sand.)
(Don't have a pastry cutter? sigh. First... make a Christmas wish list.... then do the flour and sugar thing, cut in chunks of butter, then moosh in with a fork. This way isn't as good, but it should get the job done.)
Press the "wet sand" into the prepared pan, and stick into the hot oven for 18 minutes.
When the buzzer goes off... pull it out... set it aside, and get started on the Caramel layer.
Caramel Layer:
Get a medium saucepan out of the cabinet... put it on the stove.
Add the butter, dark brown sugar, corn syrup and sweetened condensed milk (I always think of Winnie the Pooh.... condensed milk was his go-to snack when out of honey....)
Melt them all together over medium heat, while stirring with a wooden spoon. Bring to a boil.
Occasionally wipe the sides of the pan with a pastry brush dipped in ice water... this keeps the sugar crystals from forming.
Reduce heat a bit... still boiling though, keep stirring.
and stirring
and stirring
(is the sugar melted? You can tell by pushing the spoon against the bottom of the pan... if it crunches, it's not melted.)
(at this point, you might track down a kid that you trust near the stove to do the stirring....)
Continue at low boil for 8-10 minutes...
Done... now pour the Caramel over the Shortbread layer.
This is boiling sugar... don't get it on yourself. (Hurts like heck... wrecks your day.)
Let the Caramel Layer set for 30 minutes.
(go read a magazine, call your mother, fold a load of laundry, or take a quick nap)
Chocolate Ganache Layer:
Melt the chocolate.( I put it in a microwave safe measuring cup... and let it melt for a minute or two at low power.) Add the Cream. Stir until smooth......now it's Ganache
Pour the melted chocolate over the set caramel... spread it evenly with a spatula.
Sprinkle with a bit of Sea Salt.... not too much... but you do want to taste it.
Let the Ganache set.
When the chocolate ganache is firm... Lift the Millionaire Shortbread with Sea Salt out of the baking pan using the foil to help you. Set it on a cutting board.
Cut into pieces.
I like to serve the pieces in cupcake liners. Regular or Mini... depending on how large or small I cut the pieces.
Eat
Dove Dark Chocolate Makes the Best Ganache
You CAN use regular chocolate chips… in a pinch… but if you are making the effort to create these fabulous multi-step cookies, why not get the best ingredients available? I love the Dove Dark chocolate. (Hint- stock up the day AFTER a holiday when they dgo on sale
Dove Dark Chocolate Promises, 9.5-Ounce Packages (Pack of 4)
Dove Dark Chocolate Bars – 18 ct.
&
Step By Step Directions for Millionaire Shortbread Bar Recipe
Press the Foil into the Pan
Smooth on the bottom… wrap the excess over the ends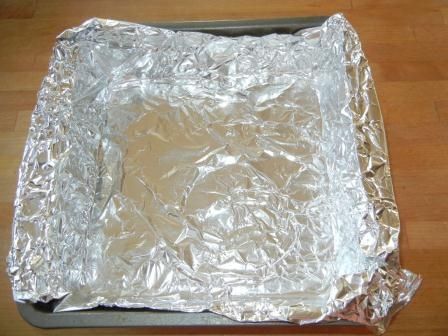 Process the Dough Until it Looks Like Wet Sand
Don't keep going until it mushes together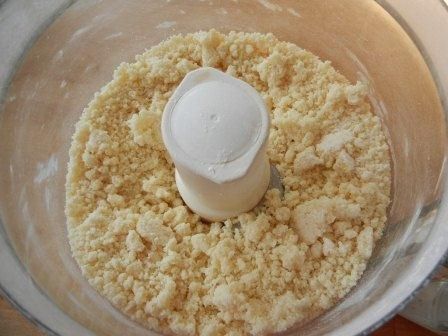 Press the Dough into the Prepared Pan
Push it into the corners too….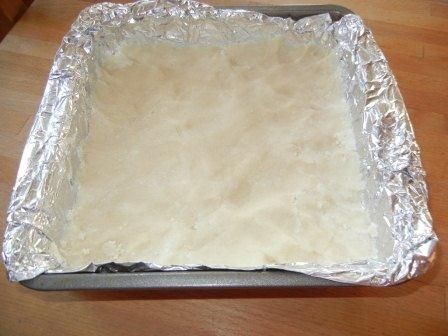 Bake 18 minutes at 350 degrees Fahrenheit
Will be just browning at the edges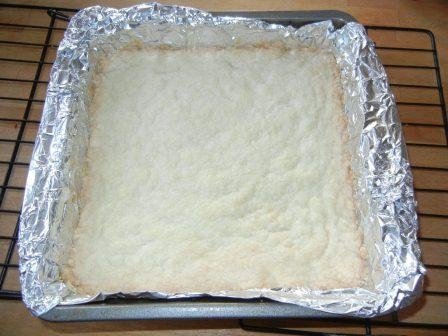 Stir the Caramel Ingredients over medium heat for 5 minutes
I clean the sides of the bowl with a brush dipped in ice water..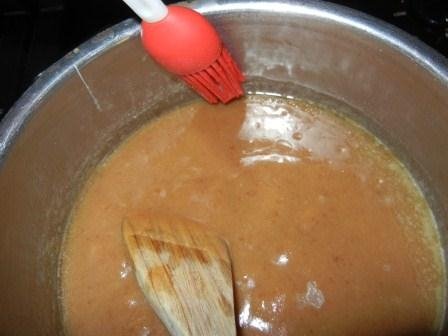 Pour the Caramel Over the Shortbread
Spread it Out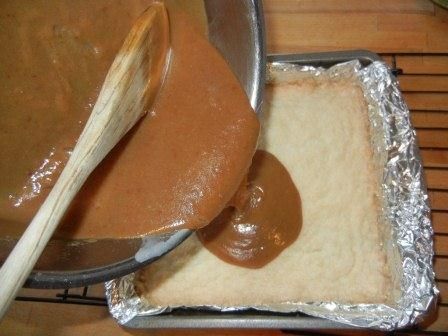 Let the Caramel Layer Set
This Could Take 30 Minutes…. hang in there…
Pour On the Melted ganache
Spread it Smooth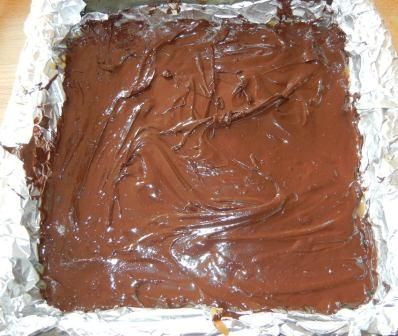 Sprinkle With Sea Salt
About This Much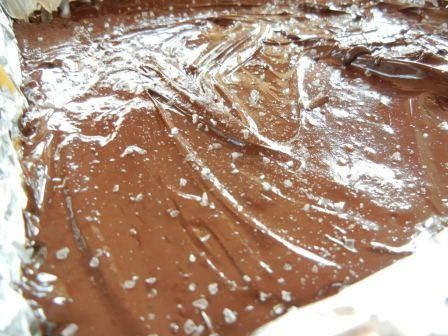 Remove the Set Shortbread from the Pan
Pull Away the Foil from the Sides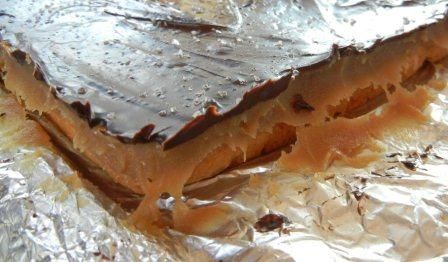 Slice into Pieces
Any Size You Want