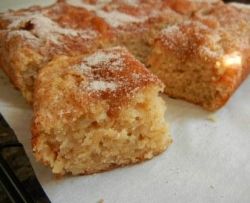 Applesauce Snack Cake Recipe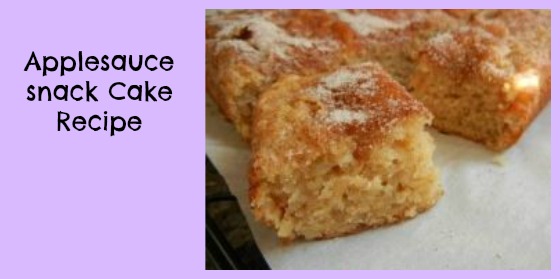 This Applesauce Snack Cake Recipe is one of those throw-it-together-in-no-time snack cakes…. it's easier than a mix. Just add the wet stuff to the dry stuff and bake. One bowl, one measuring cup, one baking pan…. that's it.
This cake takes very little time, and not a load of talent or skill to make (which makes it perfect to make for breakfast when you haven't had your coffee yet) or, for those times when a child says…" Oh! Forgot to tell you, I'm supposed to bring dessert to the Scout Meeting today" and it's perfect for a mid-afternoon snack. Just add the wet stuff to the dry stuff… sprinkle with cinnamon sugar and bake. 45 minutes after starting… you have a light cake loaded with apple flavor and topped with a crunchy sugar topping.
Applesauce Snack Cake Recipe
This Cinnamon Sugar Topped Applesauce Snack cake is flavorful and delicious!
Ingredients
APPLESAUCE CAKE:

1 cup Flour
2 tsp Baking Powder
1/4 cup Brown Sugar
1/4 cup Granulated Sugar
1/2 tsp Ground Cinnamon
1 cup Chunky Applesauce
1 Egg
1/4 cup melted Butter
1 1/2 tsp. Vanilla Extract
CINNAMON SUGAR CRUST:

3-4 TBL Sugar
1 tsp Ground Cinnamon
Instructions
Preheat the oven to 375 degrees Fahrenheit
Line an 8 x 8 inch baking pan with Parchment paper... then give it a spritz with the non-stick stuff for insurance (no, you don't HAVE to use parchment paper... but I REALLY hate when my cake gets stuck.)
Get out a medium mixing bowl... put in the dry ingredients- flour, baking powder, brown sugar, white sugar and cinnamon. Mix them together a bit.
If you don't have melted butter lying around, you can melt it in the microwave, in the large measuring cup. In that same large measuring cup... combine the melted butter, applesauce, vanilla extract and egg.
Add the wet stuff to the dry stuff.
Stir with a spatula to mix completely.
Spread the batter into the prepared pan.
Combine the sugar and cinnamon... then sprinkle it over the batter.
Bake for 25 minutes at 375 (use this time to get that coffee going... and maybe tell the kids it's time to get up).
BING
Let the pan rest on a cooling rack for 5 minutes.
Use the parchment paper to lift the cake out of the pan... cut and serve.
Notes
Now... if you REALLY want to, you can add raisins (either the brown ones or the golden ones) to the cake. My kids have hissy fits when they find "things" in their food. Sigh. So I generally don't bother. Walnuts might be ok too... (as nuts are "things", I don't bother) If you want to make an addition, 1/3 cup should do it. Chunky applesauce works well, because you can really taste the apple bits. But use what you have.
https://angrybakery.com/sugar-topped-applesauce-cake/
So good warm….Here is my
Homemade Applesauce Recipe
Kid Friendly Recipe!
Let your kids practice baking. This is a great recipe for kids to make.
It's uncomplicated.
There are no fancy ingredients.
And it's done QUICK
Need to Transport You Cake?
The Applesauce Snack Cake transports very well to scout meetings and practices