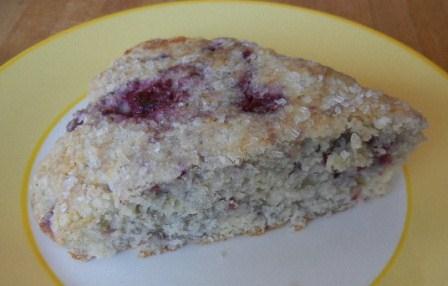 Easy Raspberry Scone Recipe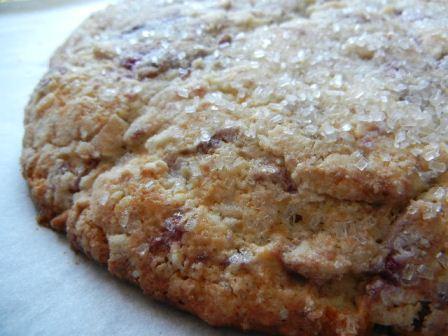 Why do I love this easy Raspberry Scone Recipe? Well, it's September. September means a return to a schedule. September means that we all have to start getting up in the morning… much earlier than the 10:30 am that the kids have been getting up. September means racing out the door. September means a breakfast that my kids can eat without a load of preparation, or mess in the Kitchen.
It also means that the kid who overslept has a good breakfast that he can grab and go on the way out the door!
September is a great time for this Raspberry Scone Recipe.
Raspberry Scones are perfect for breakfast…(or even a mid-day snack) …warm from the oven, or reheated from yesterday. Sweet, but not tooo sweet, full of raspberry flavor (a nice reminder of summer).  They fill you up without making you weighed down.
And for a leisurely Sunday Brunch… mmmmm…. heavenly.
So it begins..one of my kids started school this week (yeah!!!!!!) and the others go back on Monday (to quote Monty Python… "and there was much rejoicing") Wahhooooooo!!! (OK… they aren't supposed to know that I'm that excited) September is good.
Try making my Raspberry Scones. I've given step-by-step photos of my scone technique, to make them perfect every time.
Enjoy!
Easy Raspberry Scone Recipe
Easy Raspberry Scone Recipe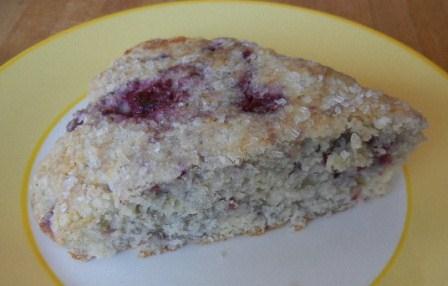 For these scones I used frozen Raspberries, (don't thaw them!) and crumbled them into the flour mixture... If you'd rather use fresh Raspberries, go ahead, chop them up a bit, and toss them into the flour. In our house we usually make one large round that we cut into 8 wedges. You can make 2 smaller rounds, and cut them into 8 smaller wedges each... shorten the baking time.
Ingredients
2 cups Unbleached Flour
2 tsp Baking Powder
1/3 cup Granulated Sugar
6 Tbl. FROZEN Butter
3/4 cup Heavy Cream
2 Eggs
1 cup Frozen Raspberries
2 Tbl. Clear Decorator Sugar Crystal or Turbinado Sugar
Instructions
Preheat oven to 375 degrees F
Put the Flour, Baking Powder and Sugar into a food processor bowl, and mix it up a bit. Pour the dry stuff in a medium large bowl.
Holding a box grater over the bowl with the flour mixture, grate the frozen butter into the flour (leave butter into flour until last second)
Toss the butter shreds in the flour with your fingertips.
Now... carefully... again, use just your fingertips... rub the butter into the flour. Not too long! Just enough so the butter is incorporated into the flour. There can still be plenty of pea sized pieces.
If using Frozen Berries... put them in now...just rub them between your fingers to break them up a bit.
In another bowl mix together heavy cream and eggs until combined. If using Fresh Raspberries.. toss them in now.
Get out some wax paper and lightly flour it, get our your baking sheet, make sure the oven is preheated... got it? Now go on....
Make a small well in the middle of the Flour/Butter/Berry mixture, pour in the egg/cream mixture. Fold together with a spatula, until it just comes together.
Dump the dough mixture onto the floured wax paper. Using the outsides of the paper, shape the dough to a round with your fingertips. Roll it with rolling pin or pat with your fingers until it is about 1 inch thick.
Flip the round onto the parchment covered baking sheet.
Cut into 8 wedges.... but don't separate.
Sprinkle with Clear Decorator Sugar (or turbinado Sugar)
Bake 25 minutes... or until top is golden brown.
Cool on a rack.. cut apart and serve.
This is extra yummy with whipped cream!
Notes
Keep a stick of butter in the freezer....grated frozen butter makes the lightest scones.
https://angrybakery.com/raspberry-scones/
Step By Step Instructions
Grate Frozen Butter Into the Flour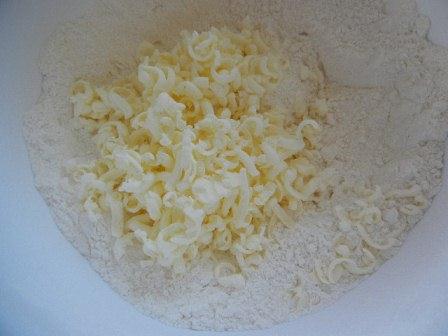 Frozen Butter is the Key to Great Scones.
Keep sticks of butter in your freezer… you can grate them into the flour and make perfect scones at a moments notice.
Rub in the Butter with Your Fingertips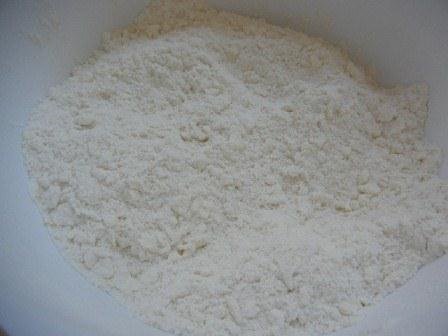 Will have Crumbs with butter bits showing
                                           Crumble in the Raspberries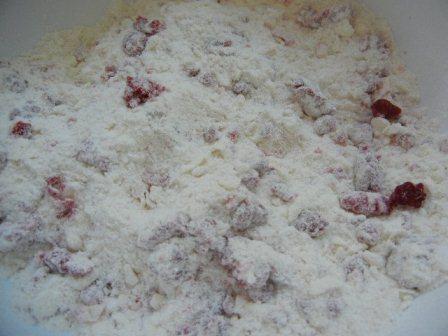 Fold in the Egg/Cream Mixture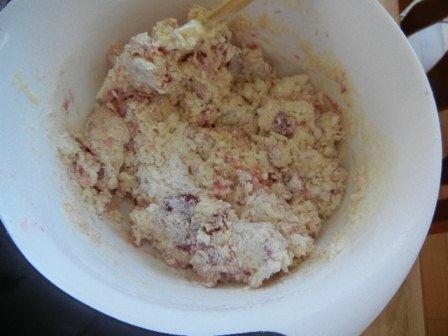 Use a spatula…
Just fold to combined.
Dump Dough onto Wax Paper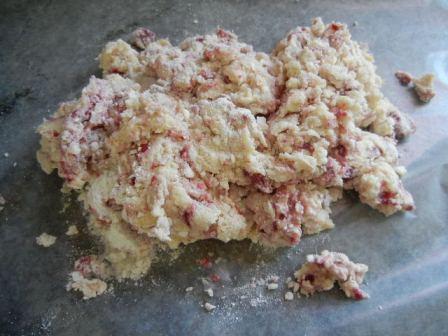 Fold Wax Paper over Dough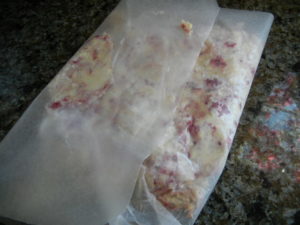 Fold Paper over dough to
flatten the dough into shape
Shape it into a Sort of Circle…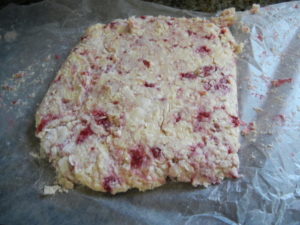 Flip onto Baking Sheet Covered with Parchment Paper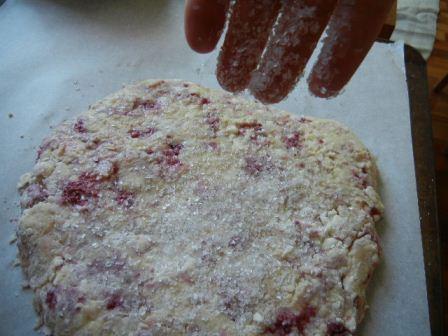 Sprinkle with Sugar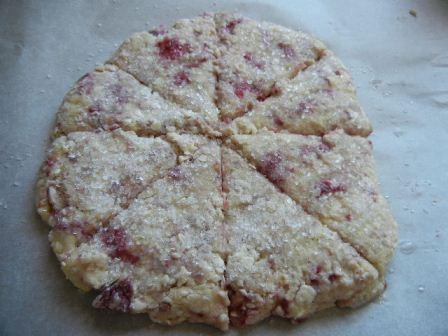 Cut Into Wedges and Bake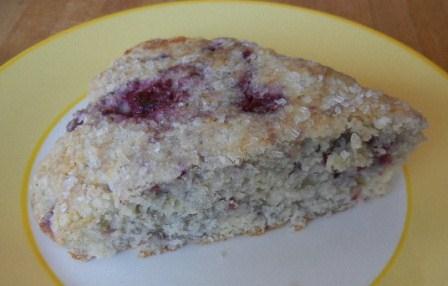 Golden Brown… Studded with Raspberries
                                        Serve Raspberry Scones in Wedges
&