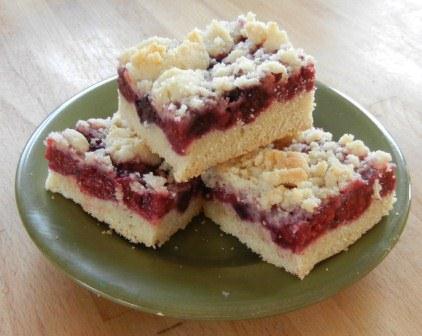 Mixed Berry Bars Recipe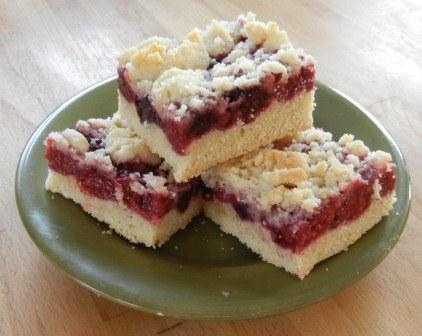 I love most any dessert that uses fruit… especially berries. And now it's summer, so berries are in season… It's time to bake this Mixed Berry Bars Recipe!
Then there's streusel. I could eat it without the cake underneath it. Pick pick… I'd get my fingers slapped for that…For those of you who don't know… streusel is that sweet, crunchy, baked topping that goes on top of some cakes and muffins, and in this case…. Mixed Berry Bars.
I got a special request from Lindsi to publish this recipe…
I love it, Lindsi loves it, and I'm sure you will too.
Mixed Berry Bars Recipe

This is a fantastic dessert... It combines some of my favorite things, Berries and Streusel. And to top it off.... it's a simple dessert to make, and it tastes amazing! Quick to throw together, sturdy enough for transport, delicious with fresh or frozen berries. It's great for an afternoon snack, a quick on-the-go breakfast, dessert, and it's great for bake sales.
Ingredients
3 cups Unbleached Flour
1 3/4 cups Sugar divided
1 tsp Baking Powder
1/2 tsp Ground Cinnamon
1 cup Shortening or butter
2 eggs
beat lightly
1 tsp Vanilla
1 TBL Cornstarch
4 cups mixed Berries fresh or frozen
Instructions
Preheat oven to 350 degrees F
Grease 13 x 9 inch baking dish (If you want extra security, line with parchment paper...)
In a stand mixer or food processor bowl combine flour, 1 1/4 cup Sugar, baking powder and cinnamon. Mix or pulse to combine.
Drop in shortening a tablespoon at a time... mix or pulse to combine
Beat eggs a bit with Vanilla... add to flour mixture ... mix or pulse to combine
Press 2/3 of dough into prepared pan
In a separate bowl, combine the berries- fresh or frozen- with 1/2 cup sugar and cornstarch.
Spread over dough in pan
Crumble the remaining dough over berries.
Bake 40 minutes to bubbly and golden brown
Cool on wire rack (while IN the Pan... don't try to take it out yet!)
cut to bars... store in refrigerator
https://angrybakery.com/berry-bars-2/
Bake Sale Favorite
This is a great Bake Sale Recipe!
Wrap it up with plastic wrap and tie it with a ribbon.
It'll sell like hotcakes! or… Berry Bars.
Bake Sale Supplies
Bizainy Charity Bake Sale Activity Kit
Riley Blake Lori Holt
Graphics and More Bake Sale – Fundraiser Sign Banner – 46
&