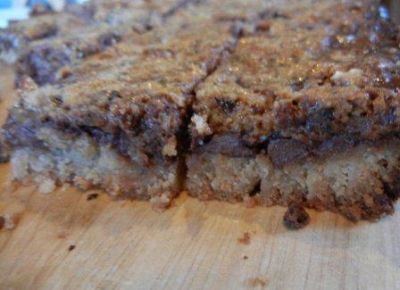 Coffee Toffee Bar Recipe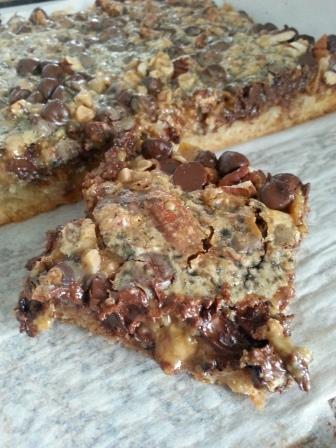 This Coffee Toffee Bar Recipe is great for working out frustrations. You see, I love smashing things with a hammer. (In fact, a sledge hammer may be my favorite tool of all time.) It's so satisfying. What once was big, is now pulverized….
Wheeeee
Before you call in the padded truck …. keep in mind that I only smash things that REALLY NEED smashing.
hee hee
Had to do a lot of baking today, as I am expecting a crowd of 20 hungry teens here tomorrow…. YIKES… So I pulled out this recipe for Coffee Toffee Bars. I love it because I get to use my hammer to smash some candy bars (and really, how often do you get to use a hammer in baking?) And because it tastes wonderful, despite being ugly.
Make it, it will make you feel better even before you eat it.
And when you do eat it? mmmmmm Mini-Nirvana
This is one of those recipes that needs a baked base, then you dump a lot of stuff on top of the base, and bake it a second time. Since the base is basically sugar cookie dough, you can use one of those 1 lb. bags of sugar cookie mix from the store, or you can buy a tube of sugar cookie dough, or you can use my scratch recipe for cookie dough (only use around 1/3 of it though, so it doesn't get too thick… make sugar cookies with the rest)
Also, you can add more coffee crystals if you want. I like it strong, but maybe you want to dial back the flavor for kids.
And yes, I know it is possible to buy Heath Bar bits in a bag in the baking department… but where's the fun in that? Buy 4 Heath bars (or 5) put them in a plastic bag, and smash them with your hammer. Soooo satisfying!
My friend calls this Coffee Toffee Bar Recipe "Cookie Crack"… they are that addicting.
Consider that your warning!
The Step-by-Step Photos below will take you through this Recipe….
Coffee Toffee Bar Recipe
My friend calls these Coffee Toffee Bars "Cookie Crack"... they are that addicting!
You can use sugar cookie mix, a tube of sugar cookie dough or your favorite sugar cookie dough recipe for the base.
Ingredients
CRUST:

1 package of Sugar Cookie Mix
1/2 cup melted Butter
1 Egg
or....
1 or 2 tubes of sugar cookie dough
or
Use this Sugar Cookie Recipe
Instructions
Heat oven to 350. Grease 13 x 9 inch pan
Cookie Base:

Stir sugar cookie mix, egg and melted butter to dough, or use other sugar cookie dough, spread on bottom of pan. Bake 12 to 15 minutes until light brown.
Topping:

Meanwhile, in a small microwavable bowl, microwave condensed milk for 1 minute, add coffee crystals and stir until mostly dissolved (you can stir and stir... the crystals just won't dissolve all the way). Set aside.
Sprinkle warm crust with chocolate chips, toffee bits and pecans. Drizzle milk coffee mixture evenly over it. You can try to spread it even, but it's super messy.
Bake 23 to 27 minutes. Will be golden brown and bubbly. Cool completely.
Eat... it's ugly but good... maybe you can dress it up with a drizzle of chocolate? But that could be overdoing it.
But really... is MORE chocolate really overdoing it?
https://angrybakery.com/coffee-toffee-bars/
What Is A Heath Bar?
For those of you in the Great White North, and other places outside the US…. Heath bars are chocolate covered bars of hard toffee.
Skor Bars are kissing cousins…
HEATH English Toffee Bars (1.4-Ounce Bars, Pack of 18)
Crushed Heath Candy Bars Toppings 1LB Bag
36 Heath Milk Chocolate English Toffee Bars in a Bomber Gift Box
&
Step By Step Instructions for the Coffee Toffee Bar Recipe With Photos!
Bake the Sugar Cookie Crust in a Parchment Lined Pan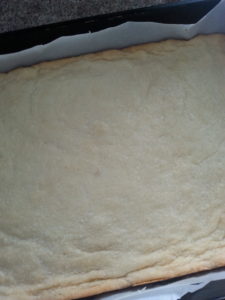 It will look like this… kind of brown at the edges
Heat Up the Sweetened Condensed Milk, and Stir in the Coffee Crystals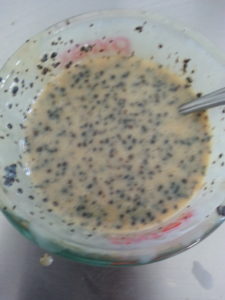 Combine the Chocolate Chips, Nuts and Toffee Bits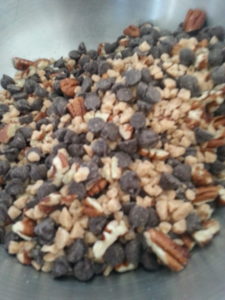 Sprinkle the Nuts, chocolate and Toffee over the Baked Cookie Dough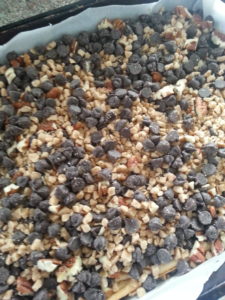 Pour Condensed Milk/Coffee Mixture Over it All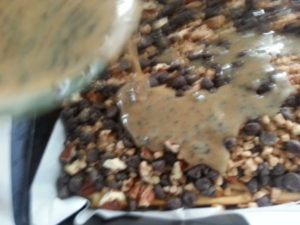 Spread it Around By Banging the Pan Against the Counter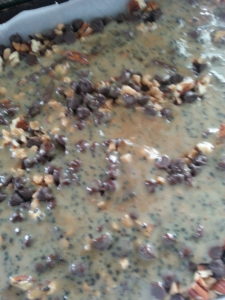 a Spatula will Make a Mess
Bake for 23-27 Minutes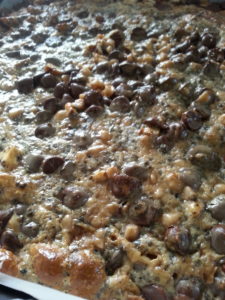 it will be browning at the edges
Slice and Eat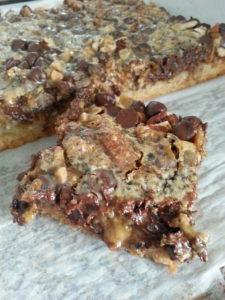 You Might want to Wait Until They Cool If you Want Neat Edges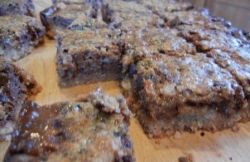 Store By Layering In a Box with Waxed Paper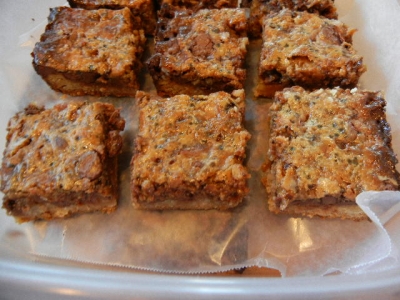 Enjoy!!!!!