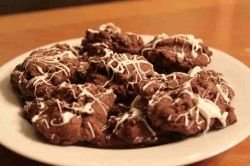 Chocolate and Oreo Cookie Recipe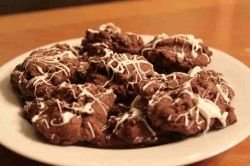 The idea for the Chocolate and Oreo Cookie Recipe came out of the mouth of an 8 year old. We were getting ready for a soccer tournament, and I wanted to take along some cookies for snacking. My daughter loves chocolate chip… but then she said maybe she'd rather have chocolate chocolate chip… then she said maybe we should have Oreos instead…. or maybe chocolate cookies with white chocolate chips…..
At this point, my head started spinning and threatened to come off.
I ended up combining all of the ideas into one really chocolaty and very delicious cookie.
Chocolate and Oreo Cookie Recipe
Basically these are Chocolate Oreo Cookies Get your chocolate fix taken care of…these are a mix of chocolate cookie, chocolate chips, oreo crumbs and white chocolate drizzle. MMMMMMMMMmmmmmmmmmm bliss…….
Ingredients
1 cup BUTTER - room temp... don't bother substituting margarine..yuck
3/4 cup white sugar
3/4 cup brown sugar.... I prefer dark
1 egg
1 generous tsp. Vanilla.. the real stuff...
1 3/4 cup unbleached Flour
1 tsp. baking soda
1/2 cup unsweetened cocoa
1/2 cup (6 to 7) or more up to 1 cup Oreo Crumbs*
1 1/2 cups chocolate chips
2- 3 ounces white melting chocolate or white chocolate bark
Instructions
Blend butter with sugars for 4 or 5 minutes. Add egg and vanilla, mix. Scrape down sides.
Combine baking soda, flour and cocoa.. pour slowly into the butter/egg mixture.
Then throw in the oreo crumbs and mix it all together. Make sure you get those bits from the bottom of the bowl.
Add chocolate chips, careful, don't over mix
Drop rounded lumps about the size of a large walnut or small ping pong ball on a baking sheet
Bake 10 minutes at 350
Let cool one or two minutes on cookie sheet, then transfer to a cooling rack
Melt white chocolate- if you are using white bark, just pop it in the microwave. If it's white chocolate, use a double boiler.
Drizzle it over the cookies. I like the look of going in just one direction but you can splatter it on any way you want. (I find dipping the tines of a fork into the melted chocolate works well for this.)
*To crush the oreos, toss them in a food processor, and whirl them around a while. For this cookie, I prefer a fine crumb, but it's a guideline, not a rule, you can make them bigger crumbs. Alternatively, put about 6 or 7 oreos in a ziplock bag and hand it to your kid along with a rolling pin or small mallet. Let them whack the oreos to bits. BEWARE sometimes the bag breaks.... crumbs EVERYWHERE, but that's fun too....
Notes
Some Additions or Modifications
You can change this Chocolate Cookie Recipe up a bit depending on your mood, the phase of the moon, or what's in your kitchen cabinets…
Try- -adding 3/4 cup dried cherries- for more adult taste
-adding 1 cup white chocolate chips- for a groovy look
-drizzle with dark chocolate as well as white chocolate - for that chocolate overload everyone loves
Play with your food, it'll be good. (Remember, it's cookies, not brain surgery.)
https://angrybakery.com/chocolate-chocolate-and-more-chocolate-cookies/
Getting Your Kids into the Kitchen
You're Making a Mess Anyway… Why not Take it All the Way?
My kids LOVE helping out in the kitchen, and there are a lot of ways for them to help with these.
Give a kid a ziplock bag of oreos and a rolling pin… and let the pounding begin!!! BIG FUN!!
Forming the cookies is great for little hands.
And when it's time to do the white chocolate drizzle? Jackson Pollack has NOTHING on my kid!
Best of all…. there are bowls and spatulas to lick.