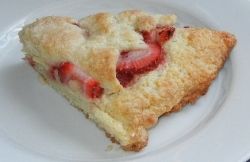 Best Strawberry Scone Recipe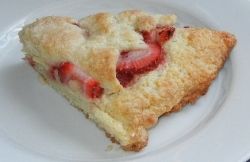 It seems like most scones skimp on the fruit. This Best Strawberry Scone Recipe bakes up a fantastic exception. Fresh Strawberries add a sweet touch, and since you cover the whole top with them, there is fruit in every bite of the Strawberry Scone.
Best of all, my daughter loves them! I can actually get her to finish her breakfast, and ask for more, when I bake her these Scones.
Now, scones can be tricky things. To keep the texture right, you need to keep the butter cold. This means handling it with your hot little hands AS LITTLE AS POSSIBLE. There are some techniques in this recipe to help keep the butter cold, and the scones light. The strawberries are shingled across the top, and then covered with a thin layer of scone dough. You get strawberry in every bite.
A sprinkling of sugar across the top makes it extra sweet.
Before you start baking, put the butter in the freezer for 30 minutes. ( I usually keep a pound of butter in the freezer…you never know when the need for scones will pop up)
Read all instructions before beginning… it saves you from surprises.
Best Strawberry Scone Recipe
You get Strawberry in every bite of these delightful Strawberry Scones.
Be sure to have the butter frozen, and the strawberries sliced before you start baking!
Ingredients
2 cups Unbleached Flour
2 tsp. Baking Powder
1/3 cup Sugar
6 Tbl. Butter- Frozen
3/4 cup Heavy Cream
2 eggs
1 cup sliced Strawberries
Turbinado sugar (or raw Sugar) for sprinkling over top
flour for dusting counter
Instructions
Preheat oven to 375 degrees F
Put the Flour, Baking Powder and Sugar into a bowl, and mix it up a bit.
Holding a box grater over the bowl with the flour mixture, grate the frozen butter into the flour
Toss the butter shreds in the flour with your fingertips.
Now... carefully... again, use just your fingertips... rub the butter into the flour. Not too long! Just rub enough so the butter is incorporated into the flour. There can still be plenty of pea sized pieces.
In another bowl mix together heavy cream and eggs until combined.
Get out some wax paper and lightly flour it, get out a baking sheet, make sure the oven is preheated... got it? Now go on....
Make a small well in the middle of the Flour Butter Mixture, and pour in the egg/cream mixture. Fold together with a spatula, until it just comes together.
Put the dough mixture onto the floured wax paper. Cut off a small amount...about 1/2 cup? Set it aside.
Using the outsides of the paper, shape the dough to a round with your fingertips. Roll it with rolling pin to 1 inch thick.
Cover top off round with sliced strawberries... layer like shingles.
On a floured wax paper roll the small amount of dough to about 1/4 inch thick and round. Flip it over on top of strawberries to mostly cover them.
Using a serrated knife cut the scone wedges. Reassemble the wedges in a round on the baking sheet.
Sprinkle top with sugar.
Bake for 25 minutes, until top is golden brown.
Cool on a rack... cut apart and eat.
https://angrybakery.com/strawberry-scone-recipe/
 Prepare the Strawberries QUICKLY with this Strawberry Set
Washes, hulls and slices strawberries! You will find yourself using this set all summer long.
Joie 3-Piece Strawberry Colander, Huller and Slicer Set
&
Step By Step Instructions with Photos
Slice Your Strawberries!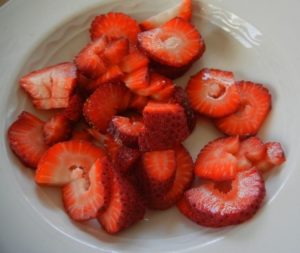 Get your strawberries sliced ahead of time
Your Dough Should Look Like This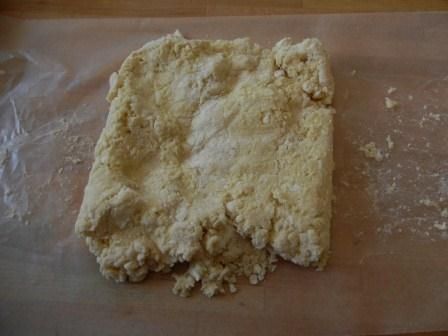 When you turn your dough out onto the wax paper, it should look like this.
Work Scone Dough in Wax Paper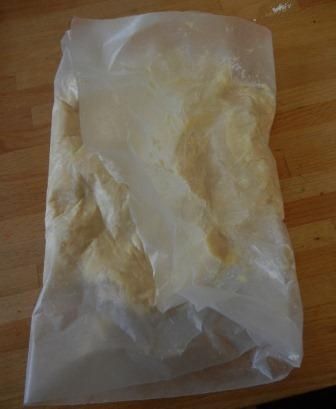 Fold wax paper over dough to work carefully into a disk
Shingle (more or less) Strawberries on Scone Dough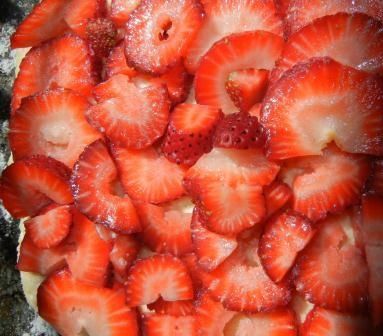 Get the strawberries laid out on the scone dough disk.
Top the Strawberries with a Dough Round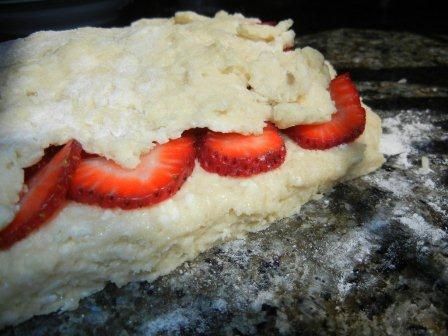 After layering on the strawberries, cover them with the extra dough round.
Put the Wedges on a Baking Sheet
Carefully put the wedges into a mostly round shape on the baking sheet. Bonus points for making it look good… but it will taste good no matter what.
Sprinkle with Sugar and bake.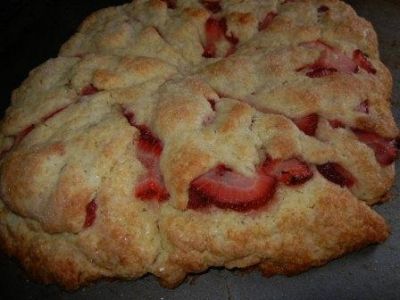 Strawberry Scones have Strawberry in Every Bite