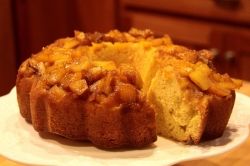 Mango Rum Cake Recipe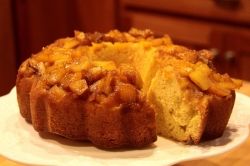 I seriously want to get to someplace warm and tropical. This cold wet weather is bringing me down. How about the Caribbean? Mangos? Rum? Perfect! Since I can't actually go there… I got out the Mango Rum Cake Recipe and baked this cake instead. It's almost the same as being there (no it isn't, but I'm pretending so I feel better).
The basic recipe has a modest amount of rum; but in the notes you will find a out how to add a soaking of rum. You can choose…. depending on how delusional you want to be to experience the Caribbean in your kitchen…(and of course, consider if you are feeding children).
Added bonus, this is an easy recipe to throw together (it uses cake mix… sshhhhhhh) The cake mix will need some fixing; you will need a sieve for this. (Toss the little hard greebly bits out). For those of you who are on a diet, you can lighten the cake a bit by replacing the 3 eggs with 4 beaten egg whites. Of course, this means you can have 2 or 3 pieces of cake, which might be sort of counter productive….
If you live in a place where Mangos are hard to come by, you can substitute Peaches (even canned ones) for the Mango. Make it easy on yourself….
Bake… then go relax and eat! Or, invite a few friends over for a Tiki Party and share!   Both recipes make a Bundt Cake… so about 12 pieces, depending on how you slice it.
 Mango Rum Cake Recipe (Basic Recipe)
Mango Rum Upside Down Cake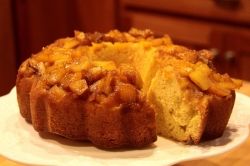 Ingredients
1 box Yellow Cake mix
1/2 cup Rum
1/3 cup Water
3 Eggs
3/4 cup Pureed Mango
1 1/2 cup Mango cubes (1/2inch dice)
1/3 to 1/2 cup Brown Sugar
Instructions
Preheat oven to 350 degrees
Grease a Bundt Pan with some spray stuff.
Cube up those mangos ( or peaches) and lay them on the bottom of the pan. Sprinkle the cubes with brown sugar. Be generous. Then set it aside for a minute.
Put a large sieve over the mixing bowl, and pour the cake mix into it. Shake the mix into the bowl, until all you have left is a few greebly looking things. Throw those away (eeewwww). BTW. If you don't have a sieve, just dump the mix into the mixing bowl... the greebles won't kill you. They are just compacted mix. Sieving the mix lightens the cake texture.
Add in rum, water, pureed mango, and eggs (or beaten egg whites). Mix together for 2 minutes, stopping occasionally to scrape down sides.
Pour batter over mango cubes and brown sugar.
Bake for 40 to 45 minutes. When you insert a toothpick, it should come out with dry crumbs or clean.
Let cool 20 minutes on cooling rack... invert.... serve
Notes
If You Want to Add More RUM: Prepare the Basic recipe... Bake It... Then You need... 1/2 cup RUM, 3 tbl. butter, 3 - 4 tbl. sugar. Instructions: While baking the Mango Rum Cake, melt together the butter, rum and sugar. Set aside. Bake Mango Rum Upside Down Cake.. leave it in pan. While still hot… poke it all over with a fork. Then pour the rum mixture over it. Let it soak for a few hours.. Turn the cake out... ok… some bits of mango may be stuck to the pan. Pick them out, and jam 'em back on the cake.... cut and eat
https://angrybakery.com/mango-rum-upside-down-cake/
Island Cake Plates
11.5 inch Colorful Tropical Flowers Floral Ceramic Serving Platter / Party Cake & Cupcake Display Stand
Roro 12 in Handcarved Mango-Wood Creased Serving Plate with Bark Edges
&
Dicing a Mango into Cubes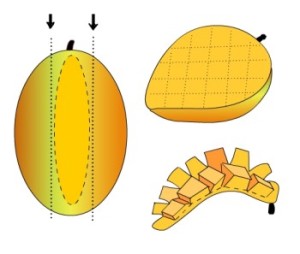 Mangos aren't that tough to deal with, just remember the seed matches the shape of the fruit… sort of flat and oval.
Slice from top stem into the mango… feel the seed and go along it to the bottom. Flip it, and do the same for the other side.