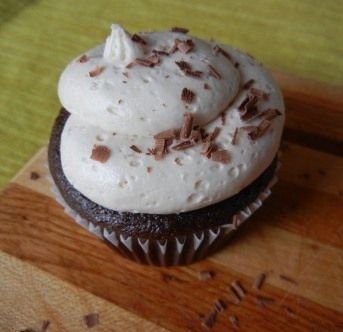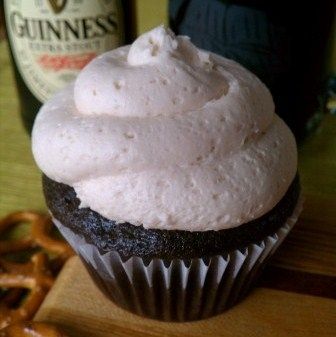 Looking for the perfect Chocolate Stout Cupcake recipe to make for your St. Patrick's Day gathering, Football Party, March Madness Viewing Marathon, or even for Father's day? I thought this would be a "guy" recipe… but it turns out my 9 year old daughter really likes Chocolate Stout Cupcakes with Vanilla Buttercream. The dark cupcake with that fluffy frosting even looks like a pint of Stout (or would it be a half-pint).
This cupcake has a flavor of dark Chocolate with a thick herbal/coffee taste of Guiness Stout. Ohhh.. it's good. The beer is not overwhelming, it actually complements the dark chocolate very well. Topped with a light and fluffy Vanilla Buttercream… yum.
They will be enjoyed by all, from that tough guy on the sofa, to that little person who's hand can barely reach up to the table.
I serve these plain as they come… or topped with chocolate shavings. As a nod to St Patrick's Day… you can even cover them with green sprinkles!
(step by step instructions with photos are below)
Chocolate Stout Cupcake Recipe with Vanilla Buttercream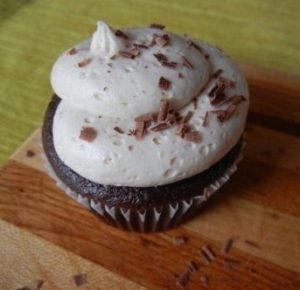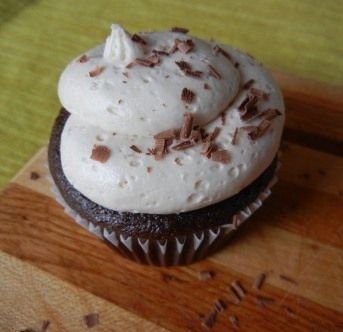 Makes 24 cupcakes
Prep Time: 15 – 20 minutes
Total Time: 1 1/2 hours… including baking, cooling, and frosting
Ingredients
CHOCOLATE STOUT CUPCAKES
1 bottle of Guinness Stout (12oz)
1/2 cup Butter
3/4 cup Unsweetened Cocoa
2 Eggs
3/4 cup Sour Cream
2 cups Granulated Sugar
2 cups Flour
11/2 tsp Baking Soda
VANILLA BUTTERCREAM
1 cup Butter- softened
4 cup Powdered Sugar
4 tsp Vanilla Extract
3 – 4 Tsp Milk
Chocolate Shavings
Sprinkles
Instructions
Preheat Oven to 350 degrees Fahrenheit
Line cupcake cups with cupcake liners
Put the butter and the Stout in a Microwave safe bowl….and microwave until the butter melts. Yes, you can use a pot on the stove. The goal here is to melt the butter into the beer.
When the butter is melted… whisk in the 3/4 cup of Unsweetened Cocoa. Set aside.
In the bowl of your stand mixer (you do have a stand mixer, right? otherwise your arm will wear out..) combine the Eggs and the Sour Cream (use the full fat version please, there's only one stick of butter, so you need the fat). Mix them together until they are smoooooooth (it will look yucky at first…just keep mixing)
Add the Sugar, beat until combined. Now you can shut of the mixer for a bit.
In a bowl or larger measuring cup combine the Flour and Baking Soda.
Get the Stout/butter/Cocoa goo ready.
Turn the mixer back on low (unless you really feel like mopping the floor).
Pour in 1/2 of the Stout mixture
Pour in 1/2 of the Flour mixture
Pour in the rest of the Stout mixture
Pour in the rest of the Flour mixture
Beat until combined….scrape the sides….beat some more… scrape the bottom… beat some more…..stop.
Using your handy dandy ice cream scoop…. fill those cupcake liners (yes…you can use a spoon, yes you can use a piping bag) I filled mine about 3/4 full.
Bake for 17 minutes at 350. (if they seem wet on top, go another minute)
(17 minutes is just enough time to wash the mixer bowl, give the floor a quick wipe…told you to go slow, and maybe grab the mail)
Cool on a rack for 2 to 3 minutes…. take them out, and let the cupcakes cool on the rack the rest of the way.
PREPARE THE BUTTERCREAM (this is why you had to wash the mixing bowl instead of just sticking it in the dishwasher)
Make sure your butter is soft by leaving it out at room temperature for an hour or so.
Put 1/2 cup of the Butter into the stand mixer with a whisk attachment… turn it on to smash it up a bit.
Add 1 cup of Powdered Sugar… whip
Add 2 teaspoons Vanilla Extract… whip
scrape down sides
Add another cup of Powdered Sugar
Add the rest of the Butter
Add the rest of the Vanilla
Add the rest of the Powdered Sugar
Scrape
Whip
Ok… now look at what you have… you probably need to add some milk to smooth it out. Start with 2 teaspoons.
Whip, scrape, whip
Is it smooth? Fluffy?
If it is too stiff, add more milk
If it is too soft, add more powdered sugar.
Are your cupcakes cool? (not cool enough…actually cool)
Put your Vanilla Buttercream in a piping bag with a large round tip… spiral the frosting onto the cupcakes.
Don't have a piping bag? (put it on your wish list) and Spread the frosting on with a knife.
Serve as they are… or top with sprinkles…
If you want to cover with chocolate shavings, use a vegetable peeler to "peel" shavings off of a good quality dark chocolate bar.
&
Wilton 415-2867 36 Count Beer Baking Cups, Assorted
St.Patrick's Day Cupcake set (sprinkles, picks, and liners)
&
Step By Step Instructions with Photos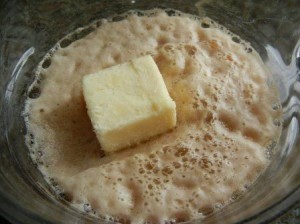 Ok… I realize this may be a crime in some countries…
Add Cocoa to the Stout and Melted Butter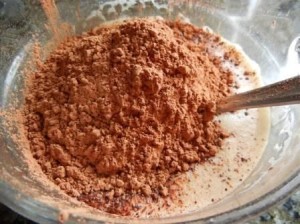 Whisk to Smooth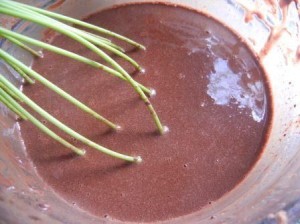 Set Aside
Combine Eggs and Sour Cream in a Mixing bowl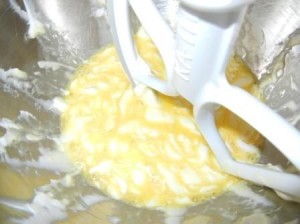 Looks Gross….it'll get better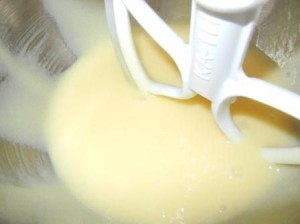 Add sugar and beat again until smooth
Alternate Adding Chocolate/Stout Mixture and Flour Mix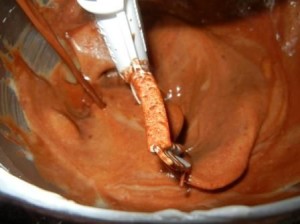 Take your time… beat … scrape… add… repeat
Batter is Ready (you scraped the bottom, right? got up the stuck bits?)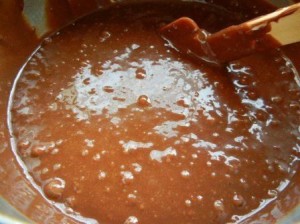 It's kind of Bubbly….like Stout
Scoop the Batter Into the Cupcake Liners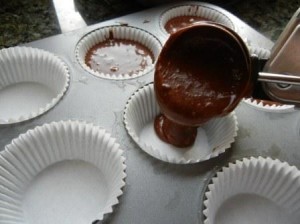 I use an ice cream scoop
Bake 17 Minutes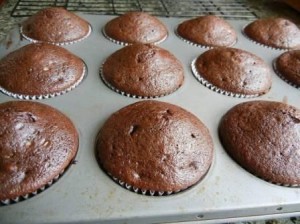 Cool Your Cupcakes on a Rack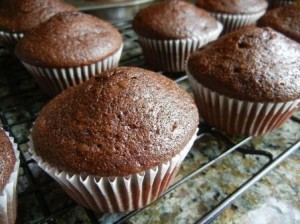 They Have to Be Totally Cooled before frosting
Frosting Will Look Like This When It's all Mixed Up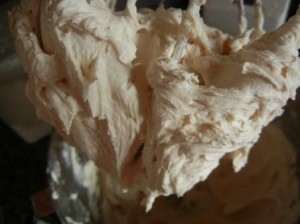 Fold the Top Few Inches of Your Piping Bag Over Your Hand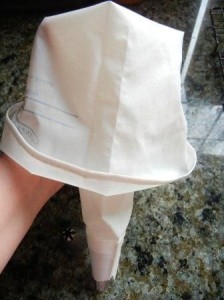 Load in the frosting and Tighten the bag With a Twist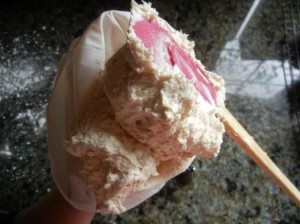 Pipe Into a Spiral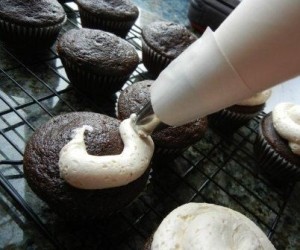 I use a Round Tip
Use A Vegetable Peeler to Shave A Chocolate Bar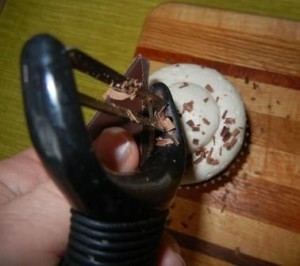 Let the Shavings fall onto the Cupcake
Don't try to pick them up from the counter with your hands… they melt as you touch them..
Go with Green Sprinkles for St. Patrick's Day!