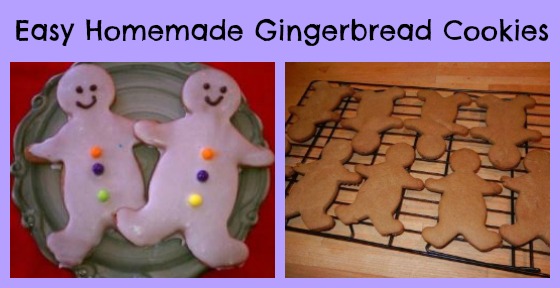 Easy Homemade Gingerbread Cookies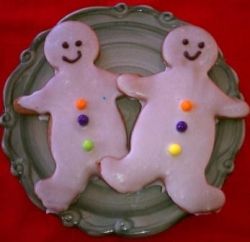 These Easy Homemade Gingerbread Cookies are a must during the holidays… although my people like Gingerbread so much I'm happy to make them at other times of the year! (well… not so much in July).
Granted, my cookies look more like snowmen or ghosts than Gingerbread Men… but decorating was never my thing. The point is, these Gingerbread Men (or Gingerbread Ghosts! double duty for Halloween!) are made from a very Easy Gingerbread Cookie dough.
You can cut them into any shape you want….. stars, trees, dinosaurs… whatever.
The dough is fairly easy to mix up… then you let it sit in the fridge for 30 minutes…. roll… cut… bake… decorate.
Decorate!
Get the kids to decorate, they like doing that stuff….( unless of course you are one of those wildly artistic and creative people… in which case, could you please come to my house to decorate my cookies?) Get out the frosting, or the icing, and all the candy and sprinkles you have. This is the fun part! Have fun with it. Make it a family activity!
Or… hand the cookies and decoration stuff over to the kids, and go take a bubble bath. (you'll have a super mess to clean up either way, so you might as well relax).
Easy Homemade Gingerbread Cookies
Easy Homemade Gingerbread Cookies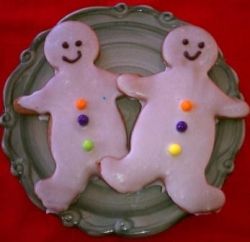 Ingredients
1 cup Butter
1 cup Dark Brown Sugar
2/3 cup Molasses
1 Egg
5 cups Flour
1 tsp Baking Powder
2 1/2 tsp Ground Ginger
1 tsp Ground Cinnamon
1/2 tsp Ground Cloves
ICING-
2 cups Powdered Sugar
2 + TBL Milk
Instructions
Combine Butter and Sugar in a Stand Mixer, beat until fluffy and light.
Add Molasses and Egg... beat a bit, scrape down sides.... beat a minute more.
In a separate bowl, combine the flour, baking powder, ginger, cinnamon and cloves. Stir them together a bit.
SLOWLY add the flour mixture to the butter mixture (you can go fast... just have a broom handy, because you will be cleaning up a load of flour from the floor). Keep the mixer going while you add the flour. It will get stiff. Very stiff.
When the Mixer sounds like it's going to quit on you... dump the dough onto the counter, and kind of work it by hand to smooth it out.
Flatten the dough to a disk... wrap in plastic wrap, and stick in the fridge for 30 minutes.
Preheat the oven to 350 degrees Fahrenheit
Get out your favorite cookie cutters and a rolling pin.
Still have time? Read a magazine....
Bing
Take the dough out of the fridge. Break off a piece the size of a baseball (for you non-baseball people... that's a bit about 4 1/2 inches across)
Sprinkle the counter with flour (sprinkle... not dump) rub the flour on your hand from sprinkling onto the rolling pin.
Pat the dough bit flat... and roll it out.
Now, you are rolling out dough, not trying to make the dough one with the counter. Push from the center out... gently. Flip the dough, roll a bit more. You are looking for a thickness of about 1/4 of an inch (put the ruler away, you can eyeball this).
When it's evenly rolled... cut.
Make the cuts as close to each other as possible, so you don't have to re-roll that much.
Lift the cut cookies onto a baking sheet with an offset spatula or some other flat thing that lifts.
Bake the cookie for 13 minutes.
Cool 1 to 2 minutes on baking sheet... then move them to a cooling rack.
When they are completely cool... decorate.
You can use Icing, Frosting, Sprinkles, Candy, Raisins, Chocolate Chips, Banana Chips (why?) or whatever makes you happy (and is edible)
ICING-
Put the 2 cups powdered sugar in a bowl. Add a Tablespoon of milk.. stir... add another... stir.
You want it to be thick, like glue. Add more milk if needed... add more powdered sugar. The amounts will change depending on the day, and the moisture in the room.
https://angrybakery.com/easy-gingerbread-cookies/
Cute Gingerbread Cookie Cutters
FASAKA 3pcs Stainless Steel Cookie Cutters Set Gingerbread Boy Shape Mould with Red Environmental PVC

Wilton Gingerbread Boy Comfort Grip Cookie Cutter

Step- By- Step Gingerbread Cookie Photo Instructions
Wrap Dough in Plastic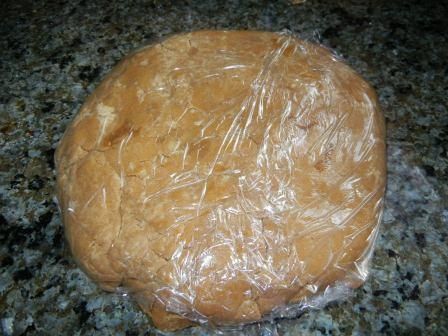 Form it to a Disk Shape..
Then stick it in the refrigerator
Start With A Blob This Big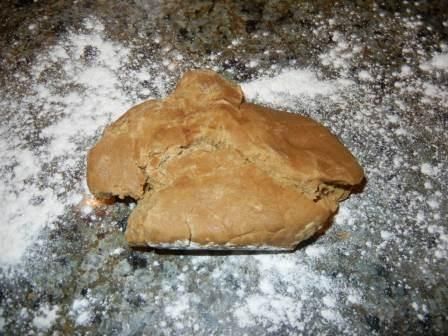 Smaller is easier to manage for rolling out
Cut Out the Shapes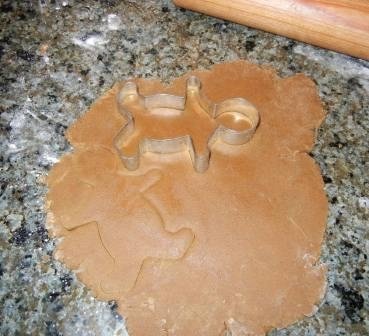 You Can Use Men if you want to
Ready To Bake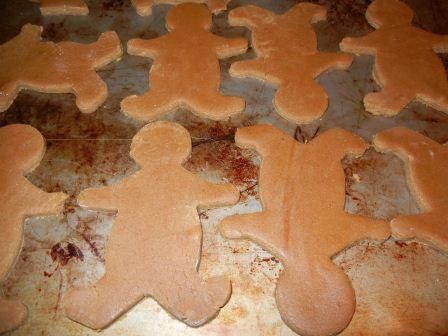 If You Want to Add Raisins or Nuts… Now"s the Time
Let Baked Cookies Cool On a Rack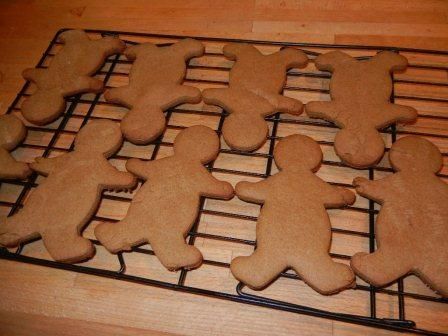 Don't Even THINK About Decorating Them Before they have Cooled
Simple Icing Recipe
Just a Starting Point… You Can Change it if You Like
Put 2 cups (more or less) into a flat bowl (like a soup bowl)… add a few tablespoons of Milk. Stir to combine. You are looking for something the texture of glue.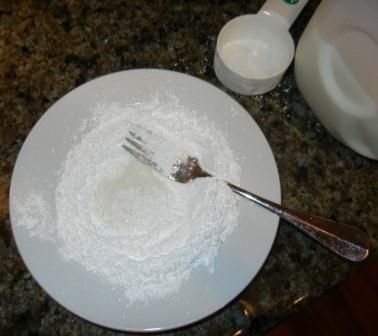 If it's too thin… add more sugar. If it's too thick… add more milk.
If you want it flavored… make it with another liquid, something like lemon juice or orange juice.
If you want it colored… add food color.
If you want it to be chocolate…. substitute 1/2 cup of unsweetened cocoa powder for 1/2 cup of powdered sugar.
I use a flat bowl so that I can dip the cookies into it.
Everyone In the Pool!
Drop the Gingerbread Face First into the Icing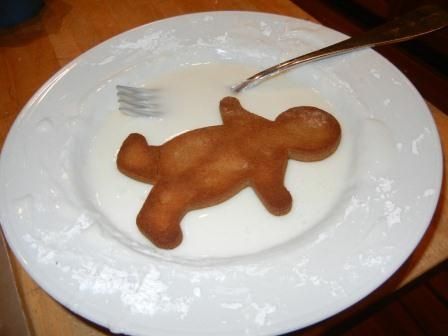 Piping On a Face
Notice How I Have Prepared the Workspace by covering it with Waxed Paper… Makes clean up easier..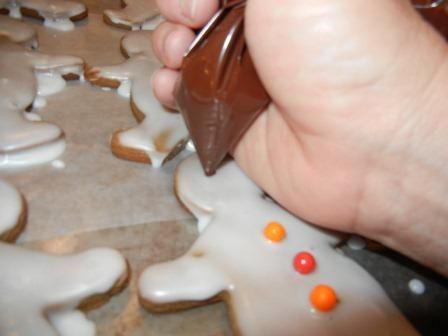 I added Candy Buttons while the icing was still wet….. But don't pipe on the face until the icing is dry (or it will smear)