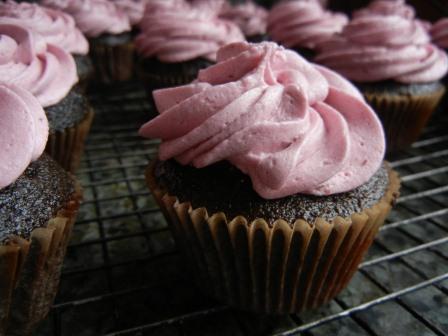 Don't you love when you can have your favorite things all at once? Doesn't happen often, does it…? (or practically ever, come to think of it). These Chocolate and Red Wine Cupcakes combine some of the flavors I love best of all into one sweet package.
Chocolate, Wine and Berries…
MMMMM… swoon….
And in cupcake form, so it's easy to eat.
Added bonus? since cupcakes are kind of small (compared to say, a sheet cake), you can have more than one without people staring at you with that look (you know the one…).
In fact, these cupcakes are so yummy… there's no real reason to stop at two (just give that person a look right back!)
The cupcakes have reduced wine in the batter to give them an amazing flavor…. I then filled the center with a mixture of berries and wine… then top it off with a Butter Cream that has been flavored with berries and wine.
Yes, this is one of those cupcake recipes with multiple steps and fillings…. don't be daunted! It's easier than it sounds. (And I suppose you could leave some stuff out … well, not the cupcake… and certainly not the frosting…..) I've put in some step by step photos (down at the bottom) You Can Do This!
When you reach for the bottle of Cabernet for this recipe, please please please don't grab the very expensive bottle that someone has been saving for a special occasion. You will be reducing it! Seriously, you mostly want something that is not vinegar (keep in mind, quality ingredients make a quality product….). Go with a mid-range bottle.
You will need a few extra hours to make this recipe, because you will want to soak the blackberries in the wine. HOWEVER! If you don't have a few extra hours…. you can still make them. I didn't notice a massive difference, you will be mushing the berries in the wine eventually. (Go ahead and throw the berry/wine filling together the night before… and resist the temptation to call it breakfast) (hmmm.. might make the Oatmeal a whole lot more appealing…)
There are Step By Step Photos Below to Help you through it!
Only other heads up…. you will be reducing (that is cooking the wine until part of it evaporates) from 2 cups to 1 cup. This will make your house smell a bit Christmassy (we do mulled wine at the holidays). My daughter kept coming in from school wondering about the smell….
Chocolate and Red Wine Cupcakes with Blackberry Cabernet Frosting Recipe
There is also a Blackberry Cabernet Filling
Chocolate and Red Wine Cupcakes with Blackberry Cabernet Filling and Frosting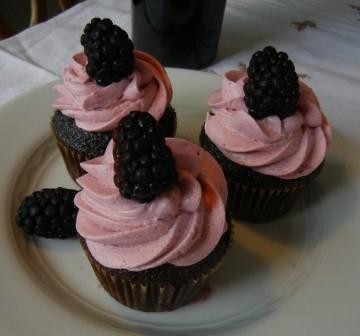 The cupcakes are yummy... chocolate with a wonderful taste of berries, and a hint of wine. I brush the hot cupcakes with some wine, just to punch up the flavor a bit, but you can leave it off if it seems like too much or you don't want to feed it to the kids that way (in that case you can pour yourself a glass and drink it as you bake instead). One bite... and I'm in my feeling good. (If only I could figure out a way to bake a massage into a cupcake, I'd be set.) Enjoy!
Ingredients
CUPCAKES:

2 cups plus 1/4 cup Cabernet Sauvignon
2 oz. Unsweetened Chocolate
1 cup Unsalted Butter
2 cup Unbleached Flour
1 3/4 cup Granulated Sugar
4 Tbl. Unsweetened Cocoa Powder
1 1/4 tsp Baking Soda
1/2 cup Buttermilk*
2 Eggs
2 tsp Vanilla Extract
BLACKBERRY FILLING:

1 1/2 cup Blackberries
3/4 cup Cabernet Savignon
1/4 cup Granulated Sugar
BLACKBERRY CABERNET FROSTING:

1 cup Unsalted Butter
4 cups Powdered Sugar
4 to 6 Tbl of the Blackberry Cabernet Filling
GARNISH:

Blackberries for Garnish if you like
Instructions
SET UP FILLING:

Before anything else.... Mix the filling ingredients together in a medium bowl or measuring cup... set them aside for a while (at least a few hours...up to a day).
CUPCAKES:

Turn on the oven to 350...let it preheat while you are mixing ingredients
In a medium saucepan over medium heat... reduce the 2 cups of Cabernet down to one cup of Cabernet. You will want it bubbling when you need it, but the timing works out ok... just get it cooking, and start mixing up the other ingredients. When it gets to the point you need it, pour it in... you can let the batter wait a few minutes for the wine to finish reducing. I don't have a magic trick for measuring... I just occasionally poured it into a measuring cup from the saucepan... then poured it back to the saucepan.
Get a passing child who has nothing better to do to line the cupcake pans with cupcake papers.
Melt the butter and unsweetened chocolate together... stir until smooth. I do this in a bowl in the microwave (cover it... butter on the roof of the microwave is a drag).
Now... you've got all that going, time to haul out the mixer.
In the bowl of a stand mixer (unless you have strong arms and a desire to stir) combine the flour, sugar, cocoa powder, and baking soda. Mix them up a bit (I find that mixing the dry by hand prevents me from inhaling loads of cocoa flour blowback).
With the mixer going on low, slowly add the melted butter/chocolate mixture to the dry mixture. It will look thick and grainy, don't worry, it will get better...
Add the Buttermilk, eggs and vanilla extract.
**note- if you don't have buttermilk (and I seldom do) you can add a teaspoon of lemon juice to a cup of milk and let it sit for five minutes to make an approximation of buttermilk... works for the recipe, but looks kind of clumpy... and yes, I know, you only need 1/2 cup of buttermilk, so yes, you can add 1/2 teaspoon of lemon juice to 1/2 cup of milk.)
Beat until combined, increase the speed on the mixer and beat another minute, scrape the sides, beat a bit more... stop.
Ok... got your batter mixed to here?.. double check the wine reduction.....Is it bubbly and reduced?
Slowly, with the mixer going on low, add the wine to the batter. I find that when I let it run down the side of the mixing bowl I end up wearing less of it wine. (just saying). When the wine is all mixed it, raise the speed of the mixer to medium for a 30 seconds, scrape the sides and the bottom, go another 30 seconds.
Done.
Cupcake liners ready? Oven heated to 350?
Pour the batter into the cupcake liners. I find it easiest to use an ice cream scoop for this job... keeps things neat. Fill the cups around 2/3 to 3/4 full (2/3 will get you 24.... 3/4 will get you 21 or 22)
Bake the cupcakes for 16 to 17 minutes (touch the top... if it bounces back, it's done... or use the toothpick method... stick a toothpick in, if it comes out clean, they are done)
Put the pan on a cooling rack, brush the hot cupcakes with the 1/4 cup of wine using a pastry brush.
Take them out and let them cool completely on a rack.
FILLING:

Put the berry/wine mixture in a food processor and pulse it a few times until processed.
If you don't have a food processor, you can use a potato masher.
I have a food mill to get the seeds out, you can use a sieve... or just leave the seeds in, one of my tasters (you know who you are) complained about the seeds... so.. now I take them out. Perhaps your people are less fussy.
Cupcakes cool?
Using a scoop or spoon (I use a small metal coffee scoop that I have) scoop a bit out of the top of the cupcake... drizzle in a teaspoon of the berry filling... put the top back on.
FROSTING:

(Did you wash the mixing bowl? Because you will need it now...)
In the mixing bowl with a whisk attachment, beat the butter. Add the powdered sugar 1/4 cup at a time while the mixer is going on low.
When you've added 3 cups of powdered sugar, add 4 tablespoons of the berry filling.
Whip them together.
Add some more powdered sugar
Add some more berry mixture
Whip, scrape, whip
Now taste it...look at it.
Does it taste good? Does it need more berry? Is it too soft? is it too stiff?
Add more berry if it's stiff, or needs more flavor
Add more sugar if it's too loose
Get the consistency you like.
Put the frosting in a piping bag (I like using a star tip, but there is no actual rule about this) (btw. don't have a piping bag? you can use a spreader, but maybe put the piping bag on your wish list...trust me.. it makes frosting cupcakes a snap)
Frost the cupcakes:

For bonus points you can top them with a blackberry.
Now settle in and eat one. You've earned it.
Notes
If you macerate the Berries in wine, the overall time will be longer...
https://angrybakery.com/chocolate-cabernet-cupcakes-with-blackberry-cabernet-frosting/
Cupcake Carriers to Keep Your Cupcakes Looking Great!
Don't do all that work, only to have your cupcakes get smooshed!


Step By Step Instructions with Photos
Before You Do Anything Else…Soak the Berries in Wine and Sugar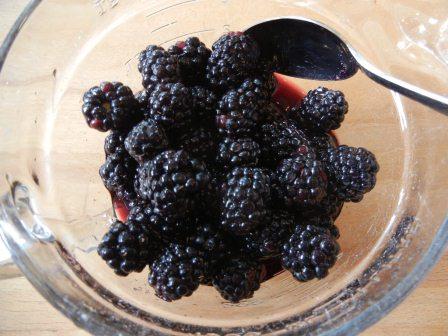 You Can Do this Hours before… or the Night Before
Start By Reducing the Wine From 2 cups to 1 cup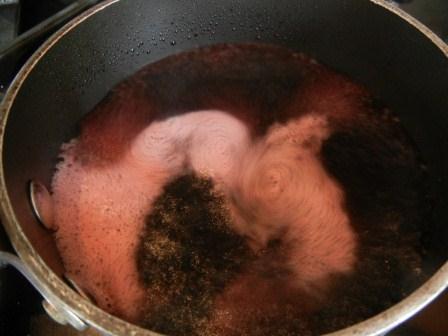 just cook it until half evaporates away
Put the Butter and Unsweetened Chocolate in a Microwave Safe Bowl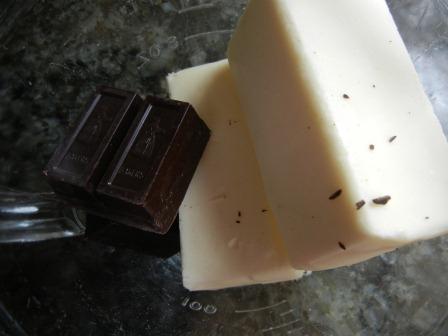 Melt them … takes about 1 to 2 minutes depending on the microwave
Combine the Dry Ingredients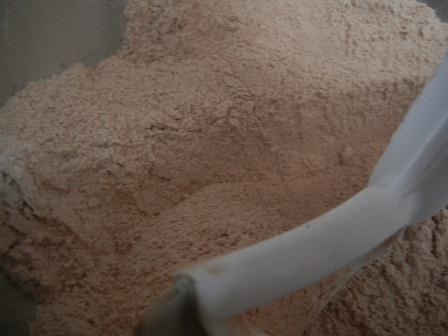 Mix them up a bit
Pour the Melted Chocolate/Butter Mixture into the Dry Stuff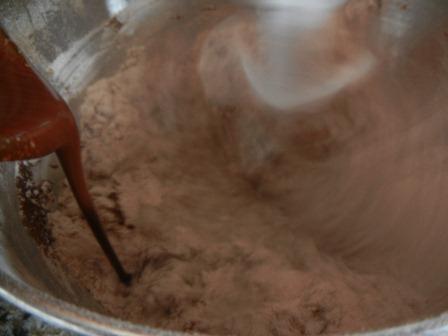 I run it down the edge
Add the Hot Wine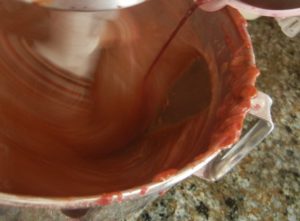 Run it down the side so you don't get splashed
The Batter Will Look Like This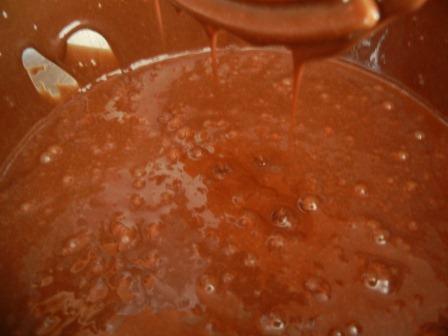 And smell even better
Use an Ice Cream Scoop with a Thumb Release to Fill the Cupcake Cups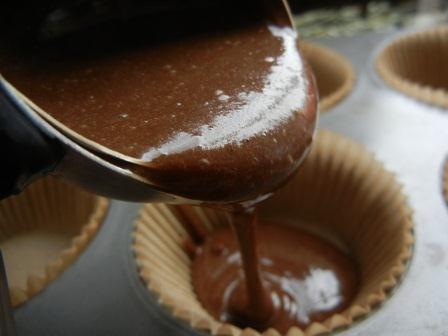 I find it neater…keeps the batter off the fingers
Bake for 16 to 18 Minutes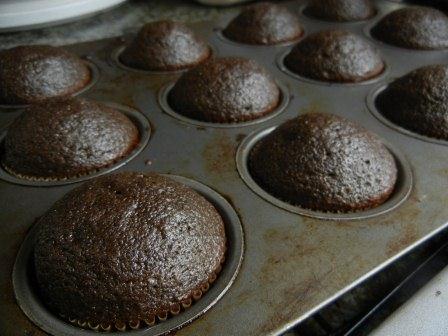 They Will Look Domed Like This
Use a Pastry Brush To Brush On Wine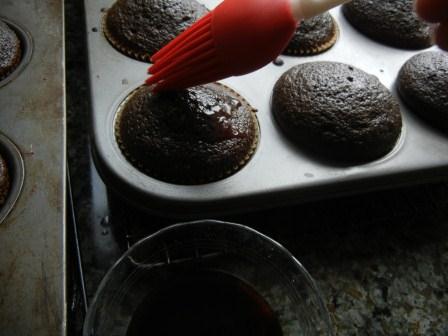 Use a Pastry Brush
This is entirely optional… I chose to take the option
Cool COMPLETELY on a Rack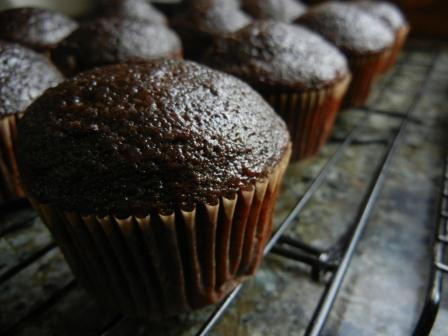 Don't melt your frosting…let the cupcakes cool
Put the Wine Soaked Berries in the Food Processor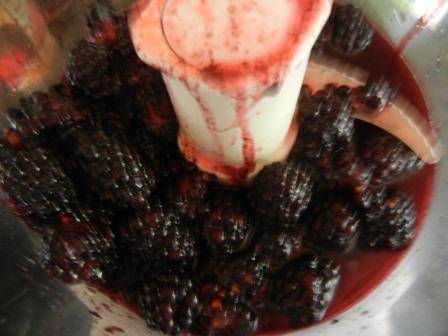 Pulse Until Mushed
Remove the Seeds from the Sauce…Unless You Don't Mind Seeds…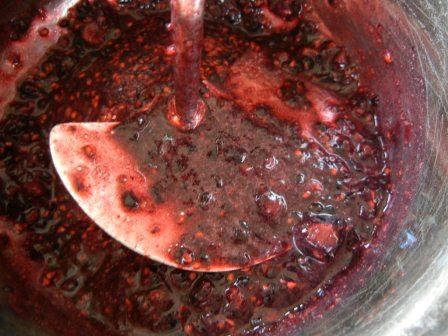 I use a food mill, but you can use a big sieve- just push stuff through with a spatula
Seeds can go to the compost heap…
Berry/Wine Filling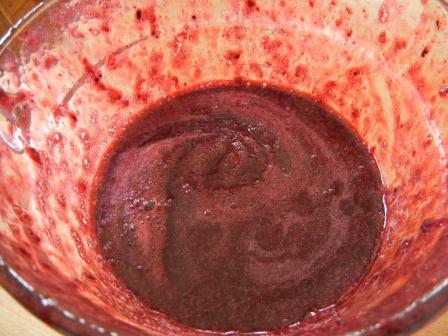 Some of this goes in the Frosting
Scoop Out a Bit From the Top of the Cupcake…Pour in Some Sauce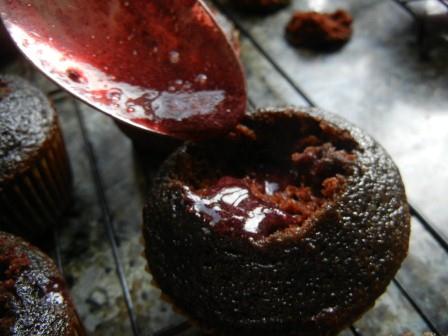 I Use a Coffee Scoop, but a Spoon or one of those Fancy Cupcake Corers Will Do the Job
Put the Top Back On….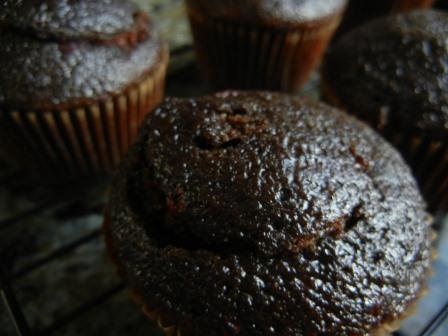 So you know… if you are in a super hurry, you can skip the filling part… but you'll be leaving out a load of flavor
Whip Up Butter and Powdered Sugar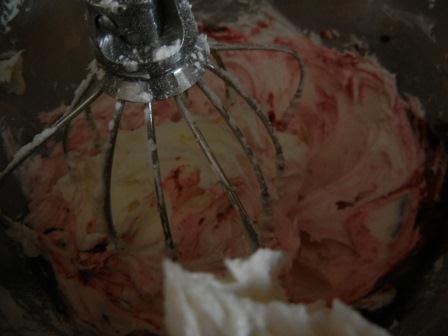 Add Some Berry/Wine Sauce
Frosting Texture Looks Like This When It's Done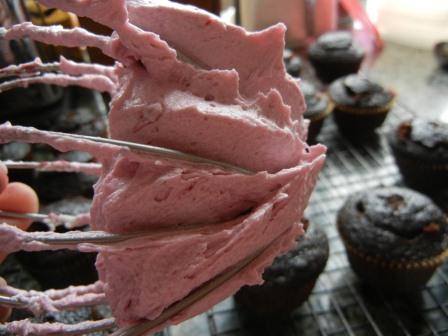 Adjust it to your taste… more berry/wine…. more powdered sugar
If it's a very warm day, up the sugar to make it thicker. Heat may cause the frosting to break… and get sweaty looking … ICK!
Frost the Cupcakes… I used a Piping Bag with a Star Tip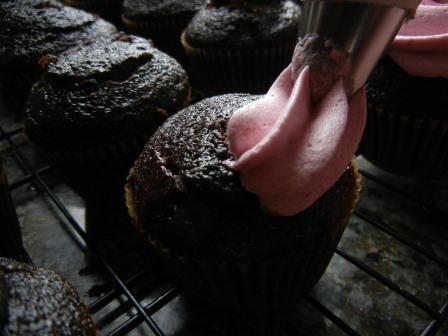 You can use a round tip… or a spreading knife
Ta DAH!!!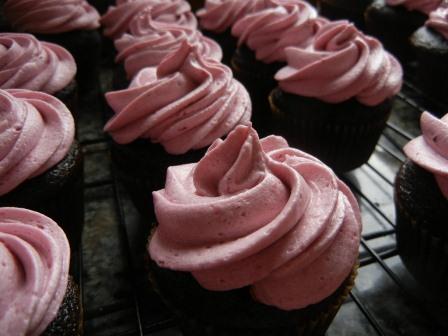 Now eat…. or top with a berry and eat….