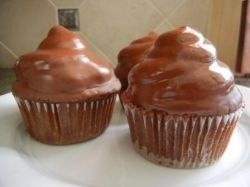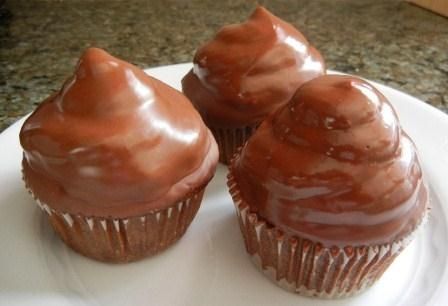 This Chocolate Dipped Cupcakes Recipe came from a childhood memory. When I was a kid growing up in Southern California, we would head up to Big Bear for skiing and mountain fun. One of the big treats would be a stop at Belloti's Bakery for Million Dollar Ding Dongs.
Chocolate cupcake, a mile high spiral of fluffy white icing, all covered with a shell of milk chocolate. I could eat an embarrassing amount of them. (This might go a long way to explaining my inability to fit into a bikini…)
So… now I'm all grown up (hahahaha) and living in Northern California, too far to make a trip to Belotti's… so I have to come up with a recipe for my own dipped cupcakes.
It took a few tries (thanks to all my taste testers out there!) But I think I may have gotten it.
Added bonus… I made some Mini Chocolate Dipped Cupcakes too… Just pop one in your mouth, and the flavor explodes…YUM!!
Chocolate Dipped Cupcakes Recipe….
Chocolate Dipped Cupcakes Recipe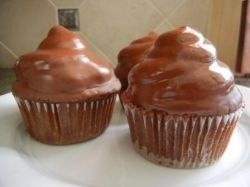 Just to clarify... I've broken the Chocolate Dipped Cupcakes Recipe into its separate components. Cupcake Frosting Dip
Ingredients
Chocolate Cupcakes:

1 stick 1/2 cup Butter
2 1/4 cup Brown Sugar
3 Eggs
1 tsp Vanilla
3 squares (3 oz) Unsweetened Chocolate
2 cups Unbleached Flour
2 tsp Baking Soda
1/4 cup Unsweetened Cocoa Powder
1 cup Full Fat Sour Cream
1 cup BOILING Water
White Mountain Frosting:

4 Egg Whites
1 cup Sugar
1/2 cup Light Corn Syrup
4 Tbl. Water
2 Tsp. Vanilla
Dipping Chocolate:

2 to 3 cups Milk Chocolate Chips
1 to 2 Tbl. Shortening
Instructions
Cupcakes:

Preheat Oven to 350 F
Line muffin/cupcake Pans with Cupcake Papers... give them a quick spritz with the spray stuff (Pam).. this will insure that the cupcakes don't stick to the paper.
Put the Chocolate Squares in the food processor, and process them to powder with teeny bits. Add the Flour, Baking Soda and Cocoa Powder, process until all is brownish powder. Set aside.
Cream Butter with Brown Sugar.
In a small bowl, whisk together eggs and vanilla.
Add egg mixture to butter mixture, scrape sides.
Alternate adding flour mixture and sour cream - start and end with flour. Combine completely.
Put mixture on low... unless you like to wear cake batter... and add the BOILING water. Scrape sides, and mix until lump free.
Fill cupcake cups 3/4 full
Bake 15 minutes.
Cool completely before frosting.
Frosting:

In the Mixer, beat Egg Whites on high speed until you have Stiff Peaks... set aside
In a medium saucepan, stir together Sugar, Corn Syrup, and Water until combined.
Bring to rolling boil... stirring all the while
Wipe the side of the saucepan with a pastry brush dipped in ice water.
Stick a candy thermometer to the side of saucepan
Boil without stirring, until you hit 242 degrees F.
Turn the mixer with the egg whites in it to medium speed.
Pour hot sugar syrup SLOWLY in a thin stream into the egg whites.
Add Vanilla.
Beat at high speed for 10 minutes until stiff peaks form
Dipping Chocolate:

Put Milk Chocolate Chips (ok, you can use dark if you prefer) in a microwave safe bowl with the Shortening.
Melt them together.. stir until smooth.
Ta Da!!!
Assembling the Cupcakes:

This is how it all comes together!
MAKE ROOM IN THE FREEZER (you will see why)
1. Bake Chocolate Cupcakes… Let cool
2. Make White Mountain Frosting…
3. Put the Frosting in a Pastry Bag with a star or round tip.
4. Press the tip of the pastry bag into the cupcake, give it a squeeze… then swirl it up on top.. frost as high as you want.
5. Put the frosted cupcakes in the freezer.
6. When Frozen, melt the dipping chocolate… it has to be really melted, and the cupcakes have to be frozen.
7. Dip the Frosted Cupcakes into the Chocolate. While upside down, shake off the extra chocolate. Let stand to cool
Eat
Notes
Make room in your freezer! Freezing the Frosted Cupcakes is key to dipping success!
https://angrybakery.com/chocolate-dipped-cupcakes/
Serve your Cupcakes in Style!
Step by Step Photos…. to clarify the directions
Making White Mountain Frosting
Boil the Sugar for White Mountain Icing…It needs to reach 242 degrees F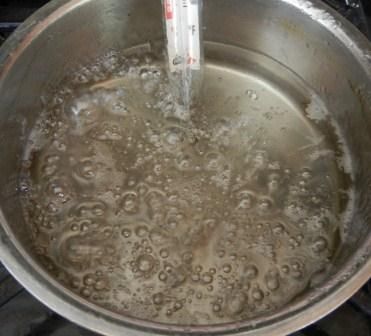 White Mountain Frosting When it's All Whipped Up
It will be nice and stiff… tastes sweet… like melted marshmallows.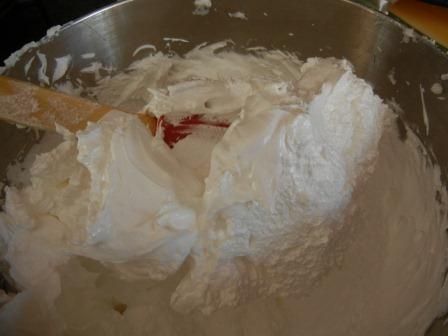 To Fill the Center of the Cupcake with Frosting
Stick the Tip of the Pastry Bag into the Cupcake
Squeeze the pastry bag to get the Frosting in to the cupcake. Just a quick squeeze…(If you've exploded a cupcake, you'll know how much is too much.)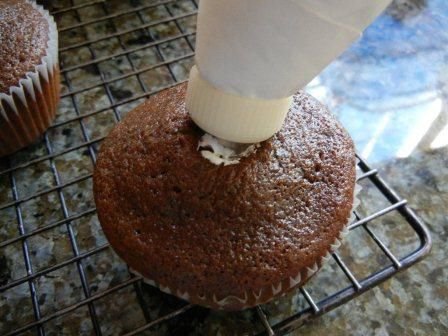 Filled Cupcake Looks Like This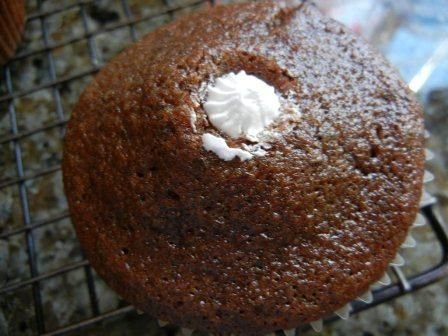 I frosted Cupcakes to look like this… just a quick swirl. If you don't have a pastry bag… you can slather it on with a knife, and skip filling the cupcakes.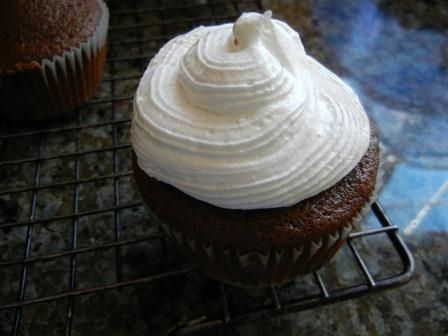 Now…. put the cupcakes on a tray or baking pan, and set them in the freezer.
Make sure the frosting is FROZEN… or you'll make a mess
Dip the Frozen Cupcakes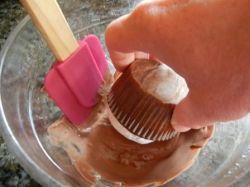 Let Rest on a Rack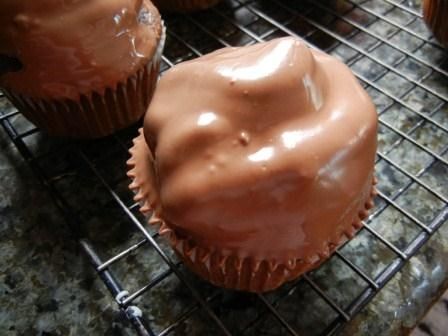 You can make Mini Dipped Cupcakes!
Bake mini chocolate cupcakes… same stuff, different sized pan… shorter time
Spread frosting on them… Freeze
And then Dip
For those of you Who like the Idea… But Want a shortcut…..
Chocolate Dipped Cupcakes- The Easy Way
Use a cake mix… and bake the cupcakes
Use a can of frosting…Just spread the frosting on the cupcakes, don't bother with a pastry bag and filling the cakes
Freeze them
Prepare dip like in recipe
Dip Cupcakes… EAT