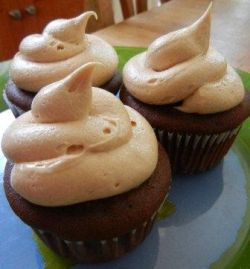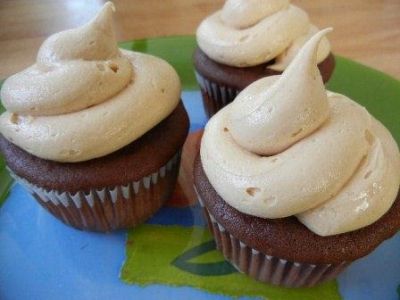 I bake Dark Chocolate Cupcakes with Peanut Butter Frosting so often, I'm going to start buying Peanut Butter in Gallon containers. Seems like lately, every time I say…"what should I bake?", the response is, "cupcakes with peanut butter frosting!"
Really? Peanut butter? That stuff that sticks to the roof of your mouth? That stuff that goes on a sandwich with jelly? I guess my people feel peanut butter deprived… since I don't really like it, so mostly forget to buy it.
These Dark Chocolate Cupcakes with Peanut Butter Frosting may just change my buying habits. The cupcake is a moist, dark chocolate cake… I've filled the top with a dark Ganache filling…. and then topped it off with a fluffy, sweet, peanuty, peanut butter frosting.
We've baked several batches already this week, and they keep vanishing. (I need to get more peanut butter….)
I made these Dark Chocolate Cupcakes Peanut Butter Frosting both with and without the Ganache filling. (I thought the flavors would be too strong for the younger set, turns out… they really like it better that way!) It's entirely up to you if you want to take the extra step. The recipe for the Ganache is included.
DON'T PANIC! There are a lot of ingredients, but these cupcakes are a snap to make.
(Plus, you will find step-by-step assembly instructions with photos are below to help you along.)
Dark Chocolate Cupcakes Peanut Butter Frosting Recipe
Melt in your mouth dark moist cake, fluffy peanut buttery frosting.
You can fill these with a chocolate ganache if you want... it's optional. Make the Chocolate Ganache first. It needs to cool a bit. The ganache is a rich, dark, chocolaty, fudgy, filling that can be used for other desserts. The included recipe makes way more than you need for the cupcakes, so you can either cut the recipe in half, save the rest for another use, or sit down with the pot and the spoon and make a pig of yourself.
Ingredients
Dark Chocolate Cupcakes:

12 Tbl. Butter at room temp
2 cups Granulated Sugar
1 Tsp. Vanilla Extract
3 Eggs
1 1/4 cup Unsweetened Cocoa
1 1/4 cup BOILING water
1 tsp Baking Soda
2 1/4 cups Unbleached Flour
1 tsp Baking Powder
1 cup Buttermilk
Peanut Butter Frosting:

4 Tbl. Butter
1/2 - 3/4 Cup Peanut Butter
4 1/2 cups Powdered Sugar
1 tsp. Vanilla
1/4 cup Milk
Chocolate Ganache (Optional):

1 Cup Heavy Cream
12 oz. Dark Chocolate
2 tsp Chocolate Liquer***
***optional
Instructions
If you plan to make the Ganache, make it first, since it needs time to cool.
CHOCOLATE CUPCAKES:

Preheat oven to 350 Degrees Fahrenheit
Line a Cupcake pan with Cupcake papers (I sometimes give them a light spritz with that non-stick spray stuff.... just in case)
Put the water on to boil
In a stand mixer (unless you have strong arms) beat the butter with the sugar for 4 or 5 minutes.... until it is light and fluffy.
Add Vanilla, beat, scrape down the sides.
Add the Eggs, one at a time, beating and scraping between additions.
Put the cocoa powder into a medium bowl... add the boiling water... whisk until the cocoa is completely dissolved and incorporated. It will look like a lot of melted chocolate.
Now... here's the strange part, but just go with me on this, it works.... put the baking soda in on top of the chocolate BUT DON"T STIR IT IN!
Add the Chocolate Mixture to the Butter/Egg/Sugar Mixture... beat a bit, scrape sides.
In measuring cup combine Flour and Baking Powder. Add 1/3 into chocolate/butter mixture, beat a bit.
Add 1/2 of the Buttermilk
Add 1/3 of the Flour
Add the rest of the Buttermilk
Add the rest of the Flour
Beat and scrape after each addition..... Don't Hurry! You don't want to have to mop the floor after this.
When all ingredients are completely combined... Fill up those cupcake liners.
Don't fill them more than 2/3 full!
I find that using an ice cream scoop (one of those with a thumb release) makes this job easier.
Bake the cupcakes for 18 minutes.
Remove from oven, let sit in pan for a few minutes, and then cool on a rack until COMPLETELY COOL before frosting.
.
PEANUT BUTTER FROSTING:

Install the Whisk attachment on your mixer, and whip the butter and peanut butter together until they are completely blended.
Add Powdered Sugar SLOWLY.... keep whipping.
After about half of the sugar goes in, add the vanilla.
Add more Powdered Sugar
Add the Milk
Add the rest of the powdered Sugar.
Scrape
WHIP HARD!
Ok, now look at it. Does it look like frosting?
If it seems dry... add a LITTLE bit of Milk
If it seems wet... add another 1/2 cup of Powdered Sugar
Whip more
Taste the frosting... is it good? Then you're done.
Make the Ganache:

Chop the Dark Chocolate up into small chunks. Use a knife or the food processor. Don't go nuts, but small is good.
Warm the heavy cream in a saucepan on the stove to simmering. Remove from the heat... stir in the chocolate bits. Keep stirring until the chocolate melts. Should it stop melting... hold it over the heat a second... stirring all the while, until it warms enough to melt.
If you want to gild the lily, stir in some chocolate liquor.
Transfer Ganache to a bowl, and stick in the refrigerator while you prepare the Cupcake Batter.
CUPCAKE ASSEMBLY:

If you want to use the Ganache filling, have that at the ready.
Cut a small hole into the top of the cupcake.
Fill the hole with a teaspoon of Ganache.
Put the cupcake piece back on to cover it.
Frost the Cupcake with Peanut Butter Frosting.
Done
Eat
https://angrybakery.com/dark-chocolate-cupcakes-with-peanut-butter-frosting/
Step-By-Step Photos For Assembling Dark Chocolate Cupcakes Peanut Butter Frosting
(Don't you just love visual aids?)
Bake the Cupcakes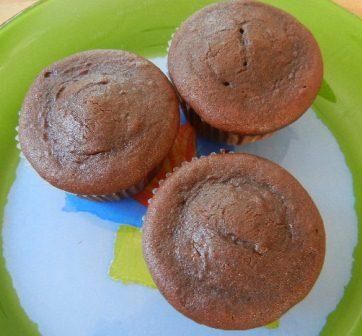 Scoop a bit out of the top… my coffee scoop is perfect for this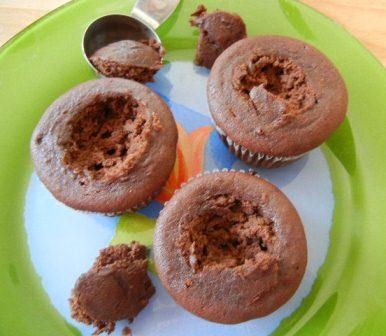 Fill the Hole with Ganache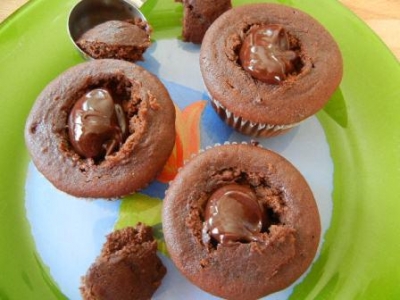 Put the Lid Back On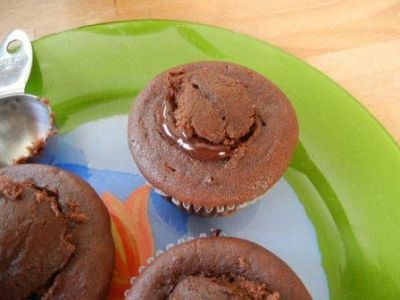 Frost the Cupcakes
(I like to use my Ateco Pastry Bag Set… the Tips are perfect for that swirl.)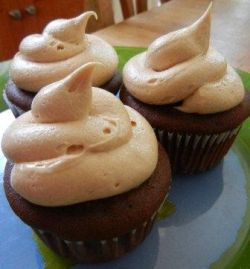 Peanut Allergy Warning
NOTE- There are a lot of kids out there with Peanut Allergies. To be safe, make sure anyone eating one knows that the frosting contains peanut butter. I generally don't send these along to school functions, because there are too many kids I just don't know. 
You can decide for yourself if it is appropriate to bring Cupcakes with Peanut Butter Frosting to Bake Sales. If I do, I sprinkle the top with chopped peanuts as a visual warning sign.
Disposable Cupcake Carriers
Need to drop cupcake off at an event? These Disposable cupcake Carriers get the cupcakes there safely, and you don't have to worry about getting your expensive carrier back.