Chocolate Chip Meringues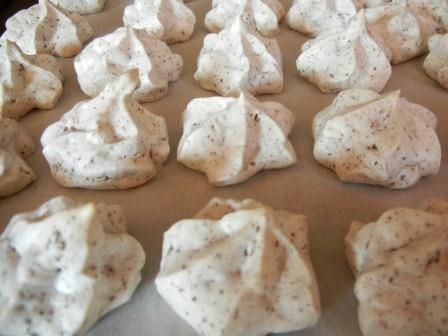 Chocolate Chip Meringues are a delightful cookie that I just can't stop EATING! Crisp outside, bit chewy inside, sweet with just enough chocolate to make me swoon…
Not only are these cookies easy to make….they are LOW-FAT! No kidding. They are primarily egg whites and sugar. Now… you do add chocolate… but, it's chopped small, so it hardly counts….
The trickiest part of these cookies is the whipping up of the egg whites. Be sure the eggs are fresh … or at least not the eggs you bought 3 weeks ago…. Separate them carefully, and be sure you have a clean mixing bowl. Egg yolk spells death for meringue, as does any fat residue (ewww… that sounds gross) that you might have in your bowl (no.. I'm not insinuating that you don't wash your dishes well… just saying… sometimes a schmear of something gets left behind).
You don't have to pipe your cookies. I like the look of stars, but it certainly isn't mandatory. You can just drop the meringue with a tablespoon. If you don't have a piping bag, and you want to pipe? Put the meringue in a plastic gallon zipper bag, and clip a corner. Of course, if no one has put your tips away in a place of mystery… use the star tip to make your Chocolate Chip Meringues shine.
Click this link to get the Recipe for Chocolate Chip Meringue Cookies