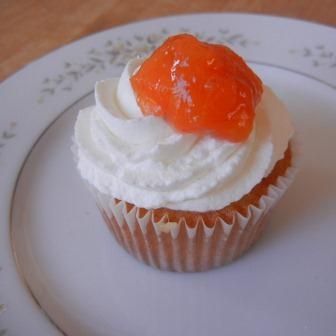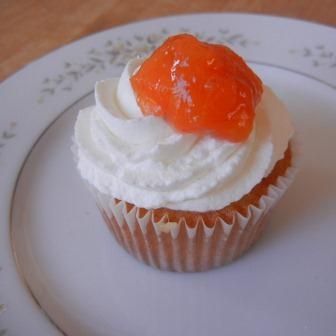 This Peaches and Cream Cupcake Recipe is best made in summer when peaches are in season, but you CAN (in a pinch) use canned peaches….
The words 'Peaches and Cream' brings to mind beautiful cheeks and a perfect complexion. A lovely English woman in a Mary Cassat painting standing on a cliff overlooking a windy sea, waiting for her love to return…..
I have freckles.
Lots of freckles.
I had a theory for a while… If I go outside and get more sun, the freckles will blend together and form a beautiful tan… which will fade to a lovely glow at summer's end. Sadly, I ended up burning a peeling for days (2nd degree sunburn is an ugly thing).
So, now… I wear my Spf 50 when I'm out in the sun…. I still have freckles… and I've decided that if I really want peaches and cream, I'll have to eat it.
These Peaches and Cream Cupcakes bring a peach shortcake to mind… only you can carry them around in one hand (so that English woman can eat one while wistfully looking out to sea…no sense in going hungry while waiting).
This is a fairly straightforward Vanilla Cupcake. It gets it's light texture from the beaten egg whites. I have a few mixers on my counter.. so I just switch back and forth between machines. For all of the normal people out there… beat the egg whites first, then scoop it into a bowl and set it aside. See… you don't have to wash the bowl after egg whites, but you would have to wash the bowl BEFORE the egg whites. (Yes, I know you now have an extra bowl to wash… make a child do it… that's why we have them) (the kids, not the bowls)
You can spike it with a bit of Peach Schnapps if you want to change the flavor ( or your attitude), a fresh sweet/tart Peach Compote filling, and a "frosting" that is made from sweetened Whipped Cream. Yum. I top them off with another dab of the Peach Compote (it's great for flavor, and for identification purposes… )
YUM!
Guess I can handle not being a smooth complected beauty on a windswept cliff… I'd rather have a cupcake!
Peaches and Cream Cupcake Recipe
Whip up Heavy Cream for the Whipped Cream Topping (please, don't use the stuff from a can, save it for your ice cream). Whipped Cream is not crazy about heat though… so use vanilla buttercream if you plan to travel to a hot place and eat in the sun.
Makes 18 to 20 Cupcakes
Prep Time: Takes about 25 to 30 minutes to make the Peach Compote… then it has to cool
Total Time: 2 1/2 hours (if you make the compote in advance, or use peach jam instead, you can cut the time in half)
It's best to make the Peach Compote first… it needs time to cook and cool.
Ingredients
COMPOTE RECIPE BELOW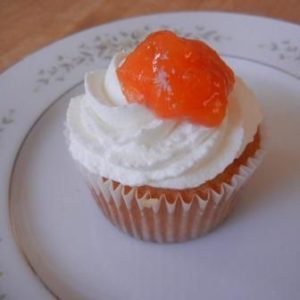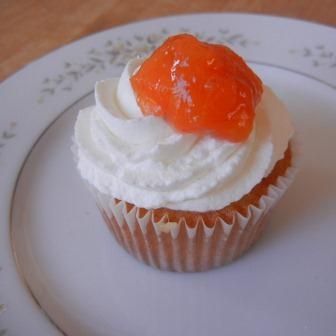 CUPCAKES
4 Egg Whites
1/2 cup Butter (soft)
1 3/4 cup Sugar
1 tsp Vanilla Extract
2 cups Unbleached Flour
1 tsp Baking Powder
1/2 tsp Baking Soda
1 1/4 cup Buttermilk or
1 cup Buttermilk and
1/4 cup Peach Schnapps
FROSTING
2 Cups Heavy Cream
2 to 4 tsp Granulated Sugar (to taste)
Instructions
CUPCAKES
Preheat the oven to 350 degrees Fahrenheit
Line Cupcake pans for 18 – 20 cupcakes… ok, yes, that sounds odd… start with 18, be ready to add a few extra if you have extra batter.
In the bowl of a stand mixer…. whip up the Egg Whites until you get to soft peak. (When you pull up the beater, you should leave a mound in its space… you don't want it to be too dry looking). Scoop the egg whites into a bowl, and set aside for a few minutes.
Combine the flour, baking soda and baking powder in a medium bowl… kind of stir it up a bit, but you don't need to go nuts.
Decide if you want to use Buttermilk alone, or a Buttermilk and Peach Schnapps combination (truly, I do NOT recommend drinking this….bleh)
Make sure your butter is soft enough to squish in the mixer (I like to use butter, HOWEVER… if you want this cupcake to be 'white', use shortening). Beat the butter (or shortening) with the sugar for 4 or 5 minutes. You want them light and fluffy.
Scrape down the sides of the bowl with a spatula….
Add Vanilla Extract… beat at medium speed until it's mixed in.
Now… with the beater on low… alternate adding the flour mixture and the buttermilk(peach schnapps) mixture…. (yes, low, unless you hate that shirt and wanted to change anyway…)( You DO have an apron on? Right…?)
So, put in 1/3 of the flour stuff then 1/2 of the milk stuff…mix
1/3 of the flour, rest of milk… and the rest of the flour on low
scrape down the sides of the bowl- don't forget the bottom under the beater!
Beat a just a bit more…. all mixed up?
stop!
Take the mixing bowl away from the mixer…
Use a spatula to plop 1/3 of the Egg Whites into the Batter. Carefully fold it together. (This means… run a spatula down the side of the bowl, and up through the middle of the stuff… rotate the bowl 1/4 turn…. repeat…. rotate…. repeat) This is a kind of sacrificial Egg White… Now that the batter is lightened, you can fold in the rest of the Egg White.
When the egg white no longer shows as white streaks….
Get out your Ice Cream Scoop and fill up those cupcake cups 2/3 full. (Honestly, eyeball this… but know that more is not better…)
Bake for 17 to 18 minutes.
Go check your compote… is it cooling down?
Get out your cooling racks for the cupcakes
Maybe wash the mixing bowl so it's clean for the Whipped Cream
Get the mail… look at about 4 to 5 pages of the new furniture catalog that just arrived….mentally re-do the family room….
BING
Touch a cupcake… does the dent kind of come back up? Or are they still a bit wet? If wet…give them another minute and try again. If ready… out they come. Set the pans on the cooling racks.
After 2 or 3 minutes of resting (being a cupcake must be exhausting)… pull the cakes out of the pan (I use a butter knife to give them a boost)
They must be COMPLETELY COOL before you even attempt to fill and frost them. (In a hurry? stick them in the fridge)
You can now go make the whipped cream
WHIPPED CREAM FROSTING
Pour 2 cups of heavy cream into the bowl of a mixer (you did wash it like I suggested?)
Use the whisk attachment… turn it on HIGH
Sprinkle in some sugar.
Whip away.
Watch it… you are making whipped cream, not butter….
When you get to soft peak (remember from before?) taste it. Sweet enough? (you aren't looking for a sugar headache… and you Europeans may not want to add sugar at all) Add more sugar if you want.
Beat another minute…
Pull up the beater… does the peak stay?
STOP
SOME ASSEMBLY REQUIRED
Use a coffee scoop or a spoon or a fancy tool to dig a hole into the top of the cupcake (slice a bit off the bottom of the piece and feed it to a passing child.)
Scoop approximately 1/2 teaspoon of Peach Compote into the hole… put the lid back on.
Fill a piping bag with whipped cream (don't have one… don't worry, you can use a butter knife to spread the whipped cream on…) (then put a piping set on your wish list for Christmas).
Pipe the Whipped Cream on the cupcake.
Spoon a dab of Peach Compote on top.
Done!
Peach Compote Recipe
I like to both fill and top Peaches and Cream Cupcakes with a Fresh Peach Compote. When you say the word "compote" my 11 year old falls down laughing…. apparently it's a funny word…. sigh… It's just fruit that's been cooked for a bit to soften/sweeten it up. ANYWAY. If you peel the peaches, cut them up a bit, then cook them in a bit of water, lemon juice and sugar (to taste) you end up with a kind of thick peach sauce/stew ..aka..COMPOTE. (You can serve the compote on its own with some whipped cream or vanilla ice cream… I like it straight from the cook pot). For the cupcake filling, I mash the peaches up a bit more, but, chunks are good. (So you know, the Lemon Juice is there to keep the Peaches from Browning)
3 – 4 Peaches peeled
1/4 cup Water
2 tsp Lemon Juice
2-4 TBL Granulated Sugar (to taste)
(Follow this link to find instruction for PEELING PEACHES. You can cook them with the peel, but some people don't like peel. If you are making the cupcakes, you get to decide).
Chop the peaches into chunks… put them in a saucepan with the water, lemon juice, and some of the sugar. Cook over medium low heat. When the peaches soften up (a knife should slide right in), taste it. Sweet enough? Add more sugar if you want. At this point, I use a potato masher to mush up the peaches a bit. You can decide how mushed you want yours to be.
Pour in a bowl… set in refrigerator to cool.