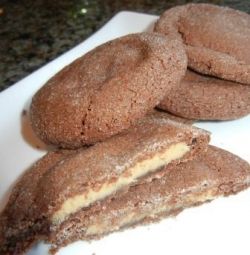 Chocolate Covered Peanut Butter Cookies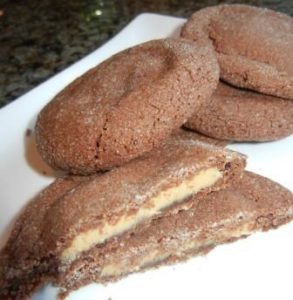 These are the Peanut Butter Cups of Cookies…. which means they are the first ones to vanish from the cookie jar (much like Peanut Butter Cups are the first Candy to vanish from the Halloween Candy Bag… so… as the holidays approach, people will be looking for these!)
A soft chewy chocolate cookie surrounds a peanut butter center. Then the whole thing is rolled in sugar. Smoosh a bit (kids love to do this part)… then bake.
It's a bit fiddley, but you are sticking the filling into the cookie…. not with magic…. you make a ball out of the filling, then cover it with chocolate stuff. Roll in sugar, squish flat and bake.
Granted…. these cookies take a bit more effort to make… but the results are divine. (And they are kind of big, as cookies go, so eating one is like eating two…. but since it's only one, you don't have to feel guilty).
And might I suggest, if you are doing the work anyway…. double the batch.
Chocolate Covered Peanut Butter Cookies
Makes 24 Cookies (big-ish ones)
Prep Time: 15-20 minutes
Total Time: 1 hour total from thinking about them to eating…
Ingredients
FILLING
1/2 cup Peanut Butter
2-3 Tbl. Softened Butter
3/4 cup Powdered Sugar
COOKIE PART
3/4 cup Softened Butter
3/4 cup Brown Sugar
1/2 cup Granulated Sugar
1 Egg
2 tsp Vanilla Extract
1 1/2 cup Flour
1/2 cup Cocoa Powder
1/2 tsp Baking Soda
2 – 3 Tbl Granulated Sugar
Instructions
Preheat the Oven to 350 degrees Fahrenheit
I used a stand mixer to combine the peanut butter, butter and powdered sugar… it will look a bit like a thick paste. You want it to be smooth. Roll the filling into balls around 1/2 to 3/4 of an inch in diameter. Then get going on the cookie bit.
In my stand mixer (I didn't even bother to wash it…) combine the butter and sugars… beat until fluffy-ish….about 4 minutes.
Add the egg and vanilla… beat to combine… scrape down the sides.
I usually combine the dry stuff in a measuring cup… just a few stirs to mix things up…. Turn the mixer on LOW, then SLOWLY add the dry stuff to the butter stuff. (I said slowly! or you will be wearing it).
Scrape down the sides… then continue beating on low until it's all combined.
SOME ASSEMBLY REQUIRED!
Take your medium cookie scoop (the one that's around 1 1/2 inches across) and scoop out a blob of cookie dough. I find it much easier to drop the blob on the palm of my hand, it's much qucker
to flatten it that way. You can flatten it on the cookie sheet, but sometimes it sticks.
Put a ball of the peanut butter filling into the middle of the cookie…. then wrap the cookie dough up around the peanut butter ball. Kind of pinch it to seal it…. and then roll the big ball between your palms to smooth it out.
Put the Granulated Sugar in a small bowl.
Drop the cookie dough ball into a bowl with granulated sugar… turn to coat it.
Set the sugar coated chocolate peanut butter cookie ball onto a cookie sheet. I used a Silpat mat (one of those non-stick mats) you can use parchment paper…. OR … you can just stick the balls on a non-stick cookie sheet.
Use the bottom of a glass to sort of squish the ball flat… you are looking to make it around 1/2 inch thick … don't press hard, press easy.
Bake for 9 minutes.
Let cool on cookie sheet for 2 minutes… then transfer to a cooling rack.
I LOVE these cookies warm.
REALLY LOVE these cookies warm….
But they are good cold too.
Enjoy!
Step By Step…. Chocolate Covered Peanut Butter Cookies
You can do this!
For the Peanut Butter Filling… Combine the Peanut Butter, Butter and Powdered Sugar completely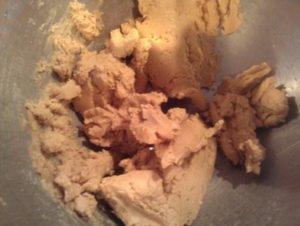 Roll the Peanut Butter filling into a ball around 1/2 to 3/4 inch thick.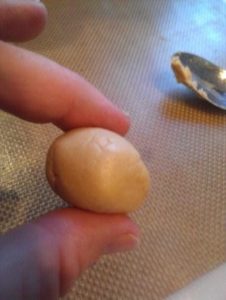 For the Chocolate Cookie Part- In a mixer, combine the butter and sugars… beat for 4 minutes, or until light and fluffy.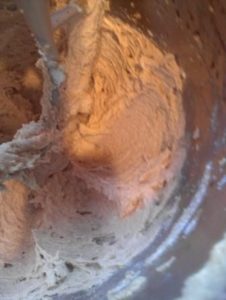 Add the dry stuff… beat to combined.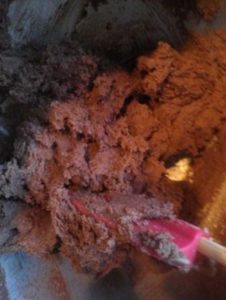 Scoop out a blob of cookie dough onto your palm… flatten it.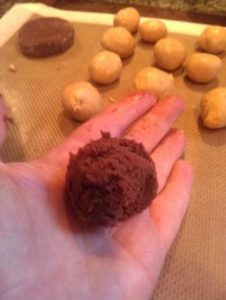 Wrap the flattened disk of cookie dough around the peanut butter ball.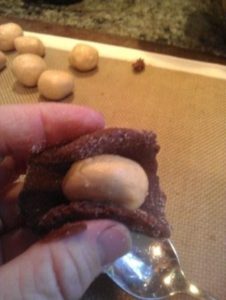 Smoosh it together to wrap completely around the peanut butter. Roll it around in your hand to smooth out.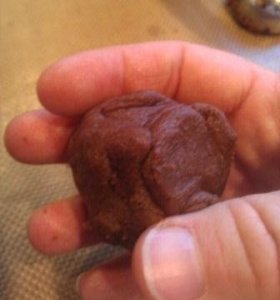 Roll the cookie ball in sugar.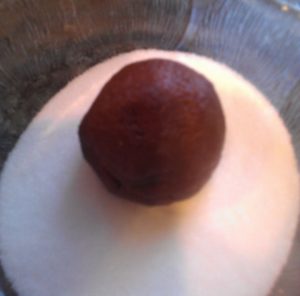 Flatten the sugar covered blob with the bottom of a glass… you are looking for just under 1/2 inch thick.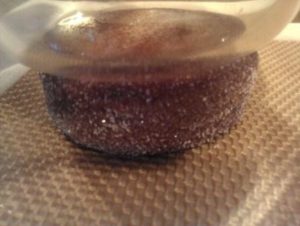 Make sure the cookies are around 2 inches apart… they do spread a bit. Stick the cookie sheet in the oven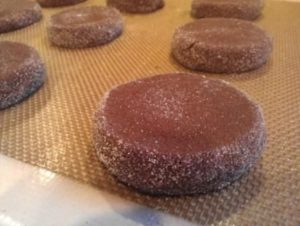 Bake 9 minutes…. Cookies will Spread a Bit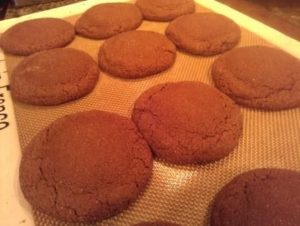 Cool on a rack…. of course, they are so good you might not want to wait…