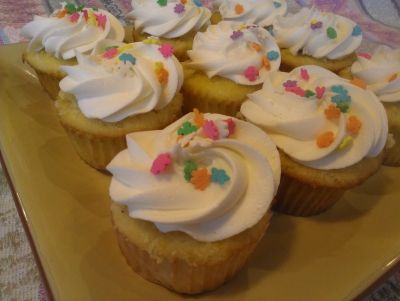 The Best Coconut Cupcake recipe I ever baked was a result of a project for Spanish Class. You see, my daughter came home from school the other day, and said she needed to bring authentic food from the Dominican Republic to her high school Spanish Class. I said, "can we bake?" (after the great 27 ingredient Shrimp Taco incident of last month… I just wanted to clarify up front how much work this was going to be….  what is it with Spanish class and food??). She said we could (yay!!), and we were off to the internet to do research ("to the internet" doesn't have the same ring as "to the Batmobile!", does it?).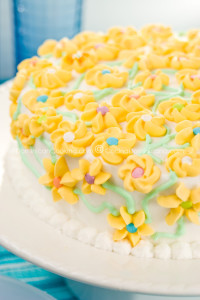 A Bizocho Dominicano is the National Cake of the Dominican Republic. Looks delicious. HOWEVER! The recipe came with a warning that it was extraordinarily difficult to get right. Now… I don't ordinarily shy from a challenge, but, the shrimp incident had made me wary, and I couldn't see the point in spending 8 hours making something fabulous for a bunch of high school kids (sorry sweetie… love you…) Besides, cake needs cutting and serving and so…
We made a few adjustments.
First, we went with a cupcake form. Cupcakes are easy to transport, and they just look friendly.
Second, we added a bit of coconut to the cake, and to the frosting…. because…well… coconut seemed tropical…
Naturally, we kept the Pineapple Filling….yum.…
And because the cake is traditionally topped with sugar flowers, we topped the cupcakes with sprinkle flowers (made of sugar).
These cupcakes are a bit dense with coconut… but this helps them hold up to the pineapple filling…
I cut a hole for the filling with a metal coffee scoop, but you can use a spoon. I understand they even have cupcake corers, but I haven't tried them yet ( I have a problem with tools that can only be used for one thing, I lose them in the drawer).
The butter cream frosting has Cream of Coconut for flavor. I sprinkled a few sugar flower sprinkles over the cupcakes (for authenticity), but you can sprinkle them with shredded coconut.
I've included Step by Step Photos at the bottom to make it easier!
Best Coconut Cupcakes Recipe (with Pineapple Filling)
Best Coconut Cupcakes Recipe with Pineapple Filling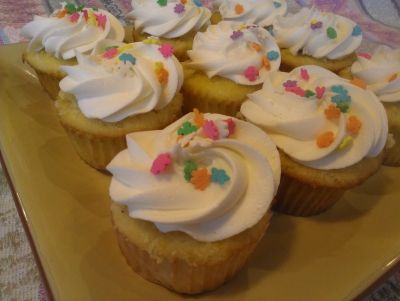 Ingredients
PINEAPPLE FILLING:

1 8 oz. Can of Crushed Pineapple in Juice
2 TBL Granulated Sugar
1 TBL Cornstarch
1 TBL Butter
1/2 tsp Vanilla Extract
COCONUT CUPCAKE:

1 1/2 cups Butter
2 cups Granulated Sugar
5 Eggs
2 Tbl. Cream of Coconut
3 cups Unbleached Flour
1 tsp Baking Powder
1/2 tsp Baking Soda
1 cup Buttermilk
COCONUT FROSTING:

1 cup Unsalted Butter
4 + cups Powdered Sugar
2 -3 Tsp Cream of Coconut
Instructions
PINEAPPLE FILLING:

You have to start the Pineapple Filling 2 to 3 hours before making the cupcakes, so that it has time to cool.
Put the Pineapple, sugar and cornstarch in a small saucepan.... Bring to a low boil, then cook over medium heat for 5 minutes. Stir every now and then.
Remove from heat... add the butter and whisk it in.
Now add the Vanilla Extract and whisk it in.
Dump the mixture into a bowl. Cover the pineapple mix with waxed paper... press it down so the pineapple stuff is touching the wax paper... this will keep a skin from forming (unless you LIKE pineapple skin...) Stick it in the refrigerator for at least 2 hours to cool.
COCONUT CUPCAKES:

Preheat oven to 350 degrees Fahrenheit
Line Cupcake pans with Cupcake liners
In the bowl of a stand mixer (makes it easier) combine the butter and sugar... beat until light and fluffy. This will take 4 to 5 minutes, so you have time to get out the other ingredients (or maybe remind a child for the 900th time to put away HIS SHOES).
Add the eggs... one at a time... beat between each one... then scrape down the sides and the bottom of the bowl.
Add the Vanilla Extract and Cream of Coconut.
Now... in a large measuring cup or small bowl, combine the flour, baking powder and baking soda. Just a quick stir should do it.
Got your buttermilk?
Add 1/2 of the flour mixture, beat
Add 1/2 of the buttermilk, beat
beat scrape the sides and bottom of the bowl, beat some more
Add the rest of the flour mixture
Add the rest of the buttermilk
Beat, scrape the side and bottom of the bowl, then...
Add the Coconut shreds (only have flakes? those work too)... beat 30 seconds, scrape the sides and bottom of the bowl... beat a few more seconds.....
Done
Using an ice cream scoop with a thumb release (or a big spoon) fill the cupcake liners about 2/3 to 3/4 full. No, you don't need to get out a ruler... just eyeball it. (So you know, the coconut does want to make the cupcakes stick to the pan, so if you put in less, they won't overflow the cupcake liners and make a mess.)
Bake 22 minutes ... then check them. Stick a toothpick in a cupcake, if it comes out clean, you're good. You can also touch the top, the dent should bounce back. If they aren't ready, go another minute or two.
Bing
Pull out the pans... set them on cooling racks to cool for a minute or three.
Now take the cupcakes out of the pans, and let them cool completely.
FROSTING:

Put the softened butter into the stand mixer (you did wash it, right?),using the whisk attachment... whip it up a bit.
With the mixer on low speed, add a cup of powdered sugar
When it's all mixed in, add another cup of powdered sugar
When that's all mixed in, add a third cup of powdered sugar
Whip it together
Now add the cream of coconut...whip a minute or two
Set to low and add another cup of powdered sugar... make sure it's all mixed in
Whip, scrape, whip for 2 to 3 minutes
Stop... look at what you have...
is it fluffy? light?
Does it taste good?
If it's too thick, or doesn't have enough coconut flavor, add more coconut creme
If it's too soft and goopy, add more powdered sugar.
When it feels and tastes good (you'll know it when you see it)
SOME ASSEMBLY REQUIRED:

Using a scoop or spoon, scoop out a bit of the top of the cupcake... put a tablespoon of the pineapple filling in the space...then cut a bit off the bottom of the scooped out bit, then put the lid back on the cupcake.
Fill a piping bag with a large tip with the frosting... now spiral it on to the cupcakes. (yes, it's better to use a piping bag... filled cupcakes might fall apart if you use a spreading knife)
Sprinkle Sugar Flowers or Sprinkles on Top!
Notes
Note- Cream of Coconut is found in the Adult Beverages section of the grocery store… it's kind of thick and sticky stuff… don't substitute coconut milk, it's different. Note 2- Don't have buttermilk? Add a teaspoon of lemon juice to a cup of milk, then let it sit for 5 minutes. The resulting liquid looks chunky and disgusting… but it works in baking as pseudo-buttermilk.
http://angrybakery.com/coconut-cupcakes-with-pineapple-filling-americanized-bizocho-dominicano/
Find Cream of Coconut Here
American Beverage Market Coco Real Cream of Coconut, 22 oz
Coco Lopez Cream Coconut, 15-Ounce Cans (Pack of 6)
&
Step By Step Instructions for Best Coconut Cupcakes Recipe
with Photos
Put the Canned Pineapple, Cornstarch and Sugar in a Saucepan
Stir Until All Dissolved Together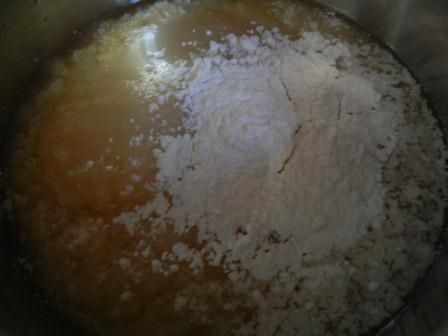 I haven't tried this with fresh Pineapple… I imagine it's delicious. If you do, can you let me know how it went?
Cook for 5 Minutes over Low Heat… Remove From the Heat… Add the Butter
Add the Vanilla too… Whisk together.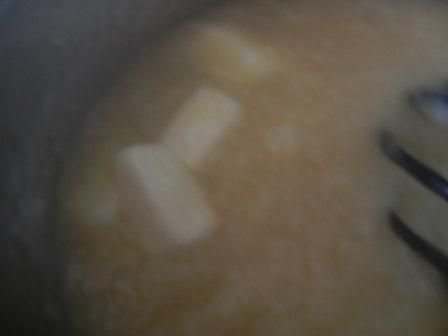 Pour the Pineapple Stuff in a Bowl… Cover with Waxed Paper…
Push the Waxed Paper down Against the Pineapple to prevent skin formation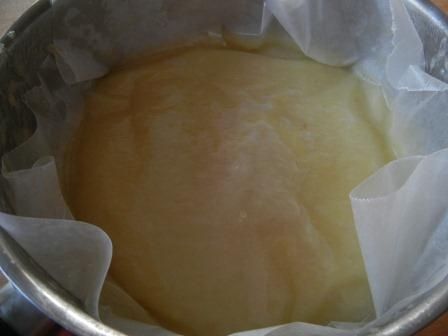 Yes, you can use plastic wrap… make sure it's not too hot.
Whip up the Butter and Sugar
Don't Shortcut this step, you want it to go 4 to 5 minutes… it will be light colored and fluffy when ready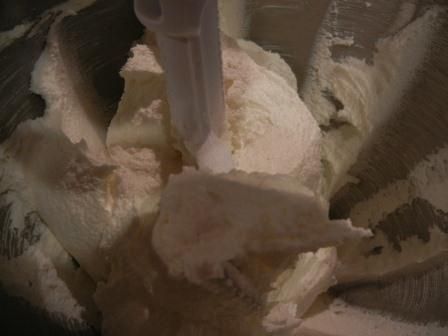 Add the Other Ingredients
Alternate Flour and Buttermilk…. then add the Coconut
Don't forget to scrape the sides, and the bottom under the beaters
Use a Scoop with a Thumb Release to Fill the Cupcake Liners
2/3 full….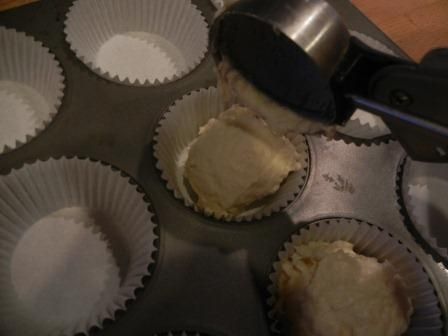 Ready for the Oven
Make sure the Oven is preheated to 350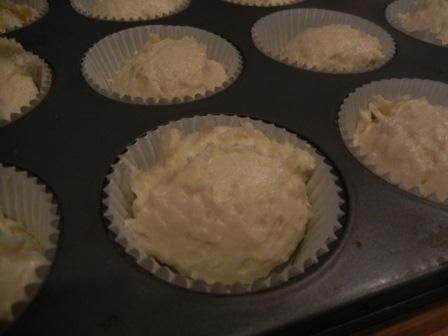 Make Sure the Cupcakes are COMPLETELY Cooled
Before You Fill / Frost Them
Really… it will just be a mess otherwise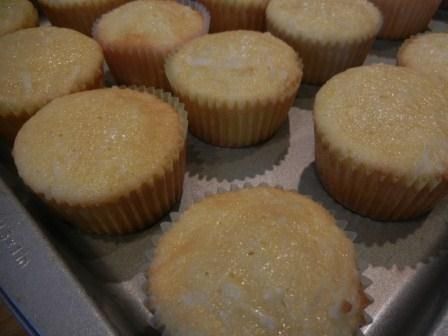 Dig a Hole in the Cupcake
I use a coffee scoop… but you can use a spoon or paring knife
yes…you can get a fancy cupcake scoop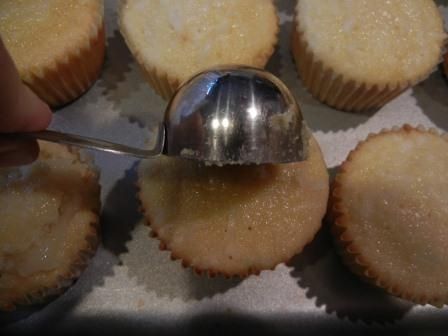 You Might Want to Trim the Bottom of the Plug You Pulled Out
That way the Pineapple won't googe out
Fill the Plug with Pineapple Filling
Put in a Tablespoon full (or a bit more if you like)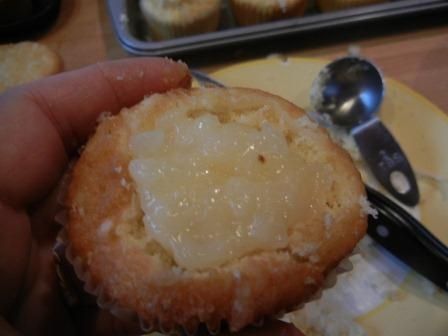 Line Then Up to Frost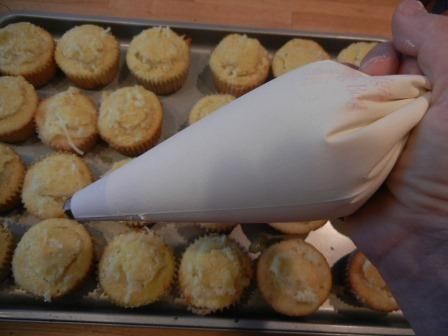 Coconut Frosting
For the Frosting, Combine the Butter and Powdered Sugar Slowly
When Combined…pick up speed
Add Cream of Coconut and More Powdered Sugar
Whip together until light and fluffy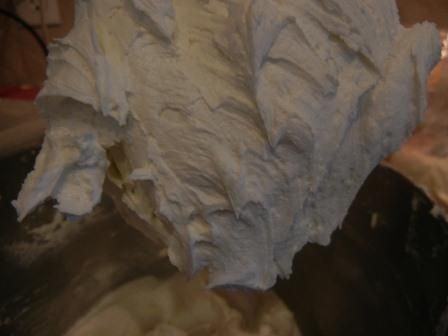 Look at it, taste it… adjust with more Powdered Sugar or Cream of Coconut
Load the Piping Bag…
I Use a Star Tip… makes it look fancy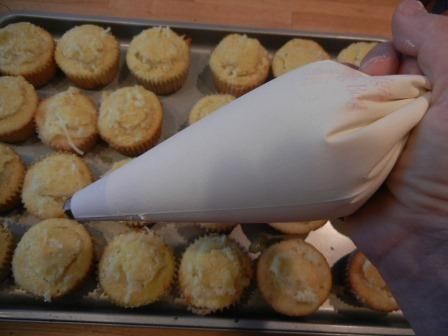 Pipe the Frosting on in a Spiral
Yes… you can use any other shape you prefer…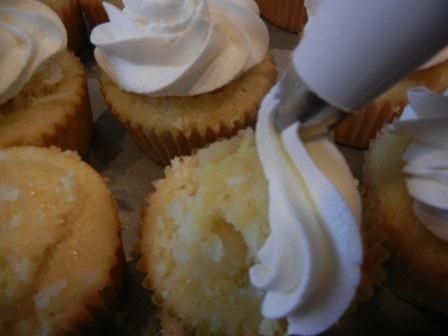 Decorate!
Flowers are Best… Coconut is Good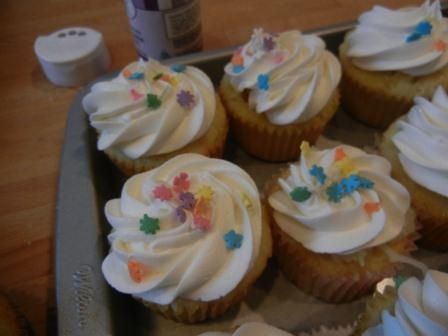 Cute Sugar Flowers Make Your Coconut Cupcakes Perfect
Wilton 6 Mix Sprinkle Assortment, Flowerful Medley
Sprinkles 3.5 Ounces-Daisy
Wilton 710-7000 32 Count Daisy Mini Icing Decorations, Assorted
Wilton 710-2215 Icing Decoration, Royal Flower Rainbow, Mini
Small Daisies Sugar Decorations Cookie Cupcake Cake Easter Flowers 12 Count
Wilton 415-8039 Flower Cupcake Decorating Kit
Dress My Cupcake DMC27298 Decorating Edible Cake and Cookie Confetti Sprinkles, Mini Flowers, 2.4-Ounce
Leafed Flower Sugar Decorations Cookie Cupcake Cake Easter Flowers 12 Count
&
Want to Make an Authentic Bizcocho Dominicano Cake?
This Recipe is the One
Aunt Clara's Kitchen Dominican Cooking has a fabulous recipe with loads of photos. She explains that the cake is traditionally made by a Master Baker…not a home baker… and lets you know that her first try was a fail.
This recipe is not for the faint of heart… but what a masterpiece.
http://www.dominicancooking.com/1001-bizcocho-dominicano-dominican-cake.html