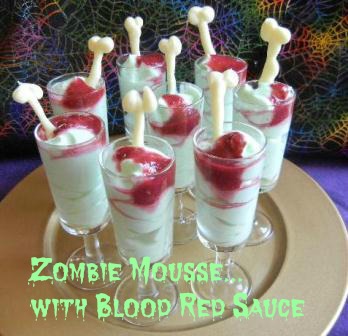 Halloween Chocolate Mousse- Zombie Mousse with Bloody Raspberry Sauce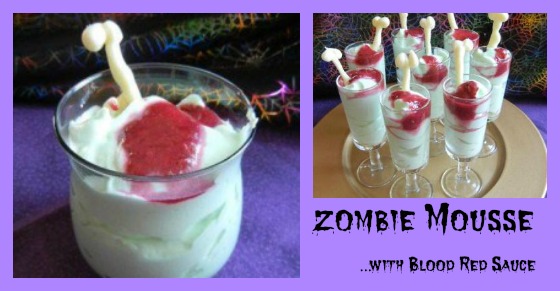 Why do I make special Halloween Chocolate Mousse? I was thinking about the Holidays… already getting the calls from my mom and sister. You know the ones… "are you visiting for Thanksgiving", "what do the kids want for Christmas", and "who is hosting Christmas this year?" Argh!! Isn't it still summer?
You know what I love about Halloween? You don't have to buy anyone a present, there's lots of candy, and I don't have to wear panty hose.
It's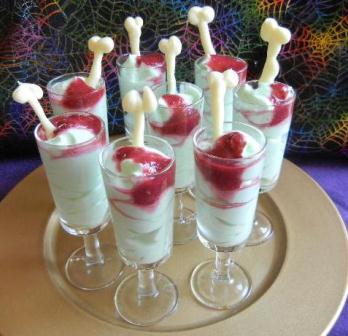 a perfect Holiday.
Halloween is Monsters, Halloween is blood and gore, Halloween is Treats, and Halloween is a wonderful time to play with your food (in our house it's also known as the holiday where mom gets food color everywhere).
This elegant Zombie Mousse with Blood Red Sauce is special enough to serve at your next dinner party… well, the next dinner party where the guests include Frankenstein and the Wolf Man…..
Actually, this Halloween Dessert is a light and fluffy White Chocolate Mousse (dyed green) with Raspberry Sauce presented with a white Chocolate Bone garnish. (I've been watching the Food Network… I'm learning all about garnishes and accents….) ( I also checked a Physiology book…. this particular bone is a metacarpal…)
Pretty easy to make.. and you can serve it in goblets or shot glasses..or mini cauldrons, if you have some lying around from your last witches meeting.
Enjoy
Elegant Halloween Chocolate Mousse with Blood Red Sauce Recipe
White Chocolate Mousse with Raspberry Sauce
This is an exceptionally light White Chocolate Mousse.... and it's pretty easy to make. Now...if you have another wonderful White Chocolate Mousse recipe that you got from your Aunt Esther ... go ahead and use it... just dye it green (probably shouldn't tell Aunt Esther that you dyed it green). The Raspberry Sauce also quite simple... Raspberries, a bit of sugar, and some Raspberry Liqueur (you can be as generous with your pour as you like) You can start the Raspberry Sauce while the white chocolate is cooling. Store it in the fridge The White Chocolate Bones are just melted white chocolate piped into the shapes of bones... Note.. we made these on a very warm day, and the chocolate started to melt... and the bones began to bend. We reset them in the freezer. You can make these bones ahead...like a week ahead... if you want. Store them in the fridge AIRTIGHT (don't want them tasting like yesterday's chili)
Ingredients
MOUSSE:

8 oz. White Chocolate
2 Egg Yolks
2 tsp. Sugar
1 1/4 cup Heavy Cream-divided
few drops GREEN food color paste
RASPBERRY SAUCE:

6 oz. Fresh or Frozen Raspberries
2 Tbl. Sugar
1 to 3 Tbl. Raspberry Liqueur
BONES:

2 oz. White Chocolate
Instructions
Mousse:

Break up the white chocolate and put it into a medium bowl... I like to use a large measuring cup. Set Aside (you'll come back... promise)
In a medium bowl ... combine the Egg Yolks and 2 Tbl. Sugar. Whisk until they are pale in color. This could take a while.... use a passing teenager to help you... promise them extra mousse. Set aside (things are piling up, I know... but it will be worth it)
In a heavy bottomed saucepan...over LOW heat bring the cream to a simmer... simmer is little bubbles and a shimmer of movement over the top. DON"T LET IT BURN.
Pour the hot cream into the egg/sugar mix, SLOWLY in a little stream... whisking all the while. (yes, you have enough hands for this. Take your time) When it's all whisked together, pour it all back into the saucepan.
Put the saucepan back on a burner turned to low. Cook ... stirring all the while with a wooden spoon (wooden spoons have magical properties, that's why).. until the back of the spoon looks coated with white stuff. If you draw a finger across the stuff, the mark you made remains.
Put a sieve (one of those bigger ones) over the chocolate... pour the egg yolk/cream/sugar mix through the sieve into the chocolate (the sieve is just in case you accidentally made scrambled eggs)
Stir the chocolate until it's all melted and smooth. Set aside
Whip remaining 1 cup of cream to stiff peaks. This means that when you pick up the beaters, the peak stays up. This does not mean whip it to butter. (This isn't 'Little House on the Prairie"... you can get butter from the store) Add the green food color into the whipping cream while it's whipping.
Fold about 1/2 of the whipped cream into the mousse base... when you've lightened the chocolate... fold in the rest.
Pipe or spoon into your dessert cups/glasses/ shot glasses or cauldrons.
Put in the fridge for an hour to set.
RASPBERRY SAUCE:

Put the Raspberries, 2 Tbl Sugar and Raspberry Liqueur in a food processor. Process it, to sauce.
For bonus points.... run it through a strainer to get all the seeds out (now... my daughter thinks that Zombies would have seedy blood, you can make your own decision)
Spoon sauce over mousse... and serve the extra next to it.
WHITE CHOCOLATE BONES:

Cover a baking sheet with parchment paper.
Melt the White Chocolate... I used a small ramekin, and melted the chocolate under low power, stirring occasionally.
Put the melted chocolate into a small zipper baggie, clip the corner, and pipe out bone shapes on a parchment paper covered baking sheet.
Stick into the fridge (or Freezer) until solid....
Accent your mousse with the bones.
https://angrybakery.com/zombie-mousse-with-blood-red-raspberry-sauce/
Serve Your Zombie Mousse in the Appropriate Glass
For Halloween Parties, serve Halloween Chocolate Mousse Mousse with Blood Red Sauce in small shot glasses.For smaller Halloween Dinner Parties, serve Zombie Mousse from a Wine glass. I love the skull glasses….
If you are feeling piggy… eat it out of the bowl.
Luminarc ARC International Atlas Martini Glass (Set of 4), 7.5 oz, Clear
Libbey 4-Piece Cosmopolitan Cocktail/Martini Glasses, 8 Ounce, Clear
Klikel 239-4a Skull Shot Glass (Set of 4), Transparent
&
Get Your Kids to Help Make the Halloween Chocolate Mousse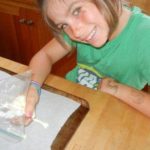 My Daughter Loves to Cook
My Daughter LOVES to help in the kitchen… especially when I'm working with Chocolate.
She helped fold the Mousse base into the Whipped Cream (and licked the bowl)
She helped scrape the Raspberry Sauce through the sieve (then ate the seeds and pulp)
She helped make the Bones (and was creative with some of the shapes… and got eat the goofy ones)
I see a trend.
Step By Step Photos- How to Make Zombie Mousse
Break Up the White Chocolate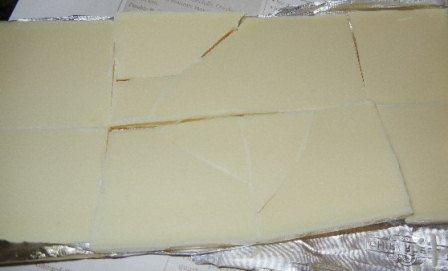 I Used Ghiradelli's (this is the Bay Are
Egg Yolks and Sugar in a Bowl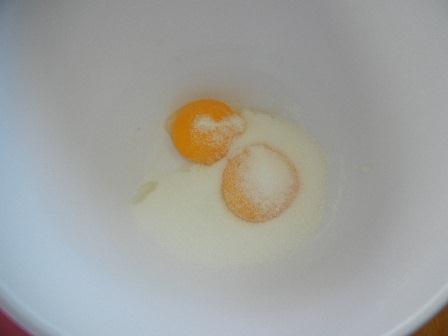 Whisk to Pale…. Takes a While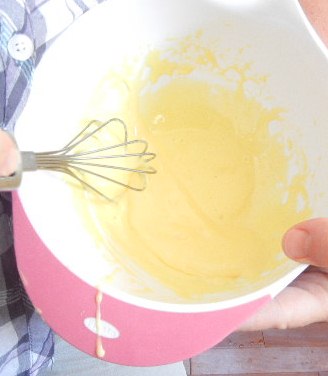 it look like this
Pour Hot Cream over the Eggs and Sugar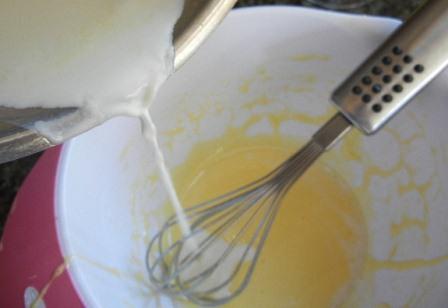 Slowly… or you'll scramble your eggs
Pour Back into Saucepan
Cook Cream/Egg Mix on LOW … stirring CONSTANTLY
You will be able to draw a line across the wooden spoon when it's ready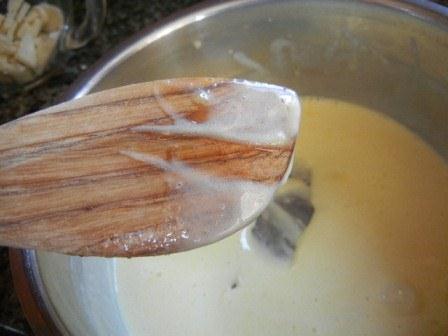 Pour Egg/Cream/Sugar Mix through a Strainer into Chocolate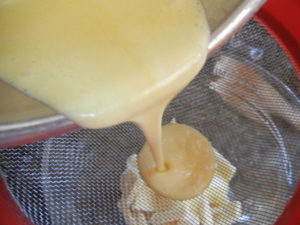 Dump out the greebles caught in your Sieve
 Stir the Chocolate Until it's Melted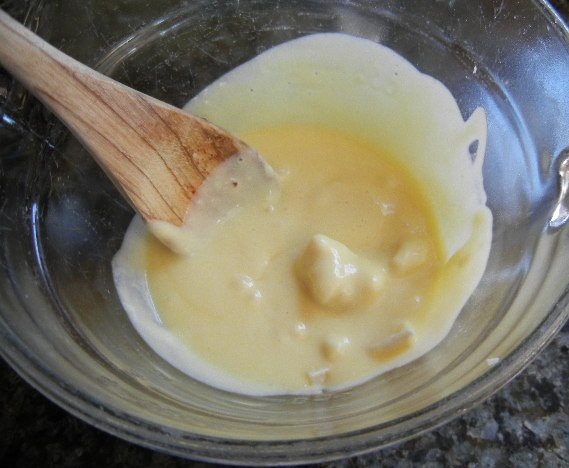 this isn't completely melted
This is Melted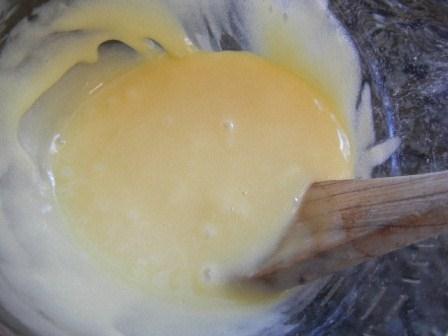 Add Green Food Color to the Chocolate
Whip Cream

Stiff peaks! But not all the way to butter
 Add SOME Whipped Cream to the Chocolate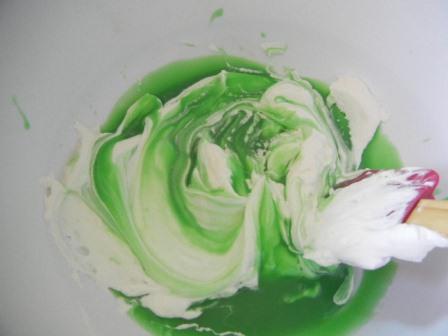 This is sort of sacrificial whipped cream… it will lose some poof, but it will lighten the chocolate .. DON"T PANIC
Fold in the Rest of the Whipped Cream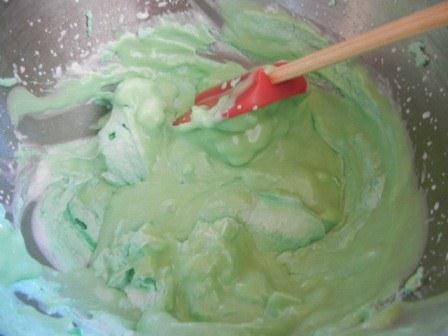 Use a Spatula… this is a delicate operation.
Fill Your Serving Glasses with Mousse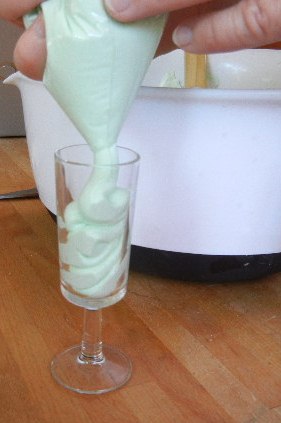 Use a Spoon or Piping Bag
"MAKE SURE YOUR SPOONS FIT INSIDE OF YOUR SHOT GLASSES!
Found this out the hard way….."
For Blood Red Raspberry Sauce
Scrape Pureed Raspberry through a Sieve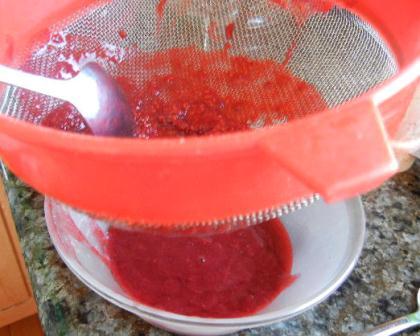 Unless you want seeds in your Sauce
 Raspberry Sauce…. or Blooooooood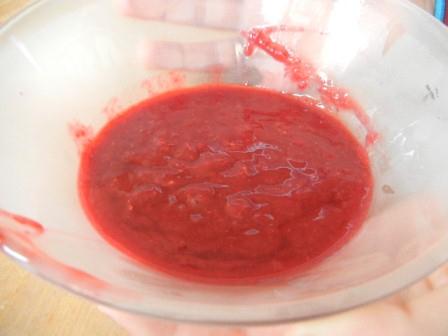 Spoon Raspberry Sauce over Mousse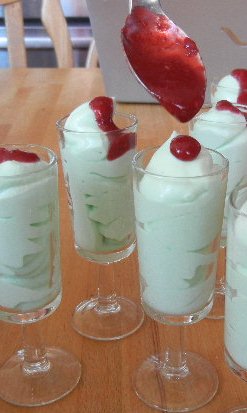 Also Serve Raspberry Sauce on the Side
 Make the Bones by Squirting Melted Chocolate from a Piping Bag
Melt chocolate over low heat
                  Bones… Two Bumps on top… Long Bone in Middle… Two on bottom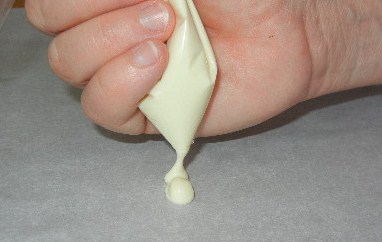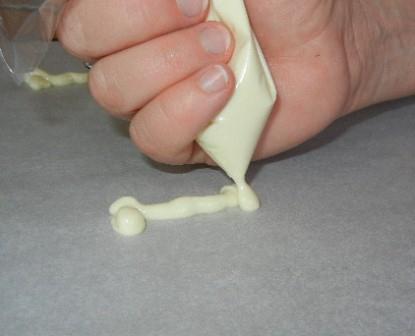 then cool
You Can Serve Zombie Mousse in a BIG CUP