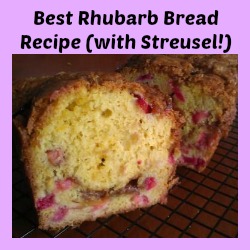 Best Rhubarb Bread Recipe (with Streusel!)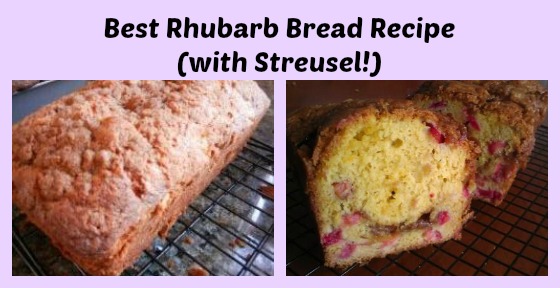 This really is the Best Rhubarb Bread Recipe... especially since it's topped in Streusel, and it tastes like CAKE!
You see spring means Rhubarb, and I love Rhubarb. I love the tart taste that Rhubarb has, I love the texture, and I love the pretty color. Rhubarb reminds me of my Oma (she let me make my first cake for her Kaffe Klatsch… with Rhubarb).
Got to say, I'm a fan.
Oddly, I'm pretty sure I'm the only person to ever buy it from my Grocery Store… the last check out girl didn't know what it was, or what you would do with it. So, to spread the word about the deliciousness of Rhubarb, I made Rhubarb Bread with Streusel.
The basis for this recipe was found on the Land O Lakes Butter website (yes, I freely admit, in my spare time I cruise butter websites…. it's not hurting anybody, and mostly I'm just looking). As we all know, I can't leave well enough alone… so I made a few additions/changes (mostly, I added more orange, and I doubled the recipe… the way I see it, if you are already making a mess, might as well make a bigger one).
Enjoy this deliciously fruity, sweet and tart bread for breakfast, or in the afternoon with a cup of coffee.
Yum
Best Rhubarb Bread Recipe

This recipe is based on the Rhubarb Streusel Bread that I found on the Land O Lakes website. I made a few changes... upped the amount of orange... since I was juicing the oranges, there was no reason NOT to add the zest. Then I doubled the streusel on top and in the middle of the bread... because, it's streusel, and I'm a firm believer that there is no such thing as too much streusel. Then, I doubled the recipe. I figure that if you are going to make a mess, might as well make a REALLY BIG MESS. Besides, if you have two, you can eat one, and store the other for that next bake sale, potluck or surprise visit from your in-laws.
Ingredients
BREAD:

3 cups Sliced/Diced Rhubarb
1 Cup Unsalted Butter
2 Cups Granulated Sugar
2 Tsp Orange Zest
2/3 cup Orange Juice
4 Eggs
4 cups Flour
2 tsp Baking Powder
1/2 tsp Baking Soda
STREUSEL:

8 Tbl Granulated Sugar
8 Tbl Brown Sugar
4 Tbl Flour
3 Tbl melted Butter
3 tsp Ground Cinnamon
Instructions
Preheat the oven to 350 degrees Fahrenheit
RHUBARB BREAD:

Line the bottom of 2 9 by 5 inch loaf pans with parchment paper. Give the sides a spritz of non-stick stuff. (No, you don't HAVE to use parchment paper, but it is unbelievably frustrating to bake something, only to have it stick in the pan)
Slice and dice the Rhubarb. First, slice off and discard any green leaves...( my Oma always told me they were dangerous, and I'm not going to try them to see if she was kidding) . Slice the stalks lengthwise, then slice the strips into 1/4 to 1/3 inch pieces (no, you don't have to get out your ruler, just eyeball it.) Set it aside.
In the bowl of a mixer, combine the butter and sugar. Beat for 2 or 3 minutes. Add the Orange Zest... continue beating for 3 more minutes until light and fluffy.
Scrape the sides, and add the orange juice. I find that dribbling it down the side of the bowl while the mixer is going is the best way to avoid having it bounce back in your face.
Add the Eggs, one at a time, with the beater on low.
Scrape down the sides... beat on medium for a bit.
Warning... at this point the batter will look like a curdled mess. Don't PANIC! It's all good. Things will look better in a minute.
Combine the flour, baking soda and baking powder in a bowl or large measuring cup. With the mixer on low, add the flour mixture a bit at a time (see, it's looking better now, isn't it?)
Bear for another minute... scrape the sides and bottom... beat a bit longer. Stop
You can dump the Rhubarb in now... I mix it in by hand so it doesn't get crushed by the beaters.
Set the Batter aside while you create the Streusel...
STREUSEL:

In a medium bowl or large measuring cup, combine the sugar, brown sugar, Flour and ground Cinnamon.
Add the Melted Butter... stir with a spoon or fork until combined and crumbly.
Done
SOME ASSEMBLY REQUIRED:

Remember, this is for 2 breads, so the numbers sound funny.... just work with me
Divide the streusel into thirds.
Put 1/4 of the batter into each prepared pan. Spread it smooth
Take 1/3 of the streusel, and divide it between the 2 pans... sprinkle it in.
Split the remaining batter between the 2 pans... spread it smooth.
Put half of the remaining streusel on one pan... half on the other. Press it in a little (I said A LITTLE)
Now stick them in the oven for 60 minutes.
At 60 minutes, take a look at it. Does it look to soft?
Touch it... does it give or feel sticky?
Stick in a toothpick... does batter come out?
If yes... let it bake another 5 minutes.
Then do all that again.
When it's baked... take the pans out of the oven and let them cool on a rack.
You do want to let the loaves cool before you pull them out of the pan. If you take them out early, it is still extraordinarily delicious, but you may have the bread fall apart when you slice it.
Best way to remove from pan.... run a knife around the edge of the bread.... if there is some overflow, you can slice it off.
Flip the pan over so the loaf is on your palm. Tap the bottom of the pan. It should fall out onto your hand. Peel off the paper and set it on the rack.
Slice and Eat
https://angrybakery.com/rhubarb-streusel-quick-bread/
You Can Freeze Rhubarb Bread
To Store, wrap a cooled loaf in plastic wrap… then wrap that in aluminum foil. Stick in the freezer for up to 2 months (please label it) (yes, you will so forget what's in there).
Are You a HUGE Fan of Rhubarb?
Show off your love of rhubarb…
Tick Tock Rhubarb Label (Cotton/Polyester Chef's Apron)
HONK IF YOU LOVE RHUBARB Funny Humor License Plate Frame Auto Tag Holder
Rhubarb Renaissance (The Northern Plate)
&
Step By Step Instructions for the Best Rhubarb Bread Recipe