Citrus Coconut Tea Cakes

Citrus Coconut Tea Cakes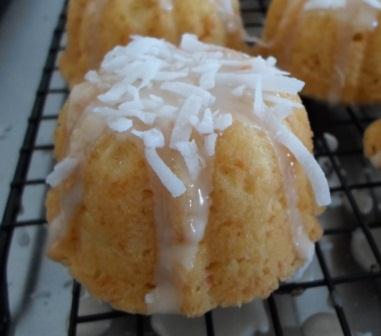 In my never ending quest to find yummy Kumquat recipes, I found this delightful Citrus Bundt Cake recipe. (Yes, a Kumquat Quest might seem strange… but… you have to collect something…). My daughter loves it when I bake it as mini-bundt cakes… they seem fancy, yet not so fussy that you feel like you need to get dressed up to eat them.
Added bonus… since they are small, you can probably eat several….without feeling too guilty.
The recipe does have a few ingredients that you may not have handy in your pantry (like Kumquats and Coconut Milk)…. And maybe the recipe feels like it has a few more steps than you think are worth doing.
Trust me… these cakes are worth the effort.
Moist, sweet, tart.  You could make these for a fancy tea party… or make them as a delicious after school treat for the kids. Served with fruit… they'd make a lovely dessert for a bar-b-que.
These delicious cakes will bring a smile to anyone's face, even an Angry Baker.
 Citrus Tea Cakes
makes 2 dozen Mini-Bundt Cakes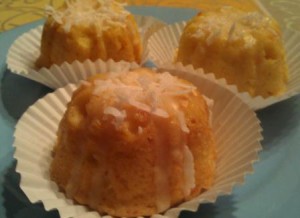 **note… if you don't have a Mini Bundt Pan
, you can use a cupcake pan.
 you can use cupcake pans
1 cup coconut milk (unsweetened
5 tbl Butter (unsalted)
¾ cup Pureed Kumquats
1-2 Tbl Orange Juice
1-2 Tbl Lemon Juice
1-2 tsp Lemon Zest
1-2 tsp Orange Zest
2 cup Flour (unbleached or all purpose)
1 Tbs Baking Powder
2 ¼ cup Sugar
3 oz. Instant Vanilla Pudding Powder
4 large Eggs
1 cup Sweetened Shredded Coconut (optional)
Coconut Citrus Glaze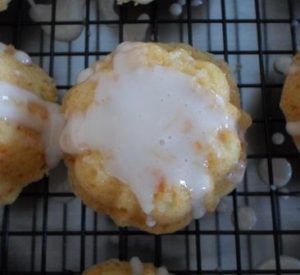 2 Tbl Lemon Juice
2 Tbl Orange Juice
2 ½ cup Powdered Sugar
1 ½ tsp. Vanilla
2-3 Tbl Coconut Milk
Preheat oven to 350 degrees Fahrenheit
Spray Mini Bundt Pans with Non Stick spray stuff
This recipe takes a few steps, some of them take a little longer than others…. So I'll try to give you this in an order that will make the most sense time wise.
Put the coconut milk and the butter into a small saucepan… melt the butter in the milk over medium heat until just melted… don't boil. Set the pan aside to cool.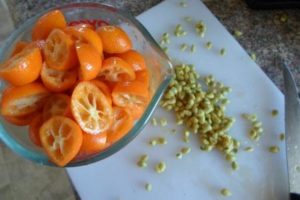 Prepare the Kumquat Puree… cut the kumquats in half horizontally, then then squeeze the seeds out. (The peel is edible on a kumquat, so don't even try to peel it.) Put the de-seeded kumquats into a food processor…. Puree until it's nothing but mush. Measure out ¾ cup. Add the lemon juice, Orange juice, lemon and orange zest to the Puree…. Mix them into the puree.
In the bowl of a stand mixer, combine the sugar and eggs…. Beat until lightened. Add Vanilla extract… beat to combine.
Add the Kumquat Puree to the egg mixture. Beat on medium until combined. (Note, it will look curdled and disgusting for a bit…)
Add the cooled coconut milk/Butter mixture to the stuff in the mixing bowl. Beat on medium to combine.
In a large measuring cup, combine the dry ingredients… flour, vanilla pudding powder and baking powder… whisk together a bit.
With the mixer on low, slowly add the dry stuff to the wet stuff…. Beat until just combined… scrape the sides of the mixing bowl… beat a little more….. STOP
*At this point, if you want to add the shredded coconut, you can. I sometimes do… and sometimes I just let the citrus speak for itself. *
Use an ice cream scoop to fill the mini-bundt forms.
Bake 25 minutes…. A toothpick stuck in should come out clean.
Let the cakes cool in the pan for a few minutes, then turn out onto a cooling rack. If they stick a bit… go ahead and loosen them a bit with your fingers.
For the GLAZE
Combine all of the glaze ingredients in a bowl. If the glaze seems dry, add more juice or coconut milk… if it seems too liquid, add more powdered sugar.
Spoon the glaze over the cakes….
Sprinkle with coconut or lemon zest.
I like to serve these in cupcake papers… makes them look nicer.