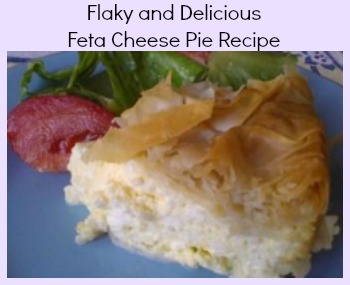 Flaky and Delicious Feta Cheese Pie Recipe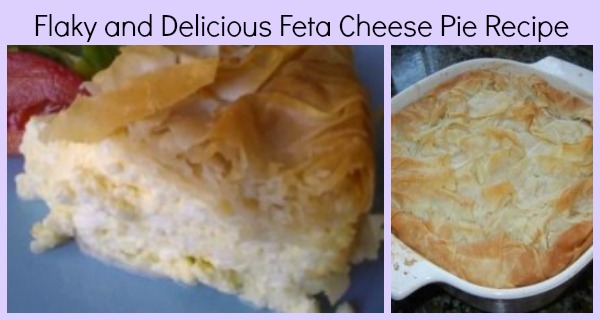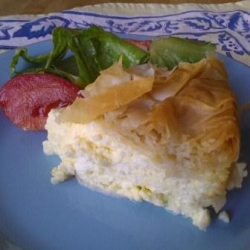 My Feta Cheese Pie recipe was inspired by a neighbor….But it's not her recipe. The one she made me was delicious, flaky, perfect…. but it was her Serbian Mother's Secret Recipe, and she wasn't giving it out.
But I really liked it….and I wanted to make it, so, I did some research.
This recipe is the result of many hours of investigation involving all of the resources available to me (ok, one hour…and I found it on the web, I never even had to leave the kitchen….although a trip to Serbia in the name of research could have really been fun. Apparently, it's not an uncommon dish…it's just that everyone has their own variation.
Basically, you need Feta, Eggs and Phyllo (filo) dough.  Beyond that…you can add all sorts of things like spinach, dill, cottage cheese or yogurt. Being a purist, I stuck with the basics, but feel free to experiment. For those of you who think it sounds familiar, it's a relative of Spanikopita (that Greek dish), and Quiche (the French dish).
Feta Cheese Pie in Phyllo Dough can be served as a light (although calorie rich) flavorful vegetarian lunch or dinner with a salad, or it can be cut smaller and used as a side dish or appetizer. Totally up to you. Now, I make this in a square casserole dish, but you can go round or rectangular. Or just sit down with a fork and eat it all yourself.
If you are looking for a little more help… scroll to the bottom of the page for step-by-step photos.
Feta Cheese Pie Recipe in a Phyllo Dough Crust
It may seem like a lot of Feta, but the flavor seems to mellow once it's mixed with egg and baked. My teen loves it, and he "doesn't like Feta"... and my 9 year old asks for the leftovers for her school lunch. The crust is best the day it's made... crisp and crunchy... but you can eat it the next day (it's a bit soggy though). Reheat in the oven...not the microwave..
Ingredients
CRUST:

1 500 gr. Package of Filo (Phyllo) Dough
1/2 cup Butter
FILLING:

4 Eggs
500 gr. Feta Cheese
1/3 to 1/2 cup Mineral Water
Instructions
FILLING:

In a medium mixing bowl, scramble up the eggs, then crumble (little crumbles or big, but I like little) the Feta Cheese over it.
Add the mineral water to the cheese/egg stuff, and mix it up. (now... if you don't have mineral water- that bubbly stuff- you can use regular water)
Set the filling aside.
CRUST:

Melt the Butter (I just stick it in a measuring cup in the microwave- COVERED)
Use a pastry brush to brush the inside of a 9 x 9 inch casserole pan with the butter,
Get out your Filo (phyllo) and lay it on the work space next to you. If you work fast, you don't need to cover it... if you are pokey, or prone to interruption, or are easily distracted by shiny objects, it might be a good idea to keep it covered with a damp kitchen towel (I said damp, we just don't want it to dry out... we don't need to bathe it).
Lay one layer of Filo dough into the casserole... kind of push it into the corners, let the extra hang over the edge.
Brush it with butter
Add another layer of Filo ... I usually go perpendicular to the first piece (but you can use whatever directional term you like)... brush it with butter.
Add a third layer of Filo.... butter it.
Pour the Feta mixture into the Casserole.
Lay a sheet of Filo dough over the top of the Feta stuff... kind of smooth over the surface... let the edges hang over the casserole. Butter it.
Lay another sheet of Filo dough... (seeing the pattern yet?) Butter it.
Cover it with a third layer of Filo... butter it.
Ok... you can add a fourth layer if you want... but this is probably enough.
You have a lot of excess Filo hanging over the edge of the casserole dish... go ahead and tear some of that away (not all the way in to the dish.. just some excess, leave about 1 1/2 to 2 inches hanging over). Put the torn bits onto the middle of the pie.
Roll the edges of the Filo into the pie. All of the outside edges get tucked into the dish.
Brush it all with butter... brush the middle with butter... go a little nuts with the butter.
Stick it in the oven at 350 for 45 minutes. Bake...
Clean up the kitchen and make a salad.
Bing
Cool for 20 to 30 minutes before serving.
Eat.
https://angrybakery.com/feta-cheese-pie-recipe/
Looking for a bit of History?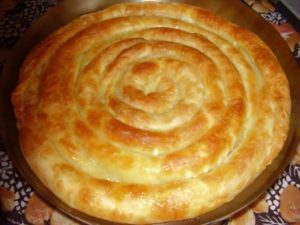 You may be familiar with the Greek Version – Spanikopita, where the phyllo is folded around the filling into triangles of feta and spinach.
This recipe is a variation of the Serbian Version- Rave… I chose not to go with the cottage cheese, because I never have it in the house. Another Serbian version is Burek, the feta and filo are rolled up, then coiled into a spiral.
In Yugoslavia they call it Gibanica. Since Gibanica has cabbage in it, while I'm certain it's delicious, I'll never get it past the under 20 set in my house.
Tiropita- another Greek version, is made with the addition of Yogurt.
And in Bulgaria, the spiraled feta and filo pie is called Banica.
Really, seems like there is no right or wrong way to make a Feta Filo Pie
 Step By Step Instructions for Feta Cheese Pie With Photos
Mix the Egg, Crumbled Feta Cheese and Water in a Medium Bowl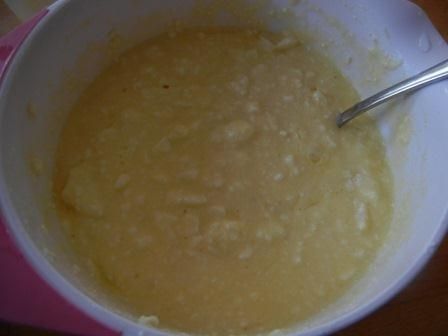 I like Smaller Crumbles for a Smoother texture… but it's up to you
Filo Dough / Phyllo Dough comes in the Freezer Section of the Supermarket
Thaw it in the refrigerator… then spread it out on your workspace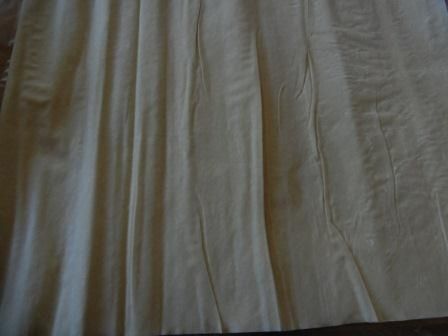 Yes, if your great Aunt Sophie left you the "most amazing recipe ever" for Filo dough, by all means, use it.
I'll get mine from the Freezer Section…..
Layer the Filo Dough in the Casserole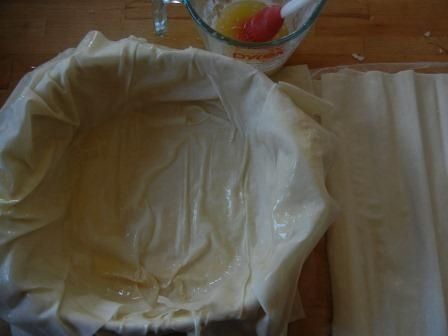 Brush with Loads of Butter
Pour the Filling onto the Layers of Filo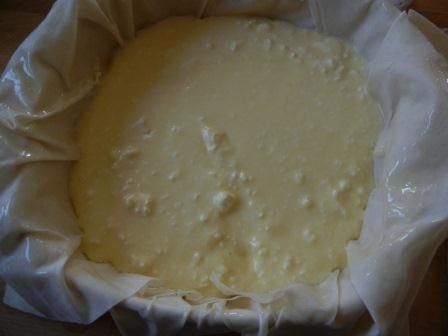 Cover with 3 or 4 Layers of Filo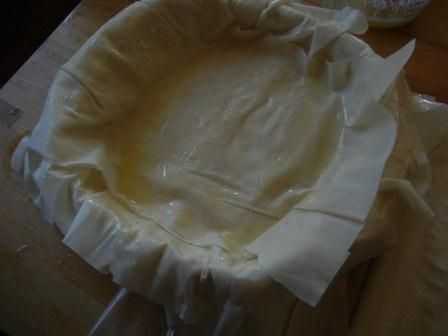 Fold over the Edges of the Pie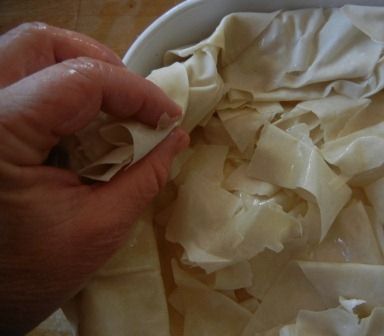 Tear off Some of the Excess Filo, and Put all the excess in the middle
Brush Generously with Butter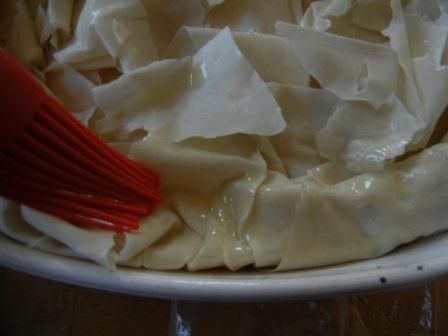 You are eating Eggs and Cheese… what harm can a little more butter do?
Buttered Up and Ready for the Oven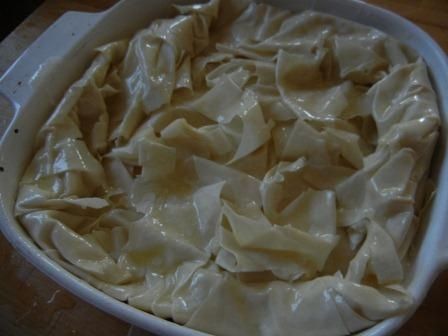 Bake for 45 Minutes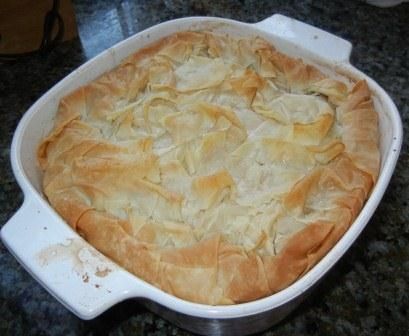 Will be nice and brown
Browner than this is even better… I was in a hurry to get dinner on the table…
In this case, brown equals crunchy…. crunchy is good.