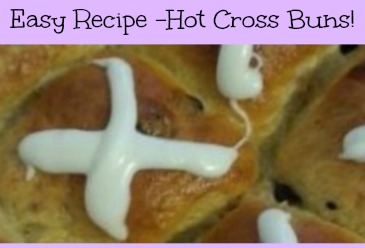 Easy Recipe Hot Cross Buns! A Not too Sweet Spring Treat!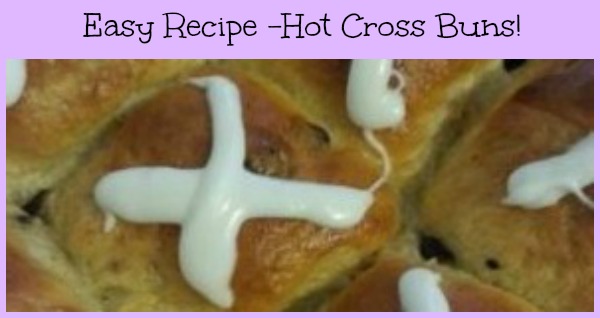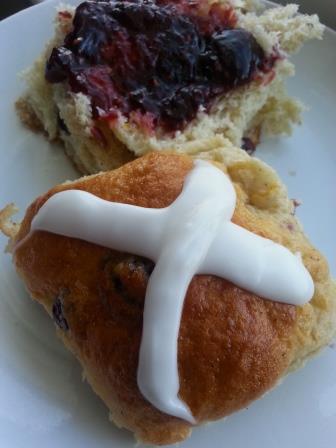 This is an Easy Recipe! Hot Cross Buns makes a traditional treat for Good Friday, and are often served throughout the Easter Season (although I am firmly convinced they are good enough to serve year round….). The buns are soft, not too sweet, perfect with a cup of coffee to start your day. (Because I have an insatiable sweet tooth, I eat mine with jam…)
Usually I tend to avoid fiddling with yeast dough because, well, I'm an impatient baker. I hate waiting for things to rise. Who has time for that? (BTW, Staring at the dough is no help at all… you just have to walk away… fold laundry, take a kid to a flute lesson, run the vacuum….) On the other hand, kneading dough is the world's best therapy. (Take THAT cable bill!)
As usual, I've put in Step-by-Step photos below… give them a try! I'll walk you through it…
Easy Recipe Hot Cross Buns
Follow the steps for easy Hot Cross Buns, and don't hurry it, the time and effort will pay off. I promise.
The recipe is traditionally made with dried Currants and Raisins, but I often substitute dried Cranberries, or sometimes, mini Chocolate Chips
Ingredients
1 cup warm Milk (105 to 115 F)
5 tsp active dried Yeast
1/2 cup plus 1 tsp sugar
4 cups Unbleached Flour
1 1/2 tsp ground Cardamom
1/2 tsp ground Cinnamon
10 tbl. Butter-melted and cooled
4 large Eggs (3 for Dough, 1 for Glaze)
1/2 cup dried Currants
1/2 cup Golden Raisins
2 tsp finely grated Orange Zest (fresh)
2 tsp finely grated Lemon Zest (fresh)
3 Tbl Sugar 1 to 1 1/2 cup powdered sugar
1 to 2 Tbl Milk or Lemon Juice
Instructions
Pour warm milk into a small bowl, stir in 1 tsp. sugar, and then add yeast. Stir and let sit until foamy... about 5 minutes.
*NOTE- if it doesn't get foamy- it will look like icky grey scum floating on the surface- dump it. If the yeast is dead it won't foam, and if the yeast is dead you will end up with hockey pucks. Get new yeast... start over
Is your butter melted?
Put a large strainer over your mixing bowl.
Pour the flour, 1/2 cup sugar, cardamom, and cinnamon through it into the bowl. Dump any solid greebly bits that get stuck in the strainer. Mix the dry ingredients together.
Lightly beat 3 eggs in a small bowl with a fork (I like to mix them into the butter).
Add the eggs, melted butter, yeasty milk, currants, raisins (or cranberries), orange zest and lemon zest to the flour mixture.
Mix the ingredients together until it's sticky dough.
Now... you get to decide how energetic you are. The dough needs to be kneaded for 10 minutes. If you are kneading by hand... lightly flour the counter or smooth surface you are working on, and lightly flour your hands. Work the dough until it has a smooth, elastic feel to it. Squish it out, fold it over, and squish it the other way. It's not difficult. I sometimes do this by hand (it's a great upper arm workout) other times I put the dough hook in my mixer, and slide the on lever. Then I go read a magazine. (Which, as it turns out, is not such a great workout....)
After 10 minutes, put some oil (about 1 to 2 Tbl.) into medium large bowl, plop the dough in in, roll the dough over so all sides coated, cover the dough with plastic wrap, put it in a warm spot in your kitchen (on top of the fridge works) and leave it alone for 1 1/2 hours. Just walk away. When you return, it should be double in size. (see photo below)
Prepare an 11 x 15 inch baking pan by buttering the bottom...
Flour your work surface again.
Carefully dump dough out of bowl onto floured surface (hang on to the plastic wrap).
With floured hands, spread dough out to a rectangular shape. Fold the right 1/3 in, then fold in the left side (see photo below) it will look like a trifold wallet.... Rotate it 90 degrees, spread to rectangle again, and fold in outside thirds again.
Cut the dough into 12 equal pieces (see photo below)
Form each piece into a smooth ball, pinching the bottom (see photo below)
Put into the baking pan... cover with that oily plastic wrap... let rise for 45 minutes... should double in size (photo below)
Preheat oven to 350 degrees F.
In a little bowl or cup, mix last egg with 3 Tbl of sugar (you want the egg really scrambled, not globby) When the buns are ready to bake, use a pastry brush to cover the buns with the egg/sugar glaze.
Bake 22 minutes... then put pan on a rack to cool.
When buns are cool......ice them
Icing:

Mix powdered sugar with 1 to 2 Tbl. milk (or Lemon Juice)...
It should be thick... put mixture in a plastic baggie, snip the corner, and pipe an X on each bun. Eat
https://angrybakery.com/easy-recipe-hot-cross-buns/
A Kitchen Aid Mixer is a Great Help!
Don't want to knead dough by hand? Use a Kitchen Aid Mixer with a Dough Hook. Honestly, this work horse will make your baking life a lot easier. Just put the ingredients in, and let the machine do the mixing and kneading for you!
I use both the 5 Quart and the 7 Quart Models…
KitchenAid KSM150PSER Artisan Tilt-Head Stand Mixer with Pouring Shield, 5-Quart, Empire Red
KitchenAid KSM7586PCA 7-Quart Pro Line Stand Mixer Candy Apple Red
Easy Recipe Hot Cross Buns – Step By Step with Photos!
Prepare the Yeast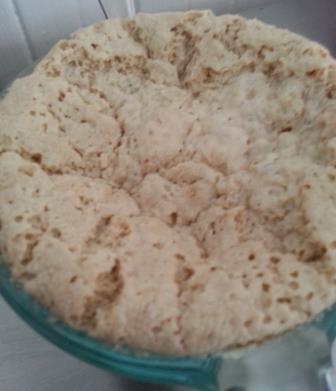 (yes, it looks icky)
Got Your Dry Ingredients?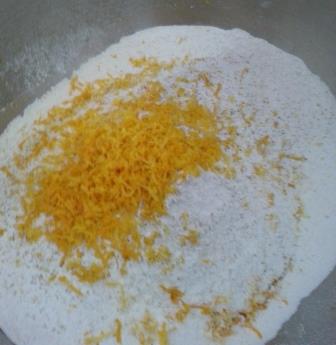 Rising Dough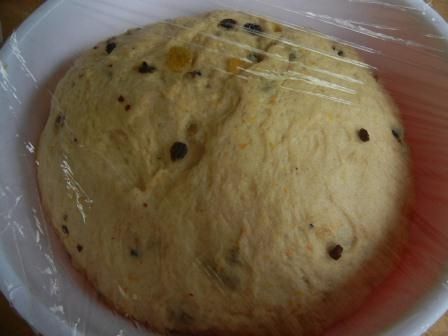 Dough in oiled bowl after rising 1 1/2 hours
Dump Onto the Counter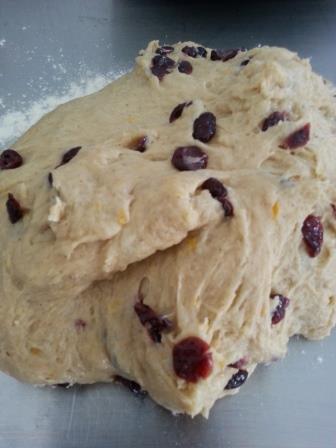 Folding the After Rising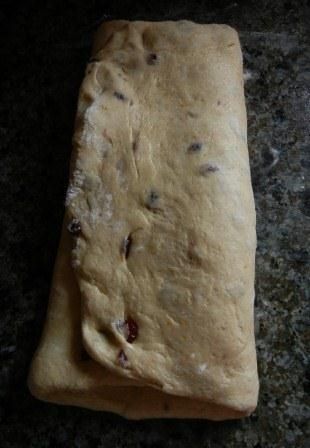 Please don't manhandle your dough after the first rising… the dough fold method results in a much lighter bun
Cut Dough to Size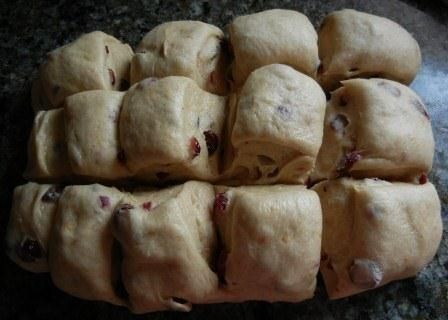 Forming the Dough Balls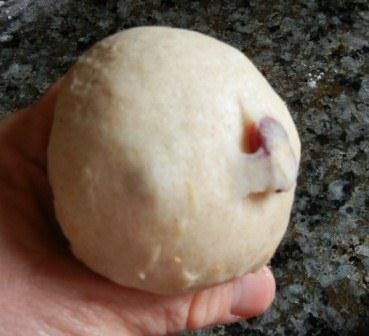 Smooth the dough into balls by pulling the corners of the dough down to the bottom and pinching the edges together
Buns in Pan before Rising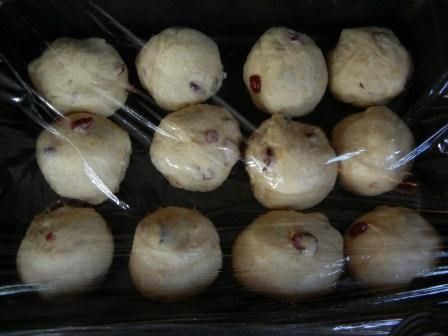 Line the dough balls in a pan for rising
Risen Buns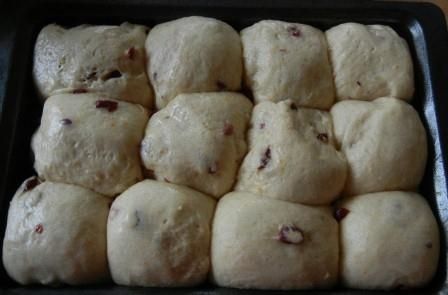 After 45 minutes, your risen buns should look like this
Baked Buns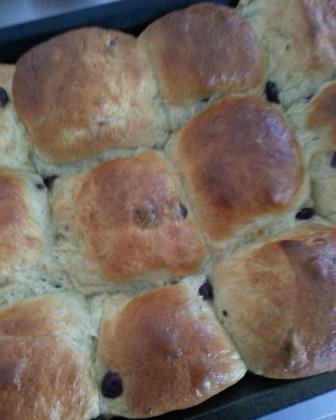 Bake 22 minutes… they will look like this coming out of the oven… and the wonderful smell fills the house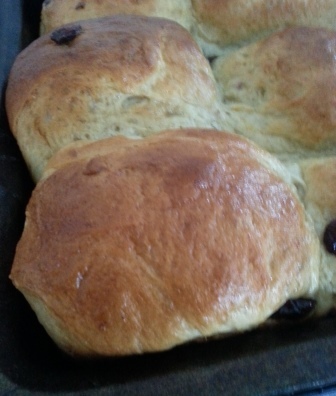 Decorated Buns