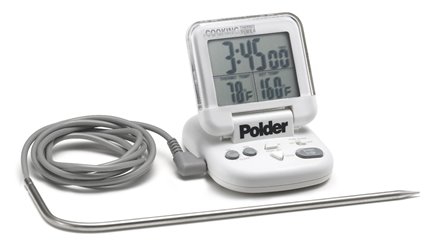 Best Digital Kitchen Thermometer… The Polder Kitchen Thermometer with Temperature Probe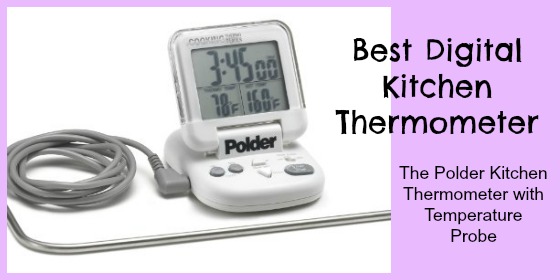 Polder Original Cooking All-In-One Timer/Thermometer
Every kitchen needs a thermometer, and there are so many out there… but which is the Best Digital Kitchen Thermometer? And why not get one that does double duty as a timer? The Polder Original Cooking All-In-One Timer/Thermometer
  does just that! You can set it for a specific time OR you can set it to a certain temperature. It lets you know you've reached the right time or temperature with an alarm!
You will never again wander away from the kitchen "for just a minute", and miss the right done temperature again.
The Polder Kitchen Thermometer and Timer is Easy to Use
This digital timer is easy to set, and has large numbers on the display so you can actually read it (without searching for those reading glasses first). The timer attaches flat to the oven with a magnet (I stick it to the oven door), so you won't lose it, or you can set it to sit on the counter. Best of all, it's fairly simple to use… you don't need a degree in engineering to figure out the instructions.
Using the temperature probe is quite straightforward. The probe is attached to a wire that goes to the timer. Stick the probe into what you are cooking, run the wire out the door of the oven (yes, you can close the door all the way on the wire, it's safe). You set the timer to the desired temperature, and use the magnet to stick it to the oven. (I generally set the temperature a few degrees lower than the perfect doneness, to account for the cooking that happens after you pull the food from the oven). Then walk away. The alarm will call you back when it's done. I love that the alarm can be set low or loud!! Sometimes it gets noisy in my world.
Best Kitchen Digital Thermometer
There are lots of other temperature probe timers on the market, but what makes this one special is the ability to measure temperatures up 392 degrees Fahrenheit. This is the thermometer that Alton Brown uses!
The Polder Graphite comes with a clip to attach the probe to the side of a pot, so it can be used for cooking candy.
The Polder Timer and Temperature Probe that can be used in professional kitchens, as well as home kitchens! It makes the PERFECT GIFT for all of the Chefs, Cooks and Foodies on your list.
(Comes in White and Graphite)
You can even buy one with an extra probe…
Polder 362-90 Digital In-Oven Thermometer/Timer, White
Polder Digital In-Oven Thermometer/Timer, Graphite color
Polder Original Cooking All-In-One Timer/Thermometer with Ultra Replacement Probe
&
Get a Polder Thermometer for Your Kitchen!