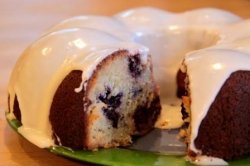 Easy Lemon Blueberry Bundt Cake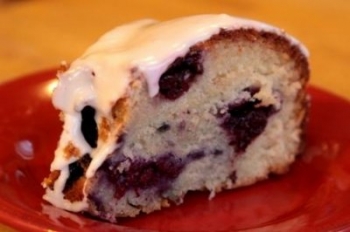 This Easy Lemon Blueberry Bundt Cake is a lifesaver! Being a busy mom with active kids can be all dizzying! Soccer, Baseball, Track, Football, Youth Groups, Scouts! All of these activities mean busy weekends of games, tournaments, camp outs, jamborees, gatherings and bake sales.
I get hit up A LOT for donations. (Usually at 9pm on a Friday night….)
This easy Lemon Blueberry Bundt Cake is a such great cake to make for so many occasions. Fancy enough for company, sturdy enough for travel. You can dress it up with an icing (and top it with a bit of lemon zest for bonus points)… or you can sprinkle it with powdered sugar for less mess.
Any way you make it, the Lemon Blueberry Bundt Cake will be a hit.
Now, this recipe calls for Vanilla Yogurt… do not use NON-FAT Yogurt…. you can use low-fat, you can use regular, but NO NO NO to Non-Fat.
The blueberries can be fresh or frozen. You can substitute boysenberries and raspberries (or a combination) work best. Strawberries just don't feel right in this cake.
Easy Lemon Blueberry Bundt Cake Recipe
I make this cake with Blueberries, but feel free to substitute Raspberries, Boysenberries or a mix.
Ingredients
Cake:

1 cup (2 sticks) Butter- room temp
1 1/2 cup Granulated Sugar
1 tsp. Vanilla Extract- use the real stuff
3 Eggs - room temp
2 1/4 Cup Unbleached Flour
1/2 tsp. Baking Soda
1 cup low fat Vanilla Yogurt
1 TBL Grated Lemon Zest
1 Cup Blueberries- fresh or frozen (feel free to substitute other berries)
Icing:

1 cup Powdered Sugar
2 to 3 TBL Lemon Juice
grated zest 1 lemon
Instructions
Preheat oven 375 degrees
Spray a Bundt pan with some of that spray stuff (or do like my mom, and schmear the inside with the empty butter wrappers) You can also make this recipe into mini-bundts... Bake at 375 for much less time.
Put the butter and sugar in your mixer, and beat around 3 to 5 minutes.( This is a good time to go get the mail, help the 3rd grader with some math problems, or find your son's shoes that he SWORE he put in the closet).
Once the butter and sugar are light and fluffy, add in vanilla, then add eggs one at a time. Beat and scrape down sides of mixing bowl.
I like to add the lemon zest at this point.
Add flour and baking soda, beat well. Scrape sides.
Add Yogurt and beat well again.
Now here's where it gets a little tricky. I used to fold in the berries at this point, but some would get stuck in the pan. To avoid this, put about 1/4 of the batter into the prepared Bundt pan. Spread it kind of evenly, just make sure the bottom is covered.
Fold the berries into the remaining 3/4 of the batter, then spread the batter into the pan.
Smooth it a bit....
Put in the oven for around 55 minutes. The top should be golden brown when it's done.
Cool in pan 20 minutes on a rack, then take a deep breath, and flip it out onto the rack.
Cool completely, then cover with icing or sprinkle powdered sugar over it.
Icing:

Instructions
Sift Powdered Sugar into a bowl, with a spatula, mix in lemon juice until smooth.
The proper consistency is somewhere between toothpaste and Elmer's glue. Thinner, and it will run, thicker and it will look stiff.
Pour or spoon over cool cake
Notes
Note- Sprinkle the lemon zest onto the icing before it sets, or it just slides right
https://angrybakery.com/lemon-blueberry-bundt-cake/
A Microplane is and Essential Kitchen Tool!
I use it to zest lemons and oranges… and to get that perfect amount of Parmesan cheese on my pasta.
DRAGONN Zester – Best Premium Zester Grater – Sharp Stainless Steel Blade – Black Handle – Safety Cover – Rubber Footings
&
Bake ahead and Freeze!
You can bake the Lemon Blueberry Bundt Cake ahead of time and freeze it for later!
Be sure to let it cool completely.
DO NOT ADD ICING TO IT! (honestly, it just makes a mess…)
Wrap the cake in plastic wrap.
Wrap again in foil
LABEL IT
Can be frozen for up to 3 months.
Let thaw at room temperature… still wrapped!
Unwrap and top with icing.
Serve as ususal.
Cake Carriers that WORK
You want a cake carrier that seals in freshness…. is easy to carry…. and won't fall apart.
Check these out.
Sterilite 2008004 Cake Server, White
ENTENMANNS BAKEWARE Bundtform Pan with Carrier
Nordic Ware Bundt Pan with Translucent Cake Keeper, Red
&