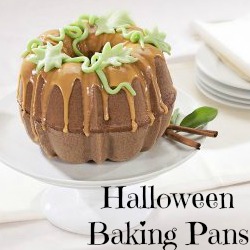 Halloween Baking Pans for Perfect Halloween Cakes and Treats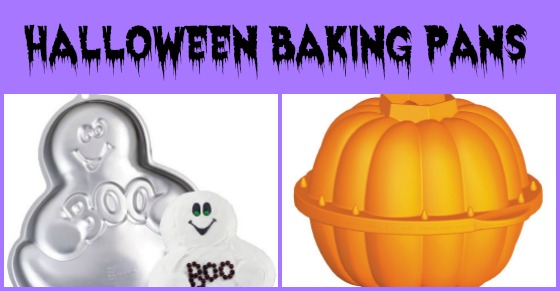 I love Baking for Halloween. It's a great chance to be creative and fun, without stomping on anyone's pre-conceived ideas of what HAS TO BE BAKED. And Halloween Baking Pans make getting those perfect shapes SOOOO much easier!
There are so many specialty pans to let you get your creative kitchen juices flowing. Large cake pans, little cake or cupcake pans, and fun shaped cookie pans. Pumpkins, Ghosts, Witches, and Bones….. yes, bones….
The cakes and cookies you bake are a great addition to your Halloween Party Buffet… or even just for your family's fun. NOTE- If you decide to hand out home-baked treats on Halloween to Trick or Treaters, make sure to wrap them carefully, and then make sure the PARENTS know who gave their goblin those cookies…. Best to only hand them out to kids you know).
Here's a link to a Pumpkin Cake Recipe to get you started.
Added bonus? Some of the pans can be used for other uses….the Cookie Pan Molds can also be used for Chocolate! You can use cake pans for Jello or Ice… FUN!
Get in to the excitement of Halloween… pick up a few of these fun Halloween Baking Pans and get to the kitchen!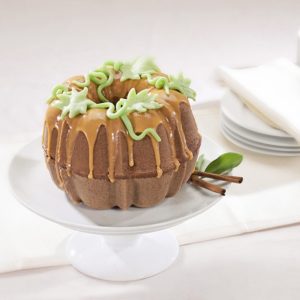 Pumpkin Shaped Pans For Pumpkin Shaped Cakes
Pumpkin Shaped pans are perfect for Pumpkin Cake. Decorating is easy… a little glaze, or orange frosting, or just a sprinkle of powdered sugar!
If you want to get fancy, you can create leaves out of Fondant or chocolate. Pipe on some green icing for vines….done.
You can also make pumpkin shaped single layer cake or a loaf covered in pumpkins… whatever makes you happy.
 Lekue Pumpkin 3D Mold, Orange

 Nordic Ware Great Bundt Pumpkin Pan Set

 Nordic Ware 88548 Botanical Pumpkin Loaf Pan, Bronze

 Wilton 2105-0679 Halloween Jack-O-Lantern Fluted Cake Pan

This video gives some Pumpkin Cake Decorating Basics (and proves that it won't always look like a magazine… but that's ok)

Ghost Shaped Baking Pans
Wilton GHOST – BOO Cake Pan 2105-1077

Big and Small Ghost Baking Pans
Bake Ghostly muffins or a spooky Ghost Cake! And I LOVE the idea of having a cupcake pan form a Ghost on top…
The best part about white icing is not needing to use a lot of food color.
Ghosts can be spooky or friendly! (Perfect for that Not so Scary Halloween experience).
 Original Kaiser Nonstick Ghost Holiday Baking Pan

 Wilton Mini Ghost Pan

 BST Cake Pan Halloween Ghost Haunted House Cake Chocolate Baking Silicone Mold,L26cm*W17.5cm*H2.8cm

 Ghost Crown Cupcake Pan

Witch Baking Pans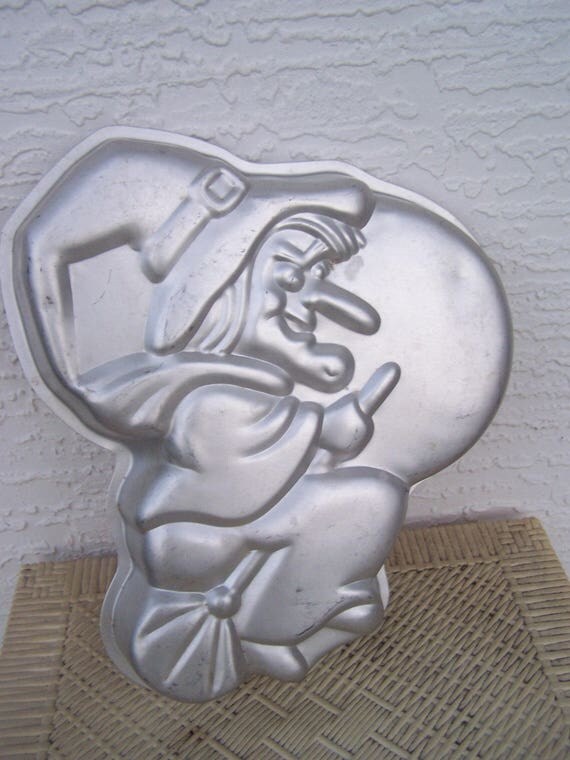 Wilton Witch on a Broom Cake Pan

Bake Yourself a Witch
Big witches and Little witches… fun to bake and decorate… I love the cupcake molds with witchy feet!
This is a great chance to break out the green and black food coloring.
I love the double duty pan that works as a witch AND as a Pilgrim…  at least you can use it more than once a year…
 Wilton Cute Witch Cake Pan

 Premier Housewares Halloween Silicone Witches Witch Hat Cupcake Cup Cake Mold Baking Mould Jelly Chocolate Candy Tray Pan Kids Children Spooky Party Heat Resistant Oven Freezer Microwave Dishwasher Safe Bakeware

 Wilton Whimsical Witch Cake Pan (2105-2068, 2002)

 Wilton Monster Party Halloween Witch Vampire Cake Pan (2105-2039, 1999) Retired

Don't forget the Bones and Skulls
Bake Bone shaped cakes and Muffins…build your own cake skeleton!
Skulls, coffins full of bones, fingers and toes…. bones can make some fun eating (then you can save the bone pans for dog treats)
 Wilton Nonstick Bone Cookie Pan

 Bone Shaped Non-Stick Cake Pan – 9.25 inch x 6.25 inch

 Wilton 2105-0659 Halloween Dimension Cast Aluminum 3D Skeleton Pan

 Wilton 2105-0607 Dimensions 8-Cavity 3D Skull Pan, Mini

 Wilton Dimensions Nonstick 3D Skull Pan

 Wilton Haunted Manors 6-Cavity Pan

Assorted Halloween Baking Molds
Different Spooky Molds to have some fun in the kitchen… bake up some spooky shapes! Bats, spiders, tombstones and more!
There is no limit to the imagination… you can experiment with different colors and fillings (red jam, for example, makes goopy looking blood)
I also found that using a Red Velvet Cake base gives your cake that … "bloody" look.
 Wilton 12 Cavity Halloween Cookie Pan- Discontinued By Manufacturer

 Wilton Coffin Mini Nonstick Cake Pan

 Wilton Autumn Cast Aluminum Mini Cakes Pan, Leaves Acorns Pumpkins- Discontinued By Manufacturer

 Wilton 2105-1293 Monster Finger 8-Cavity Cookie Pan

 Wilton 2105-8330 Non Stick Candy Corn Cake Pan

 Wilton 2105-0481 Halloween 12-Cavity 3D Sand Pan

 Wilton 2105-4635 Haunted House Shaped Silicone Mold

 Sweet Creations 04859 12-Cup Halloween Non-Stick Cookie Mold, Gray

 Wilton Haunted Manors 6-Cavity Pan