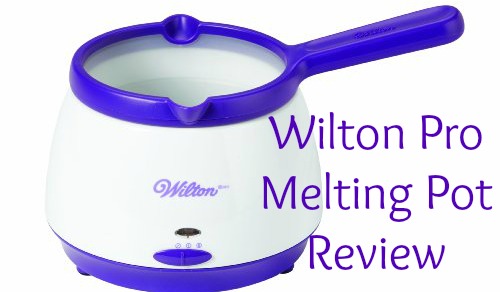 Wilton Pro Melting Pot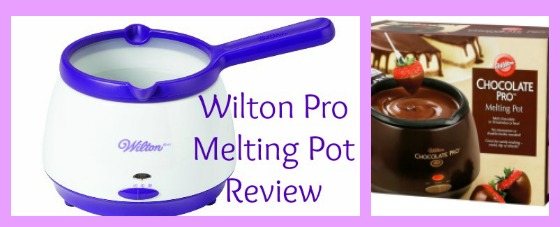 Wilton Chocolate Pro Electric Melting Pot- Discontinued By Manufacturer
Seems like melting chocolate should be an easy thing… especially for any of you who have ever left a candy bar in a hot car. But the Wilton Pro Melting Pot not only melts chocolate properly, it also keeps it melted at a steady temperature.
And it's much less messy.
Wilton Pro Melting Pot
This little pot is the perfect tool for anyone who likes to work with chocolate. It has 2 temperature settings. The first melts the chocolate with a high even (and dry) heat. No worrying about scorching the chocolate in the microwave, no worries about stray drops of water from the double boiler. And when the chocolate melted, you can just turn the heat down, and the pot will hold the chocolate at a smooth melted consistancy, perfect for dipping or pouring.
I use often use my Wilton Pro Melting Pot for dipping cake pops. Because the chocolate is held at a steady temperature, I don't have to worry about re-heating it every few dips. And when the kids and I are making truffles or candies, or working with chocolate molds… the Wilton Chocolate Pot melts our chocolate, and makes it easy to pour out, since it has a built in spout.
Granted, the pot is small, but it's big enough for most home candy or cake pop making. (And small means it's easy to store… admit it, the last thing you need is another HUGE appliance cluttering up the counter). The handle stays cool, and the rubber feel keep it from sliding around on the counter. An indicator light lets you know when it's up to temperature, and the slide switch is easy to use. I love that it's easy to clean… the insert comes out so you can wash it.
So… What Can You Make With the Wilton Pro Melting Pot?
-Chocolate Dipped Fruit -try both fresh or dried fruits
-Chocolate Truffles
-Chocolate Bars
–Chocolate Decorations for Cupcakes or Cake
-Chocolate dipped Pretzels
Added Bonus!
It's safe enough for the kids to use! My daughter loves molding chocolate lollipops to give as gifts.
With the holidays rapidly approaching, I know that my Wilton Chocolate Pro Electric Melting Pot is going to be getting loads of use making homemade chocolate treats for friends and family.
UPDATE
The Wilton Pro Melting Pot was Discontinued
While you can still order the Wilton Pro Melting PotI am unable to find out why, but the unit that they replaced it with gets good reviews also.
Wilton Chocolate Pro Electric Melting Pot- Discontinued By Manufacturer
Wilton Chocolate & Candy Melts Melting Pot, 2104-9006