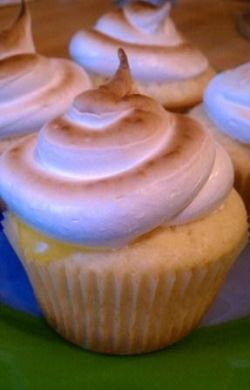 Lemon Meringue Cupcakes were developed because….I'm not crazy about Lemon Meringue Pie.
(Why? That's practically Un-American! you say….)
Well,the Meringue. It's always so thick,and it never seems to taste right. (much like tofu… it looks like Marshmallow.. but doesn't TASTE like Marshmallow… total disappointment). And then there is the serving issue…with pie you need a plate,and a fork (unless you are in some kind of contest and plan to take a bath afterwards).
I love the Lemon Curd, I've got no fight with a decent pie crust. But the meringue… huh….there has to be something better.
I thought about it… and then… it came to me…. Cupcakes!!!
Lemon Meringue Cupcakes…I could use lemon curd, a lemon flavored cupcake, and come up with a yummier meringue. Perfect.
PLUS! You get to play with fire…. what could be better?
These are delicious cupcakes… lemony cake, a gooey lemon curd filling and a toasted marshmallowy meringue frosting. MMMMM. Do use Fresh Lemon Zest and Fresh Lemon Juice… the stuff in the jars and lemon shaped plastic thing are ok in a pinch… but if you can… use the real stuff.
Lemon Curd
 is easy to make (follow this link to my recipe) but you can use one that you purchase.
Don't use a purchased Frosting from a can unless you are absolutely slammed for time, and you have no intention of toasting the cupcakes anyway. I used White Mountain Frosting. It's got a wonderful marshmallow taste, with a meringue base. (I think the canned frosting will just melt or catch on fire… I haven't been in the mood to clean a major disaster out of my oven, so I haven't tried it….. let me know if you do).
I browned/toasted my cupcake frosting by putting them 2 or 3 at a time under the broiler…. watching all the while… for a minute. If you have a Crème Brûlée Culinary Torch
, you can use it (mine happened to be out of gas today… so I made it work in the oven).
Makes- 24 Cupcakes
Total Time: 2 Hours
 Lemon Meringue Cupcakes Recipe
Ingredients
1 cup Unsalted Butter
2 cup Granulated Sugar
2 Eggs
1 cup Plain or Vanilla Yogurt
3 tsp Lemon Zest
1/4 cup Fresh Lemon Juice
3 cup Unbleached Flour
2 tsp Baking Powder
Lemon Curd
White Mountain Frosting
Instructions
Preheat oven to 350 degrees F.
Line cupcake pans with paper liners… give them a quick spritz with non-stick spray stuff to make sure the cupcakes come out in one piece.
Put butter and sugar in a mixer bowl and beat until light and fluffy.
Add Eggs… beat to combine.
Add Yogurt, Lemon Zest and Lemon Juice, and beat until smooth.
Combine Flour and Baking Powder, add the flour mixture to the Butter mixture. Beat until completely combined.
Now, scoop batter into the cupcake liners, I use a medium ice cream scoop with a thumb trigger for this. It's neat, and gets less on your fingers than a spoon (although… I do love licking batter off my fingers, it's not tremendously sanitary).
Put the pans in the oven and bake for 25 minutes.
Cool in pans on a rack for 10 minutes. Then remove from the pans and let cool completely.
ASSEMBLING THE CUPCAKES (photos below)
Scoop a bit out of the top of the cupcake… I used a metal coffee scoop for this, but a spoon will do it)
Fill the hole with Lemon Curd
Using a pastry bag… or a knife, if that's what you have…. Frost the Cupcakes with White Mountain Frosting.
Now.. .here's the tricky part.
(And if it seems scary or dangerous… just eat the cupcakes as they are…maybe sprinkle them with some lemon zest. )
If you have one of those fancy Creme Brulee torches, torch the top of each cupcake until it browns. DON"T SET THE PAPER ON FIRE. Turns out the cupcakes don't taste really good when they are charred…
If you DON'T have a torch… heat up your broiler under the stove. Start off with only one or two cupcakes at a time (later you can do stunt work, but for now, let's start off easy). Put the cupcakes on a cookie sheet, and slide them under the flame. Don't shut the door. Just watch.
I mean it … you have to pay attention!
In less than a minute, they should be brown-ish.
Take them out… repeat with next ones.
Now… as I do this, my confidence builds, and I start shifting the cupcakes around under the flame to get it evenly brown.
Please Please Please… tie back your hair… roll up your sleeves… and whatever you do, don't set yourself on fire. (if you do? stop, drop and roll… sacrifice the cupcake)
Actually, I exaggerate, it's not dangerous. You just have to pay attention that the cupcake isn't under the fire too long. Use an oven mitt to pull the sheet out. You'll be fine.
Enjoy!
White Mountain Frosting
It's got a creamy consistency, pipes easily, and it tastes like marshmallows. Yum
I used it for Lemon Meringue Cupcakes because it has a meringue base, and will hold up to the heat of the broiler. I also use it for my Chocolate Dipped Cupcakes as it holds up to dipping.
(save the egg yolks to make Lemon Curd)
Ingredients
4 Egg Whites
1 Cup Granulated Sugar
1/2 cup light Corn Syrup
4 Tbl. Water
2 Tbl. Vanilla
Instructions
In the stand Mixer, beat Egg Whites on high speed until you have Stiff Peaks (not dried out… just stiff enough to hold their shape when you pull up the beater.) Leave them there to wait while you make the sugar syrup.
In a medium saucepan, over medium heat, stir together Sugar, Corn Syrup, and Water until combined.
Bring to rolling boil… stirring all the while with a wooden spoon.
Wipe the side of the saucepan with a pastry brush dipped in ice water to get the sugar crystals off.
Stick a candy thermometer to the side of saucepan
Boil without stirring, until you hit 242 degrees F.
Turn the mixer with the egg whites in it on again to medium speed.
Pour hot sugar syrup SLOWLY in a thin stream into the egg whites.
Add Vanilla.
Beat at high speed for 10 minutes until stiff peaks form.
Done!
Step by Step Instructions with Photos…..
Start With Baked Lemon Cupcakes and a scoop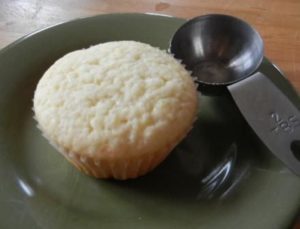 Scoop a Bit Out Of the Top of the Cupcake
You Can Use a Scoop or a Spoon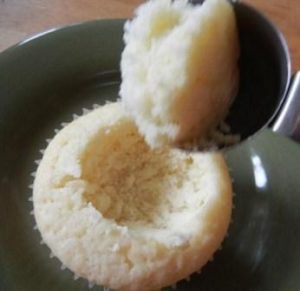 Fill the Hole with Lemon Curd
Use a spoon or piping bag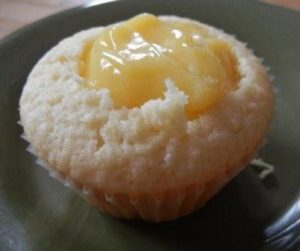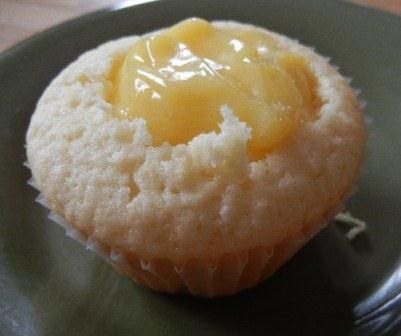 Pipe White Mountain Frosting Over Top. You can spread it with a knife, but it looks nicer if you pipe it.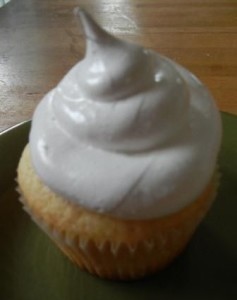 Toast the Meringue Under the Broiler(Or use a
Creme Brulee Torch)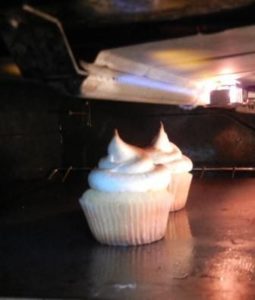 Lemon Meringue Cupcakes
All Done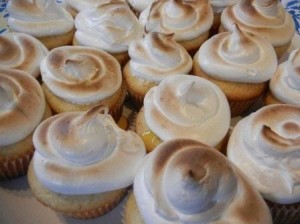 What Do You Do With The Bits of Cake that Were Scooped Out?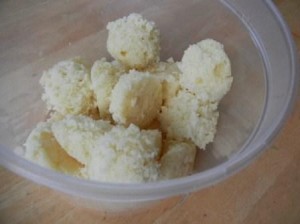 Well… Eat them.
I put my cake scoops in a plastic container…. and we're eating them l