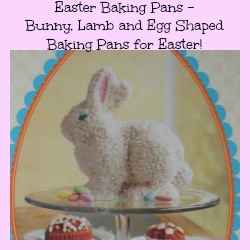 Easter Baking Pans -Bunny, Lamb and Egg Shaped Baking Pans for Easter!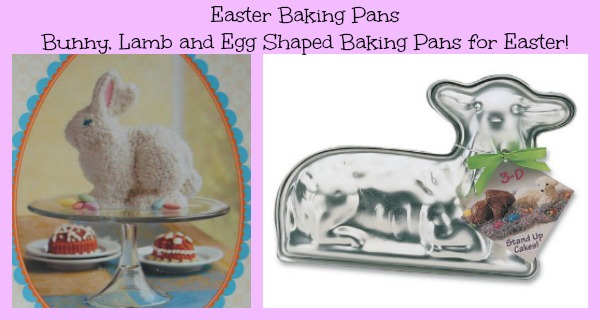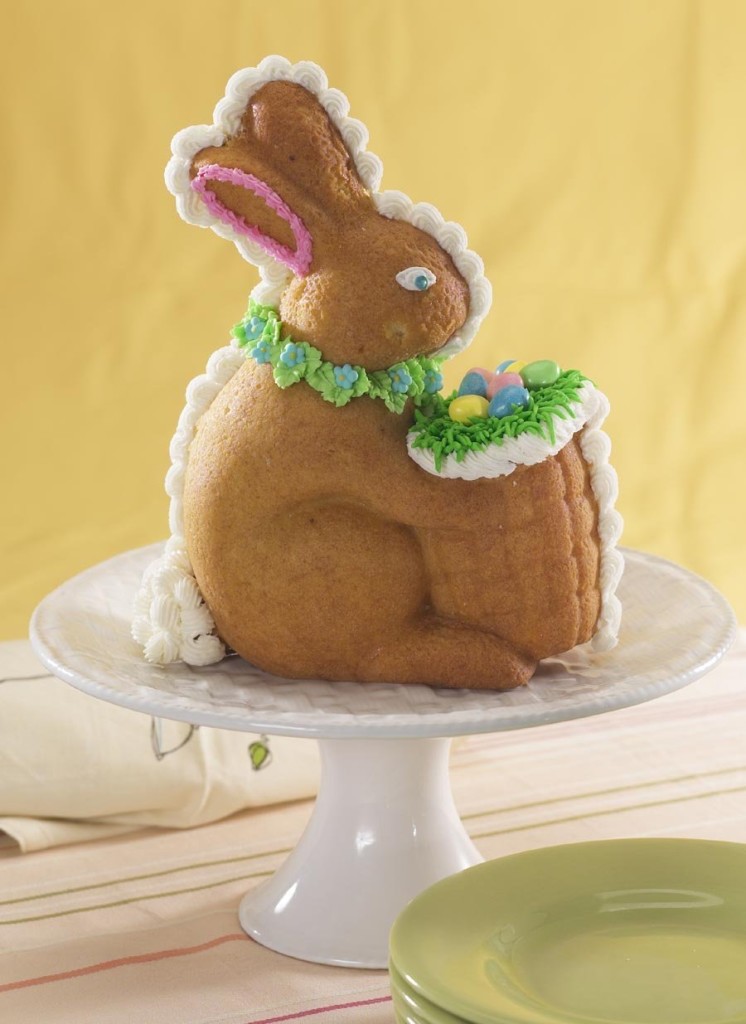 Baking for Easter can be fun , and these Easter Baking Pans make it a snap!
Seriously, it is the easiest way to make a cake in the shape of a Bunny or a Lamb… or a muffin that looks like an egg or a flower.
Plus, you've created an easy centerpiece for your Easter Table that can be EATEN!
(I know those people on the Food Network make it look easy, but carving a Rabbit out of a pile of Cake is not easy, and it's kind of messy).
I've also included links for a Basic White Cake that bakes up nicely in a shaped pan, and also my favorite Basic Sugar Cookie Recipe that gets trotted out for all holidays and cut-out cookie occasions.
These cakes can be decorated with frosting or a simple sprinkle of powdered sugar, maybe surround them with Jellybeans or chocolate eggs, set it on a bed of Easter Grass... and you are good to go!
Bunny Baking Pans
Rabbit Baking Pans For Your Easter Table
These Bunny Cakes make a cute centerpiece for your Easter Table, and a delicious dessert. Serve the cakes plain with a bit of powdered sugar… or frosted.
Wilton Step-by-Step Bunny Pan
Wilton 3D Bunny Pan
Wilton 3D Bunny Cake Pan Stand Up Snap Together Mold (1974) ~ Retired Collectible
Williams-Sonoma Easter Bunny Cake Pan
Lamb Cake Pans
Easter is Perfect for Lambs
Lambs mean Springtime and Easter… these sweet little lambs are perfect for an Easter Brunch (or for a Little Bo Peep Party). Here's a link to a recipe and tips for baking the perfect Easter Lamb Cake.
Kitchen Supply Large Lamb Cake Mold
Wilton Standup Lamb Pan- Discontinued By Manufacturer
Wilton Holiday Pan Little Lamb Cake Stand Up 3-D #502-2014 Vintage 1976
SCI Scandicrafts Lamb Mold 11-inch, 8-Cup
Easter Egg Shaped Cake Pans
Bake an Easter Egg
Why Boil Eggs…? Bake and Decorate Eggs!
Small Egg Pans for Muffin Recipes
Be creative with these Easter Egg shaped cupcake or muffin pans. You can decorate them just as you would an Easter Egg.
Easter Egg Cake Pan
Wilton Easter Egg/Happy Easter Egg Cake Pan (502-3495, 1983)
FortheChef's 11
Use this simple White Cake Recipe for the Molded Lamb and Rabbit Cake
Click here for the recipe—–>>>>> Cake Recipe for Lambs and Rabbits
Easter Muffin Baking Pans
I love the idea of decorating the Easter Table with Flowers… and if the Flowers are edible muffins? even better!!
Decorate the Flower or Egg Shaped muffins with icing or sprinkles, or just a dusting of powdered sugar. They will be a popular addition to any breakfast table.
Yunko Easter Egg Bunny Chicks Silicone Cake Baking Mold Cake Pan Muffin Cups Handmade Soap Moulds DIY Tool
Efivs Arts 6 Easter Egg Silicone Cake Baking Mold Cake Pan Muffin Cups Handmade Soap Moulds Biscuit Chocolate Ice Cube Tray DIY Mold
LeBeila 6 Cavities Big Flower Silicone Non Stick Cake Baking Mold Cake Pan Muffin Cups Handmade Soap Moulds Biscuit Chocolate Ice Cube Tray DIY Mold (Pink)
uxcell Metal Kitchen Muffin Cupcake Flower Shaped Bakeware Pan Mould Mold
Peeps Baking Pan!!
Who doesn't love Peeps? This peep pan makes a fun centerpiece… and a yummy one too!
&
Wilton 2105-2365 3D Peeps Cake Pan, Multicolor
Wilton Peeps Large Cookie Pan
&
Spring and Easter Cookie Pans
These pans makes baking shaped cookies a snap. Just press your cookie dough into the mold, then bake, and pop them out.
Presto!
Cute Cookies with Easter and Spring motifs!
The pans are non-stick, so the cookies won't stick… and it's easy to clean.
&
Sweet Creations 12-Cup Easter Spring Cookie Pan, Nonstick, Gray
Sweet Creations 6-Cup Easter Spring Cookie Pop Pan, Nonstick, Gray
Wilton Spring Nonstick 12 Cavity Cookie Pan
&
Cross Cake Baking Pans
A Cross Shaped Pan is perfect for Easter, or any Christian Event. You can decorate it simply, or more elaborately. I can imagine it is perfect for any church kitchen, where a cake can be easily baked for Coffee Hours, Christenings, Christmas Potlucks and, of course, Easter.
This Aluminum pan from Wilton is easy to use, easy to hand wash, and can be used for a number of occasions.
You can also find other Easter Baking pans with Religious Motifs
&
Wilton Cross Pan
Wilton Aluminum Two Mix Book Pan
Flying Dove Cake Pan – 13 inch Length
&
Make your Easter Baking a lot Easier with Easter Baking Pans