Chocolate Fudge Brownies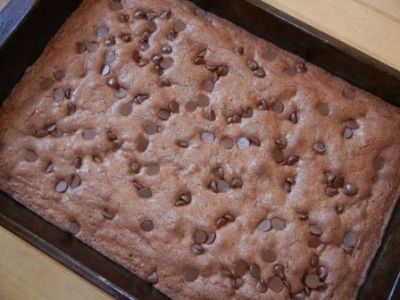 For years I've been making brownies from a box mix. And…. they're not bad… but there is always that chemical aftertaste that leaves me wondering what the heck it is I'm eating. I needed a standard scratch brownie recipe easy enough to whip up at a moment's notice.
Chocolate Fudge Brownies fill the needs perfectly. They are ohhh sooo Chocolaty, soft and a bit gooey, but still recognizable as squares when you cut them. You can take them along to sporting events or picnics, or you can eat them warm from the oven.
How good are they?
Well, the other day, just as I pulled a pan of Chocolate Fudge Brownies out of the oven, the doorbell rings. (Seriously, is there a sign outside?)
Holy Kazoly! The furniture delivery guys! I had ordered a bureau for my daughter's room, and it FINALLY arrived (I ordered it months ago, it went to back order, which meant delays…. and then I totally forgot about it. Someone else took the phone call announcing delivery and DIDN"T WRITE IT DOWN… there are a few teens in my house).
There I am; me, 2 very nice guys, a heavy piece of furniture, stairs, and no cash for a tip. (No cash? of course not… teens in the house, remember?)
What to do…what to do…? Ahhh! Brainstorm! Cut those just-barely-cooled-enough Brownies, loaded them on to a paper plate, and handed them to the guys with a couple of sodas. They seemed a bit surprised.
Later, my little one, who was outside when they left, came and asked me if I had given the delivery guys brownies. " Yes", I said, "why do you ask?" She told me they were already eating them on the way back to the delivery van, and commenting on how no one had ever given them Brownies before, and that they were REALLY GOOD.
Score! (BTW. I did go down to the furniture store later that week with the tip…)
Whipped up another batch of Chocolate Fudge Brownies for the family… and the guys were right, they are REALLY GOOD.
Enjoy!
Chocolate Fudge Brownie Recipe
Makes- 24 to 32 (or 2 large) Brownies… depending on how you cut them
Prep Time: 7 minutes
Total Time: 40 minutes plus cooling time
Ingredients
1 cup Canola Oil
1/2 cup Cocoa Powder
2 cups Granulated Sugar
4 Eggs
2 tsp. Vanilla
1 1/2 cup Unbleached Flour
1/2 tsp. Baking Soda
1 cup Chocolate Chips-divided
Instructions
Preheat oven to 350 degrees F
Spray a brownie pan with some of that non-stick stuff.
In Mixer- combine oil and cocoa until smooth. (If you are a less lazy person than I am, go ahead and make these by hand.)
Add in eggs and sugar, beat until just smooth (no slimy looking egg stuff showing.)
Stir in the Vanilla.
Take Bowl off of the Mixer, add flour and stir in by hand, scraping sides, until just mixed in.
(REMEMBER!!!! Over mixing brownies leads to rubbery brownies that will give you a bad reputation at PTA bake sales!!!!!)
Stir in 1/2 cup Chocolate Chips. Couple turns of the spatula… DONE.
Pour into prepared brownie pan.
Sprinkle the top with the remaining Chocolate Chips.
Stick the pan in the preheated oven and bake for 25 minutes.
25 minutes is enough… Then pull out the pan to cool on wire rack.
Cut and Eat
Well… for bonus points you can put your favorite glaze or frosting over these brownies… but they do get messy that way.
Which is good too.