Cranberry Orange Meltaway Cookies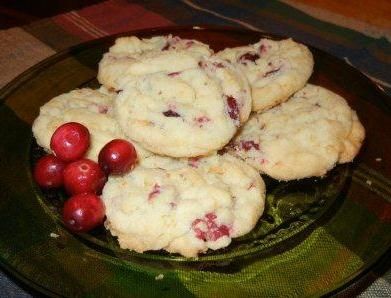 The origins of these Cranberry Orange Meltaway Cookies are lost in the mists of time…..
Actually, what happened is, about 20 years ago I copied the recipe out of a magazine into a notebook, and I recently came across it while sorting out my recipe cabinet. (yes, I do occasionally clean up, and YES, the recipes take up a whole cabinet….. not counting the cookbook shelf, and the 4 boxes of cookbooks in the garage….. don't point and stare, I know where my problems lie.)
This to me is a funky recipe since it uses both butter and oil, but the result is light and flavorful, and the cookies really do seem to melt in your mouth. (btw… I tried making the recipe using just butter, but it doesn't work as well. Taste is ok, texture is all wrong, so just go with butter and oil, and try not to dwell on it). Bits of Cranberry give them a tart taste, and I love the combination of Orange and Cranberry. It just works.
Make Cranberry Orange Meltaways for the holidays, they are delicious enough and special enough to be included in a Cookie Gift Plate… or just make them because it's Tuesday, because they are easy enough to make any time.
I chop my cranberries with this fancy Ulu knife and cutting bowl set my mom brought me from Alaska… very cool. You can use a foodprocessor or even a regular knife….. just keep those cranberries wrangled, they do like to jump around.
And use FRESH Orange Zest…. that stuff in a jar kind of tastes like the jar. It doesn't mean to…. and it will do in a pinch…. but the flavor of fresh orange peel… mmmmm.
(as always, I've added step-by-step photos, so you can't go too wrong)
Try them… they are perfect for the Holiday Season.
Enjoy!!
Cranberry Orange Meltaway Cookies Recipe
Makes 2 1/2 dozen cookies
Prep Time: 15 minutes
Total Time: 1 hour 15 minutes to chow time
Ingredients
1/2 cup Granulated Sugar
1/2 cup Powdered Sugar
1/2 cup Butter
1/2 cup Vegetable Oil
2 tsp
Grated Orange Zest
1 tsp Vanilla Extract
1 Egg
2 Cups Unbleached Flour
1/2 tsp Baking Soda
1/2 tsp. Cream of Tartar
1/2 cup Chopped Fresh Cranberries
***optional powdered sugar***
Instructions
Preheat oven to 350 degrees Fahrenheit
In the bowl of a mixer, beat sugar, butter and oil until blended. This will look strange until it comes together…. just stick with it.
Add the orange zest, vanilla extract and egg…. blend well. Scrape sides…. blend more.
In a large measuring cup, combine the flour, baking soda and cream of tartar…. Add to the butter mixture…. slowly, so you don't get it in your face!!!
Mix well
Chop up the cranberries… use a knife or the food processor. You want a rough chop… not too big… not too small…. Just chop until you don't feel like chopping anymore.
Stir the cranberry bits into the batter…. Just until mixed, no need to go nuts.
Get out your handy cookie scoop…. or a big spoon… (got to tell you though, I've become totally addicted to the cookie scoop… makes the same shape and size every time, and uniformity is great for baking) (not that I'm all that in to uniformity) Scoop the dough onto ungreased cookie sheets… about 2 inches apart.
Bake 12 minutes…. they will start to brown a bit at the edges and on top.
Cool one minute on the pan… then transfer to a cooling rack.
***If you want to gild the lily… sprinkle them with some powdered sugar
Step By Step Instructions With Photos!
Rough Chop Your Fresh Cranberries.Don't go nuts… like this is fine
I do have this groovy cutting bowl with a curved knife, called an Ulu Knife… it's great for chopping nuts and berries…. but you can use a food processor or a regular knife (just make sure they don't all fly off to the floor!)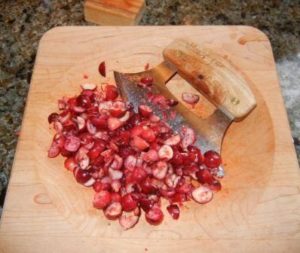 Use a Medium Scoop to Get the Dough on the Cookie Sheet…Or use a spoon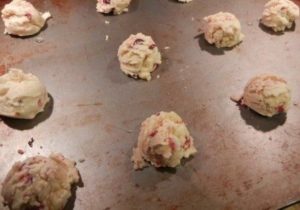 Cool Cranberry Orange Meltaway Cookies on a Wire Rack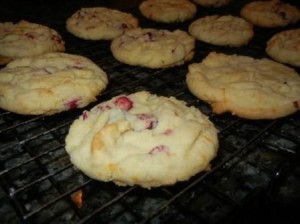 BTW-This is What Cranberry Orange Meltaway Cookies Look Like When You Just Use Butter…Still Cranberry Orange…. not so much Meltaway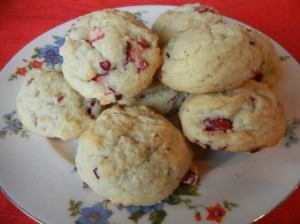 This is What Cranberry Orange Meltaway Cookies look like When Made with Butter and Oil
They Melt Away in your Mouth… Kind of Dreamy…