Cranberry Streusel Bars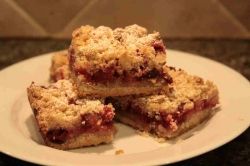 So, it's late November, and I'm starting to gear up for my annual holiday panic. You know that feeling, it comes earlier every year, the "I HAVE TO MAKE LISTS," "I NEED TO BUY GIFTS", "FOOD, I NEED FOOD, LOTS OF FOOD" feeling. I'm racing through Costco, throwing everything that's not nailed to the floor into my shopping cart, when I came to the cranberries, the BIG bag of cranberries, the REALLY BIG bag of cranberries. And, well, I was sure I NEEDED them, so I bought them.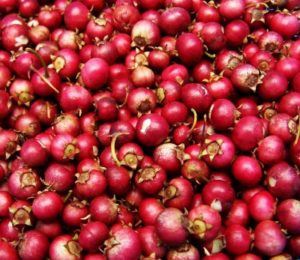 Once home, I hauled that bag up on to my kitchen table and thought to myself, "what were you thinking? what are you going to do with all those cranberries?"
This recipe takes care of that problem.
Due to technical difficulties, there aren't step-by-step photos for this recipe… sorry. I'm sure you will manage just fine.
Cranberry Streusel Bar Recipe
Tart Cranberrys, sweet and crunchy streusel…. I love streusel…..
I found the basis for this recipe in one of those magazines near the check out counter at the supermarket, but it wasn't exactly right. Made some changes, made it my own.
Now, I know I've gone on and on about how much I love my Kitchen Aid Mixer.( In fact, when it's time to get in the lifeboats, and I have to chose between that mixer and my husband, I gotta tell you, I'm going to have to do some serious thinking.) But this recipe, works really well with a food processor. In fact, it's a snap to put together in the processor….
If you don't happen to have a food processor, DON'T PANIC, you can blend the dough with a couple of knives, or one of those gadgets you use to make pie crust.
Serves: Makes a 9 X 13 inch pan
Prep Time: 10 to 15 min?
Total Time: 1 hour 15 min, plus cooling time
Ingredients
CRUST AND STEUSEL TOPPING
2 1/2 cup Unbleached Flour
1 cup Sugar
1/2 cup ground raw(untoasted) Almonds
1 tsp. Baking Powder
1 cup COLD Butter
1 egg
1/2 tsp cinnamon
FILLING
4 cups Fresh or Frozen Cranberries
1 cup sugar
1/2 cup Orange Juice
1 Tbl. Cornstarch
1 tsp. Vanilla
FINISH
Couple Tablespoons Powdered Sugar
Instructions
Grease a 9 x 13 inch pan
Start with the Crust
If you just have whole almonds, start by grinding them up in the food processor. They should look like crumbs. Don't let it go too long, or you will have almond paste, which is kind of yucky, and of no use for this recipe.
Leave the almonds in the food processor, add in the flour, sugar, cinnamon and baking powder, and pulse until combined. With processor running, add butter about a tablespoon at a time. When it looks like sticky sand, stop.
Beat your egg with a fork in a bowl, and add to the food processor. Pulse until combined.
Put a little more than half of the dough into the prepared pan.
Now Prepare  the Filling
Combine cranberries (pick out the squishy ones first, and toss them in the compost bin), sugar, orange juice, cornstarch and vanilla in a bowl.
Pour the filling evenly over the base crust.
Crumble the rest of the crust over the filling. Just rub it between your fingers, some bits will be big, some small.
Bake 45 to 50 minutes, until golden brown on top.
Let cool
Put a couple tablespoons of powdered sugar in a small strainer, shake it out over the cranberry bars (best to knock the strainer with a spoon)
Cut the bars
***Note*** to make them look neat, cut just inside the edge. The edge tends to get caramelized by the baking process, and it may look a little dark. (Personally, I love the chewy crunchy edges best, but then, I'm a crust person. Crust is where all the flavor crystals are.)