Chocolate Peppermint Sandwich Cookies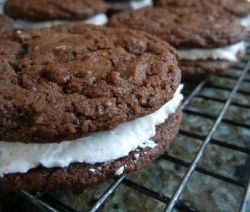 Admittedly, I didn't re-invent the wheel with this Cookie… in fact, I used the Chocolate Cookie Recipe from my Chewy Chocolate Sandwich Cookies with Marshmallow Filling. Only, instead of marshmallow frosting, I used peppermint which-
1)gives the cookie a bit of a holiday feel
2) Uses up those peppermint sticks that have been hiding at the back of the pantry.
These cookies are so delicious, you will find yourself making (and eating) them again and again.
And don't forget… holidays are coming, so if you do bake extra, you can wrap them up as gifts!
Follow this link to get the recipe for Chocolate Peppermint Sandwich Cookies