Vanille Kipferl (Vanilla Crescents)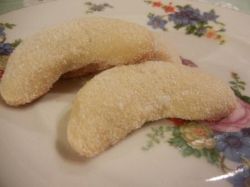 These cookies come with a history lesson…. seems they were invented by the Austrians to celebrate a victory over the Turkish army in some war or another (which one is not important… there were so many…. and there won't be a test, so you can stop taking notes.)
Can you just picture it? Yeah! We Won!! Let's go have Cookies.!!!!
Now German speaking people eat Vanille Kipferl. Mostly around Christmas (although you can get them anytime in Vienna…( I love Vienna, the Waltzing, the Sacher Torte, the Konditoreis, Kaffee mit Schlag … which is perfect for drinking while eating cookies…).
I make them because they are a light, sweet cookie that goes well with a cup of tea (ok, or coffee) in the afternoon. My daughter loves them, because they are "plain".
True, it is a basic cookie…. Flour, Sugar, Butter and an Egg. But I think they are anything but plain. To the basic ingredients, you add ground Almonds and lots of Vanilla. These ingredients combine to make something delicious enough to serve in a fancy tea room, but yummy enough for a group of boys studying physics. This recipe showcases how a few simple ingredients can make delicious cookie.
I've taken this recipe from a German Cookbook called, "Handmade Weinachten", so I included their metric measurements, and my conversions.
German baking often uses Vanilla Sugar instead of Vanilla Extract. It's just Vanilla Infused Granulated Sugar… smells wonderful, tastes great. You can find this ingredient in specialty stores or on Amazon.You can also make your own. (I've included instructions below***).
I bought ground Almonds from my local market, you can also buy them in natural food stores, and if you really want to, you can make them yourself. Put whole almonds into a food processor, and pulse until you have ground Almonds…. pulse too much, and you will have Almond Spread (great with jam on toast, but not so good for these cookies).
As always, there are step-by-step photos below… these are a snap.
Vanille Kipferl Recipe
Makes approx.50 cookies
Prep Time: 10 min work, 30 min chill, 20 min work, then bake
Total Time: 2 hours? maybe a little less….
Ingredients
11/2 cup (260g) Flour
1 Egg Yolk
2 tsp. Vanilla Extract
3/4 cup(80g) Powdered Sugar
1 cup (100g) Ground Almonds
1 cup (200g) Cold Butter-cubed
1/3 to 1/2 cup Vanilla Sugar
Instructions
This recipe comes together in no time if you use a food processor…. If you don't have one…you can use a mixer.
Put the Flour, Egg Yolk, Vanilla Extract, Powdered Sugar, and Ground Almonds in the Bowl of a Food Processor, let it rip.
Feed Butter cubes one at a time until it's incorporated, and the dough comes together.
Lay a piece of plastic wrap on the counter (yes… the table is ok) Dump the dough onto the plastic.
Shape the dough into a log… about 2 inches in diameter.
Then… wrap the log in the plastic wrap…. kind of squeeze and form as you go.
(Honestly, I'm not entirely sure why you have to do this…. but it works. If you feel like experimenting with other shapes…. round, oblong, flat… go ahead. Let me know how it goes…)
Stick the dough in the refrigerator.
You now have 30 minutes….close the kitchen door…. run the water so people will think you are doing dishes and stay away…. pour yourself some coffee (or tea) and read a magazine.
Time's up….
Preheat the Oven to 350 F, 180 C
Put the Vanilla Sugar in a small bowl.
Set a cooling rack over a cookie sheet (unless you don't mind wiping sugar off the counter…. I find that putting the rack over a cookie sheet is neater)
Now for the shaping part. (This will be like playing with play doh…. fun, but without that funky smell.)
Pull the dough out of the fridge. Slice off 1/4 to 1/2 inch slices (take the plastic wrap off first)… roll the dough between your hands to a mini log shape.. then taper the ends, and bend the dough to a crescent shape, and put it on a cookie sheet.
That's one…. 49 to go.
Give the cookies about an inch of space in each direction.
When you fill up a cookie sheet, pop it into the oven. Bake12 minutes…. until browning around the edges.
Set the cookie sheet with the baked cookies near the Vanilla Sugar Bowl and the Prepared Rack. Take a cookie… one at a time while still warm… from the cookie sheet… roll it in the Vanilla Sugar, and set it on the rack.
Repeat 49 more times.
Let cool….(or not)
EAT
Step by Step Instructions!
Dump The Dough onto a Length of Plastic Wrap
Kind of Moosh it into Shape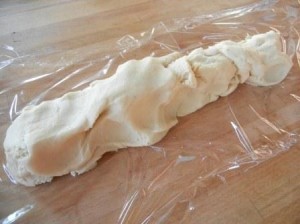 Smooth Out and Wrap in Plastic
No…it doesn't have to be Perfect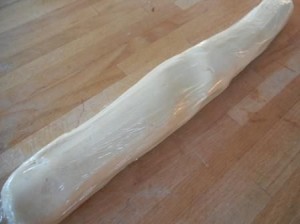 Cut Off Pieces Of Dough
About this much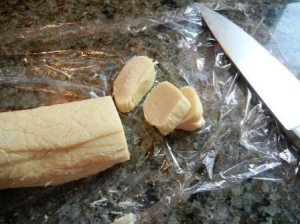 Roll Bit of Dough Between Your Palms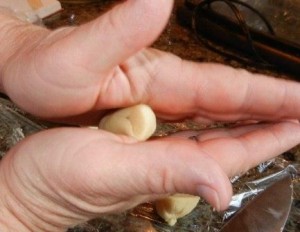 Make a Little Log
About 2 inches Long (or 3), this isn't brain surgery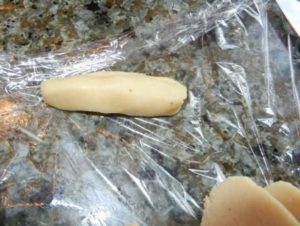 Taper the Ends…. Bend to a Crescent Shape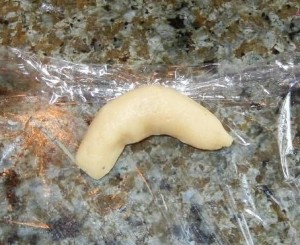 Put The Dough Crescents On A Cookie Sheet
Stick in the Oven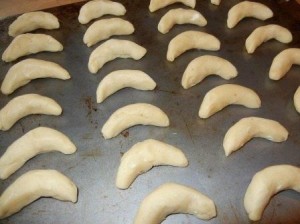 Get Your Rack Ready
Cooling Rack Over Cookie Sheet (I add Waxed Paper…for extra neatness)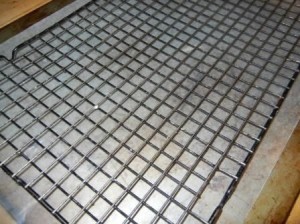 Take Warm Cookies from Cookie Sheet….Dip them in Vanilla Sugar
Set on Cooling Rack
Let Cool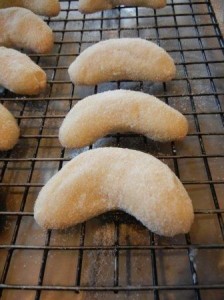 Or Eat as Fast as You Can
***Make Your Own Vanilla Sugar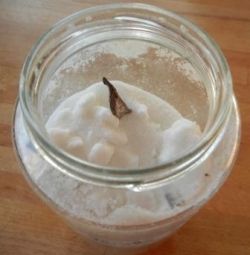 Vanilla Sugar is easy to make. I generally keep a jar on my shelf for baking, but I also have the Dr. Oetker envelopes that I get at the International Market.
Fill a medium jar half full with granulated sugar, add a few vanilla beans, fill the rest of the way, close the jar, and put it in the pantry for a few weeks.
Use when the Sugar smells of Vanilla.
It's that easy.