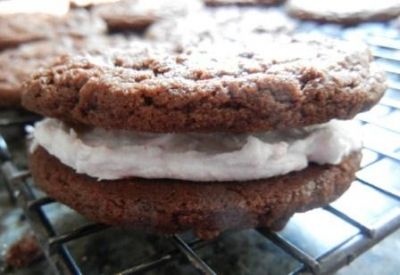 Chocolate Peppermint Sandwich Cookie Recipe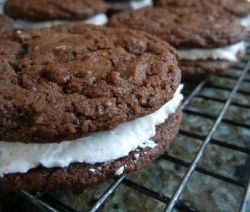 I made this Chocolate Peppermint Sandwich Cookie Recipe as sort of a challenge (admittedly, it wasn't a tremendous challenge, but I did get to stretch my brain just a bit). They are kind of a knock-off of the Peppermint Oreos that Nabisco produces at Christmastime. They are deeply Chocolate cookies with some thick yummy peppermint frosting sandwiched between them. The cookie is softer than the original, but you can still pull them apart and lick off the icing if you want to.
Admittedly, I didn't re-invent the wheel with this Cookie… in fact, I used the Chocolate Cookie Recipe from my Chewy Chocolate Sandwich Cookies with Marshmallow Filling. It's good… not crunchy like the ones from the store… just oooohhhhh soooooo good. Trust me.
Now… I personally, am an Oreo purist… they can make all these new fangled flavors, but the original has been great for 100 years, and it will remain the only one I want. (Dang… I sounded like that crazy old man down the street…) Truth is, I imprinted on regular Oreos as a child while visiting my neighbor (my mom wasn't going to BUY COOKIES). We'd sit at the counter with tall glasses of milk, split the cookies, lick out the frosting, then drop the cookies in the milk (yes, disgusting, but, we were kids)… then we'd drink the milk, and eat the Cookie Sludge with spoons. Heaven!!
If you are a purist too, go ahead and make these without adding peppermint…. BUT… I have to warn you… these are good enough to change your mind.
Special Notes About the Chocolate Peppermint Sandwich Cookie Recipe
The filling ingredients may be a bit shocking for some of you, but what did you think was in the middle of an Oreo anyway? I had some candy canes in my sprinkles box (when you crush them, they are sprinkles…) The recipe for filling makes double the amount you need… so now you get to make a decision.
You can-
1) Double the Cookie Recipe
2) Halve the Frosting Recipe
3) Store the rest of the Frosting, and make more cookies later
4) Put double the frosting on each cookie.
5) Sit in a corner with the rest of the frosting and make a pig of yourself.
(number 5 could be problematic, as we are approaching bikini season)
These cookies have a special place in Cookie Heaven (notice the angelic glow).  They are that good.
Chocolate Peppermint Sandwich Cookie Recipe
Chocolate Peppermint Sandwich Cookies have a special spot in Cookie Heaven... note the Angelic Glow....
Ingredients
CHOCOLATE COOKIE:

1 cup Butter- softened
3/4 cup Granulated Sugar
1 cup Brown Sugar
1 Egg
1 tsp Vanilla Extract
3/4 cup Unsweetened Cocoa
1 1/2 cup Unbleached Flour
1 tsp Baking Soda
PEPPERMINT FILLING:

1 cup Shortening
1/2 cup softened Butter
3 cups Powdered Sugar
1 tsp Peppermint Extract
1/2 - 3/4 cup Crushed Peppermint (about 5 candy canes)
Instructions
Preheat the oven to 350 degrees Fahrenheit
In the mixing bowl of a stand mixer combine the Butter, Granulated Sugar and Brown Sugar.... beat for 4 or 5 minutes, until fluffy.
Scrape down the sides; add the Egg and Vanilla Extract beat to combine.
In a large measuring cup, add the Cocoa, Flour and Baking Soda... whisk to combine.
Slowly (I said SLOWLY.... unless you felt like jumping into the shower after giving the kitchen a good scrub down) add the dry stuff to the butter mixture.
Beat until combined.... scrape down sides and scrape up the white stuff off the bottom. Beat Again.
Add the Chocolate Chips if you want to (go on... do it)
Using a medium scoop (about 1 1/2 inches across), scoop out dough balls onto a baking sheet... about 3 inches apart. I usually get a dozen on a standard baking sheet.
Bake for 9 minutes.
Let cool a minute or two on the baking sheet, then transfer to a rack.
Let cool completely (really, you don't want to melt your frosting... have a little patience)
While the cookies are cooling, go ahead and make the Peppermint Filling
In the Stand Mixer with a whisk attachment... combine the Shortening and the Butter, and whip until combined completely. It should look lighter.
Add the Powdered Sugar one cup at a time. It will look crumbly, like it's all wrong.... but it's fine, keep beating, and it will fix itself.
Add a teaspoon of Peppermint Extract
Add the crushed Peppermint
It should look like filling now.
So
Got the cookies? Got the frosting?
Use a spreading knife for this (or a regular table knife) to spread around 1 - 2 Tablespoons of Filling on the bottom of a cookie. Just BEWARE! At a certain point, the structural integrity of the cookie may give out, so don't press too hard.
Top the frosted cookie with another cookie.... press together just a bit.
Repeat until they are all matched up.
https://angrybakery.com/chocolate-peppermint-sandwich-cookies-2/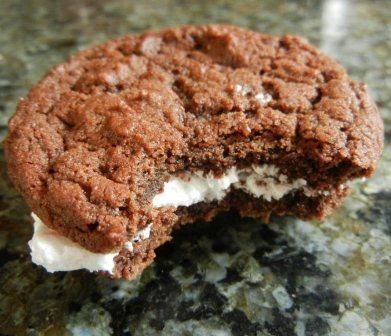 Simple Step By Step Photos…..
(Due to technical issues beyond my abilities… these photos are really small. 
You may be pleased to learn that I did NOT throw the computer out the window.)

Using a Cookie Scoop Will Insure That Your Cookies Are The Same Size

COOL COMPLETELY

Spread on the Frosting