Double Chocolate Raspberry Cookies

Double Chocolate Raspberry Cookies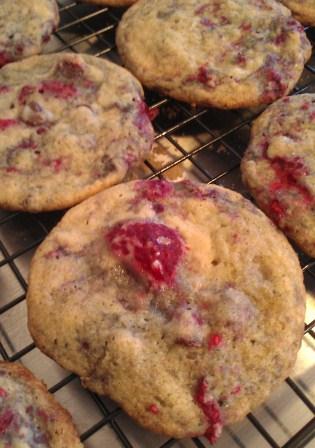 These cookies came out of a conversation with an online friend (do you call them conversations if you never hear their voice? It's all on Facebook….) Anyway… I was rattling around one day with Baker's Block (yes, it is so a thing… Baker's Block has been well documented by the Baker's Association of America) and I asked, "What should I bake?". Rich says… "White Chocolate Raspberry Cookies" with actual raspberries (apparently, raspberry jam would be WRONG, and would magically transform the cookies into biscuits)… How am I supposed to put raspberries into a cookie? In WINTER no less? Turns out… you can… if you have frozen Raspberries.
AND, if someone used up all of your white chocolate chips, and all you have left is 2 ounces of a white chocolate bar, you can work around that too. I melted the white chocolate, added it to the cookie dough… and then… because you can never ever have enough chocolate… I added semi-sweet chocolate chips. (I suppose, if no one has used up all of your White Chocolate chips, you can stick to just those).
These are a simple cookie with big flavor…. ENJOY!
Double Chocolate Raspberry Cookies
1 cup Butter (room temperature, unless your kitchen is freezing… you want it soft-ish when you squeeze)
¾ cup Granulated Sugar
¾ cup Brown Sugar (I used Dark, but if all you have is light brown… you can use it)
1 tsp. Vanilla Extract
2 Eggs
2 ounces Melted and Slightly Cooled White Chocolate
1 tsp Baking Soda
2 1/3 cups Unbleached Flour (all-purpose is fine)
1 ¼ cup Frozen Raspberries (when fresh ones are in season, I'll let you know if they work)
1 ½ cups Semi-Sweet Chocolate Chips
Instructions-
Preheat oven to 350 degrees Fahrenheit
In your mixing bowl, combine the butter and sugars… beat for 4 to 5 minutes, until light and fluffy.
Scrape down the sides and add the Vanilla… beat some more.
Add an Egg… beat… scrape (get the underneath part) add the other egg.
Add the melted and somewhat cooled White Chocolate (if it's too cool, it goes solid again…. then you have to melt it again and cool it again… you could go in circles for hours if you aren't careful). Beat well…. (ok, the butter stuff might melt a bit, don't panic… we'll fix it)
With mixer set to low speed, add the dry ingredients. Beat to just about combined… scrape the sides..
Now… add the Frozen Raspberries and the Chocolate Chips
Beat until just combined.
Stop
Use your middle sized scoop (or 2 Tablespoons) and scoop out the cookies onto a baking sheet. Give them a few inches of space to spread out. Stick in oven… repeat with rest of dough. (You might notice that the dough feels stiff… almost frozen… it's supposed to.)
Bake for 14 minutes…. Cool a minute or two on the cookie sheet… transfer to a cooling rack.
Eat