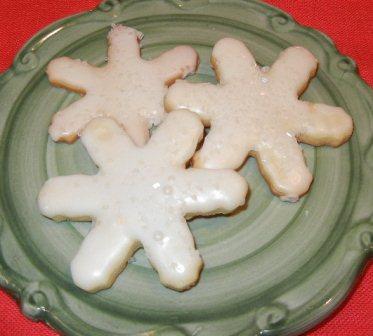 Best Sugar Cookie Recipe Cutouts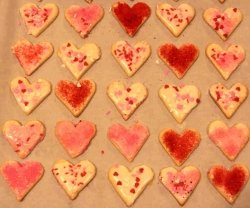 I have wonderful memories of baking the Best Sugar Cookie Recipe cutouts in all different seasonal shapes  with my mother. We would make sugar cookies every Christmas, then ice them and load the cookies up with sprinkles. And there would be hearts at Halloween. We didn't have a huge collection of cookie cutters like I have today, but it was tremendously fun. Maybe because I was working in the kitchen with my mom… and we were doing the same thing we did every year… It's comforting, that sameness, that tradition.
So now,  you have an event LOOMING in the calendar…. Christmas, Valentines, Thanksgiving, Soccer Tournament, Tuesday… you need to make an appropriate cookie… what to make, what to make….Basic Sugar Cookies are a perfect tool for your baking arsenal. They are simple, made with the basic ingredients- Flour, Sugar, Butter, and Eggs (ok, and some Vanilla). And you can make them ANY shape you want to.
Yup… any.
My little one INSISTS on doing hearts with loads of sprinkles for Valentines Day…. but I've done Hearts, Snowflakes, Turkeys, Soccer players, Dinosaurs and even Palm Trees (it was a Tiki Party).
Grab your kid, or a neighbor's kid (you might want to clear it with the mom to avoid any unpleasantness with the local police), round up some cookie cutters, and get started! Mix up the dough, roll it, and cut out your favorite shape… then bake. You can decorate with icing and sprinkles…or bake the sprinkles right in.Yum! Then EAT!
Double extra bonus points if you can get someone else to clean up the sticky mess… ( my daughter Katy tells me that some day, when she can trade the double extra bonus points in for real money, she'll be able to build a mansion with a hot tub in every room)
 Best Sugar Cookie Recipe Cutouts
Basic Sugar Cookies
Makes 3-4 dozen, depends on cutter size
Prep Time: 1 hour 15 minutes
Total Time: 2 hours 15 minutes

This is it. Super basic recipe, ingredients are simple- flour, sugar, butter and eggs. Oh, and of course, some real vanilla.
Some Extra Tips-
Technique is what makes this cookie great.
-Chill the dough an hour before working.
-Lightly flour the rolling surface and rolling pin
-Roll out only a little at a time.
-Roll from center outward, gently, don't smoosh edges
-Flip dough a few times during rolling process
-You are looking for a 1/4 inch thick layer
-When cutting cookies, cut them as close to each other as possible, you don't want to have to re-roll the dough to often
-Cool the cookies completely on a rack before decorating them

Ingredients
1 cup Butter… don't even THINK about using margarine
2/3 cup granulated Sugar
1 egg
1 tsp. vanilla
2 1/2 cups unbleached sifted flour -sift before measuring
ICING
2 cup powdered Sugar
4 or 5 tsp. lemon juice
Assorted Sprinkles
Instructions
Cream together butter and sugar until light yellow. Beat in egg. Add vanilla.
Slowly add flour (slowly, or you'll get a face full of flour)
Mix until totally combined
Chill dough for an hour at least.
Alternatively, at this point you can form the dough into a disk, wrap it in plastic wrap, and stick it in the freezer for another day.
-Be sure to label it-name and date, otherwise you could reach into your freezer a few years from now and wonder what the heck it is
(By the way, if you do happen to find a several year old frozen disk of cookie dough, don't bake it, let the kids play hockey with it)
Heat oven to 350
Lightly flour your rolling surface. Marble or granite is ideal. Tile, not so good. Pick off a piece of the dough about the size of a small apple, and flatten it into a disk. Flour your rolling pin. Roll the dough from the center out. Apply even pressure. DON'T press too hard, or the dough will become one with the counter top. Flip the dough about half way through rolling process to make sure it's not sticking. When you have a 1/4 inch thickness, you can cut out the cookies.
Take your favorite heart shaped cutter, and cut. Keep them close together to eliminate lots of scraps and rerolling. Put the cut cookies on a baking sheet. Gather up the scraps, add some more dough, and do it again and again until the dough is used up.
Bake each tray 10 minutes.
Let the cookies cool on the cookie sheets for a minute or two, then transfer to a cooling rack
When cookies are COMPLETELY COOL (don't rush this, it won't take long)
Sugar Cookie Icing
In a medium bowl, mix powdered sugar with 4 to 5 tsp of lemon juice, check the consistency. You want it to look like Elmer's glue. If it's too thick, add a few teaspoons of milk. If it's too thin, add more powdered sugar.
Decorate
Put a wire rack over a cookie sheet to collect drips, you can cover the sheet with parchment or wax paper to ease clean up.
Dip the top of a cookie into the icing (don't let it fall it!), scrape off the excess, and put it on a the wire rack, cover with sprinkles
Let the icing get solid before removing them from the rack
Dough-
How Much Should You Roll?Only roll a little dough at a time. It's easier to control, and much less frustrating to work with.
Flour the counter, flour the rolling pin.
Flip the dough once or twice to keep it from sticking to the counter.
If it's too sticky, add a LITTLE bit of flour.
Roll to 1/4 inch
Cutting Cookies
Save yourself some work, cut the cookies close to each other.Don't use wildly crazy cutters that have lots of corners and edges, the shape will blur during baking. Simple shapes like hearts, are perfect.
Re-roll the scraps, and mix with new dough before re-rolling
In the end, if you have a piece too small to roll, you can either throw it away, or give it to a child to create a free form cookie. The free form cookie will look lumpy and odd, and maybe a little grey if the child's hands weren't entirely clean. It's still edible.

Cookie Cutters
All Shapes and Sizes
Cookie cutters? somewhere along the line, people decided I'm a cookie cutter collector, so I own about 100 of them. I use, maybe, 10. Pick simple shapes that won't blur during baking, and that don't have narrow bits that will break off.
Wilton 7-Piece Metal Heart Cookie Cutter Set
Wilton Holiday Grippy Cookie Cutters, Set of 4
Wilton Comfort Grip Star Cutter
Wilton Easter 4pc Grippy Cutter Set
Wilton Set of 3 Easter Cookie Cutter Set
Wilton Metal Arrow Heart Key 3 Piece Cookie Cutter Set, Multicolor
Wilton Comfort-Grip Maple Leaf
Wilton Leaves and Acorns 9-Piece Aluminum Cookie Cutter Set
Sugar Cookies Freeze Well
You can wrap sugar cookie dough up and freeze it for up to 2 months.
Sugar cookies can be frozen after baking for 2 months…. best done BEFORE decorating, since the icing may get melty when you thaw them out.
Don't forget to LABEL the package
Snow Flake Sugar Cookies
We Made These For Christmas
We used a snowflake cutter, white icing and crystal sprinkles

Bake Sale Favorites!
Bake Sugar Cookies for your next Bake Sale!
Choose shapes to fit the occasion…
and wrap in pretty cellophane bags tied with ribbons
Transporting Sugar Cookies
Avoid Wrecking Your Cookies
Nothing is worse than spending hours on a batch of cookies, packing them up to go somewhere, and arriving with a lump of mushed together cookie.
Get yourself some parchment paper or wax paper.
Make sure the glaze on the cookies is hard.
Put a layer of cookies flat across the bottom of your container…. lay parchment over it…. add another layer of cookies.
Don't let them get hot.
If you are taking them to a party, arrange them on the platter, overlapping a little. Cover with plastic wrap or foil.