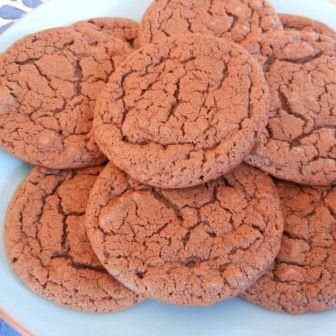 How to use Leftover Frosting? Make Cookies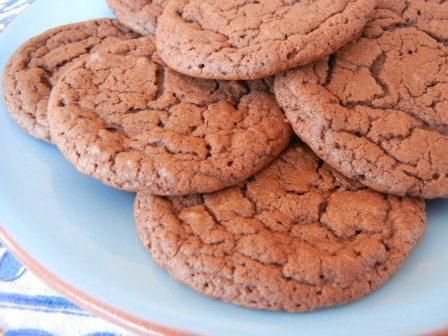 Want to know how to use Leftover Frosting? Read and learn….
(To my horror) I found out that a friend of mine THROWS AWAY  leftover frosting.
BLASPHEMY!!!
Got leftover frosting? There are a number of things you can do with it.
How to Use Leftover Frosting
1. Sit down in the corner and eat it.
2. Put it in the fridge, and sneak a spoonful every now and then when things get a little rough.
3. Save it in the fridge until you make sugar cookies, and then spread it on the cookies.
and best of all…..
4. Make Leftover Frosting Cookies!
Any Buttercream Frosting will do.
Quick, easy and delicious. These cookies will use up the leftovers in a very delicious way.
My reasoning is this… buttercream frosting is butter, sugar and flavoring (like chocolate)…. and since the basic cookie recipe generally starts with … "cream butter and sugar"… I figure, add some other stuff, and you have cookies.
It works.
Still uncertain? Check out the Step By Step Photos below….
Leftover Frosting Cookie Recipe
This is one of those non-recipe recipes… hmm … guess that doesn't make sense. I guess it can be described as a "pinch of this, a cup of that".
We end up with cookies of different flavors. Some are definitely more successful than others (chocolate or mocha are the most popular). Add chocolate chips, coconut flakes, sprinkles… anything (well, not bananas … ewwww) this is your chance to be creative while making something simple.
I had 2 cups of leftover frosting, for this particular batch. If you have more… adjust up… less…adjust down. I prefer my cookies flat and chewy, so I only add one egg… if you like your cookies big and a bit flluffy, add two eggs.
Go have some fun in the kitchen!
Ingredients
2 cups (Chocolate) Buttercream Frosting
1 Egg
2 cups Flour
1 tsp Baking Soda
optional- additions- chocolate chips, coconut, nuts, m&m candies.... etc.
Instructions
Preheat the Oven to 350 degrees Fahrenheit
Make sure the Frosting is room temperature.
In a mixer... beat the frosting with the beater for a minute.
Add the egg... beat into the frosting... scrape down the sides.
Combine the flour and the baking soda... slowly add to the frosting mix.
Beat until combined.
Scrape sides... beat some more.
Now look at it... you want something kind of stiff, but not overly so. (Think about chocolate chip cookies you've baked in the past). If it feels too soft, add some more flour.
And then... maybe get creative.... add chocolate chips, or dried cranberries, or sprinkles, or chopped nuts.
Mix...scrape...mix
Done
Scoop the cookie dough onto cookie sheets using a cookie scoop, or a spoon. Make sure you leave two inches between cookie blobs.
You can sprinkle with your favorite sprinkle stuff if you want.
Bake for 10 minutes at 350
Let the cookies cool on a rack for a minute or two... then move them to a cooling rack.
Then EAT!
https://angrybakery.com/what-can-i-do-with-leftover-frosting-make-cookies/
Don't Throw Away Leftover Frosting!
Buttercream frosting will keep in an airtight container for a few weeks in the refrigerator. Before using it, let it sit on the counter to come to room temperature.
You can also freeze buttercream… be sure the container is airtight, label it! and it will be good for 2 months.
Need A Cookie Jar to Go With Those Cookies?
Grasslands Road Halloween Owl Cookie Jar
What On Earth Exclusive Full Moon Ceramic Cookie Jar
A Christmas Story Ralphie's House Cookie Jar
The Beatles – Magical Mystery Tour Bus Cookie Jar
Rich Diesslins Funny Society Cartoons – In The Cookie Jar Again – 22oz Stein Mug (stn_1719_1)
Fire Hydrant Ceramic Cookie Jar Fireman Firefighter
&
Step By Step Instructions for Using Leftover Frosting to make Cookies
I had 2 cups of Frosting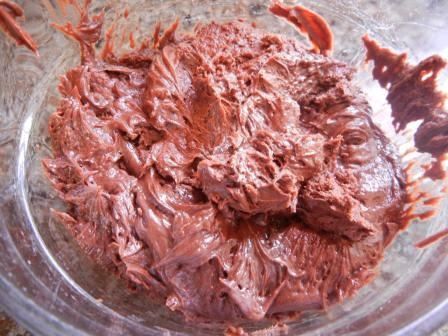 Add Egg, Flour and Baking Soda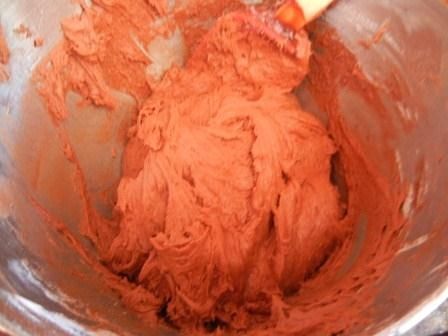 Mix until blended completely
If you want to add extra bits, like chocolate chips or raisins or cranberries or sprinkles or coconut or nuts… now is the time!
Scoop the Cookie Dough onto Cookie Sheets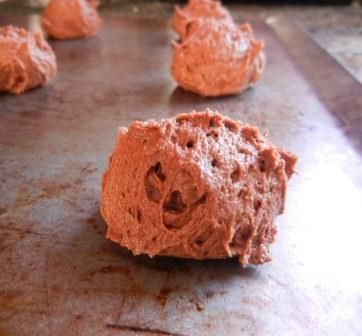 Give them Space
Bake and Eat!