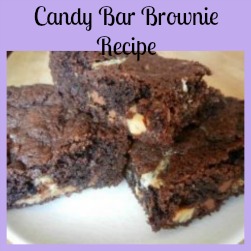 Candy Bar Brownie Recipe- Use Up Those Halloween Candy Bars!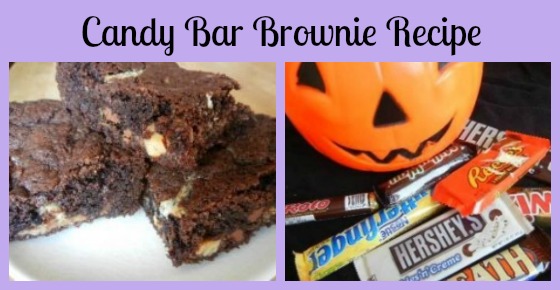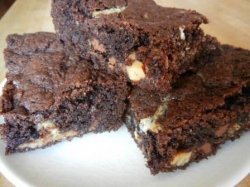 Bet you are wondering how I came up with this Candy Bar Brownie Recipe……
So, I'm in the Grocery Store, like I am just about every day (sometimes twice… I really have to make better lists), and the Halloween Candy displays are all up. CANDY CANDY CANDY.
I know, if I buy Halloween Candy today, by next week, it will be gone… nothing but a few tell tale wrappers under the sofa to show that it was ever there…
But… I stopped to look at the display….letting my mind wander…
See…the other day I made these great Brownies, and I was rolling ideas around in my head about how to play with the recipe… I see all those Halloween Chocolate Bars… and I'm thinking to myself…. Brownies…. Candy Bars…. ahhhhhh (lightbulb comes on) (well… fluorescent bulb slowly begins to glow with barely enough light to read by…) Candy Bar Brownies!.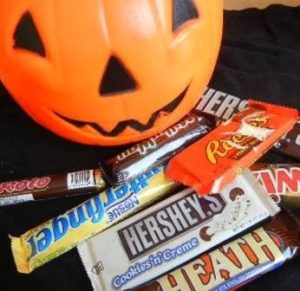 With the help of my favorite produce guy, John (he caught me standing in the aisle muttering to myself, and decided to help me move along… guess I was frightening the other customers), I loaded my cart with assorted favorites…. Milky Way Bars, Snickers, Hershey's- Milk and White Chocolate with Oreos, Butterfingers, Heath Bars and Rolos…(ok, drooling now), and took the lot home.
The Angry Baker and her able assistant (the 10 year old) got to work… We melted, stirred, chopped, mixed and baked. The results…. delicious.
These easy Brownies are a surprise package… different flavors in every bite.
This Halloween, when the kids come in from Trick or Treats…. or you find yourself with some Chocolate Bars in the give-away bowl at the end of the evening… set some favorite bars aside to chop up and bake into Candy Bar Brownies.
I've included the easy recipe… and some step-by-step photos… so you can have your own Candy Bar Brownies in no time.
Candy Bar Brownie Recipe
You can use ANY Chocolate Bars for this recipe... just give them a rough chop, and throw them into the batter. I love, love, love Caramel, so my Candy Bar Brownies tend to be heavy on the Milky Ways and Rolos... but the kids love peanut butter.... so when I bake for them... Reeses Peanut Butter Cups and Butterfingers go in. Like nuts? Snickers and Payday Bars.... Or ... Just dump out the Halloween Sack and use them ALL. The Brownie is chewy, not cakey, and is perfect with a cup of coffee or tea... or a big glass of milk.
Ingredients
4 oz. Unsweetened Chocolate
1 Cup Butter
3 Eggs
1 1/2 cup Granulated Sugar
1 1/2 cup Unbleached Flour
1/2 tsp Baking Soda
1 1/2 cup Chopped Chocolate Candy (any kind of chocolate bar will do)
Instructions
Preheat Oven to 350 degrees Fahrenheit
Line a 9 x 13 inch Baking Pan with Aluminum Foil... let the ends hang over the sides
Spray with some non-stick stuff...
Put the Unsweetened Chocolate and the Butter in a microwave safe bowl (I tend to use my large Pyrex measuring cup), cover it (unless you truly enjoy cleaning goo splatter out of the microwave) and melt them together in the microwave - takes about 2 minutes in mine. Yes, you can do this on the stove top. Then stir it all together until smooth. Let it cool a bit.
Unwrap the Candy (do I REALLY need to tell you that?) and give them a rough chop. This means... you want the pieces to be around 1/2 inch square-ish. Now... this isn't brain surgery, so don't bother getting out a ruler. Just chop it up and leave recognizable bits. If some are small... great. You want around 1 1/2 cups... but again... not brain surgery.... (you get the idea)
In a medium bowl combine the Eggs, Sugar, Flour and Baking Soda... mix it up a bit. Add the melted Chocolate/ Butter mixture. Stir with a spatula until just combined (don't forget to scrape the bits from the bottom!)
Put about 1/2 to 2/3 of the batter into the baking pan. Just eyeball it.
Add the Chopped Candy Bars to the rest of the batter.... mix it up to coat the pieces.... then dollop the batter coated candy onto the base. Sort of smooth it out.
Bake the Candy Bar Brownies for 28 minutes.
Cool on a rack for 15 minutes... then lift out of the pan with the foil, and let sit on the rack.
You can now cut and eat.... If you are careful, you can cut on the foil, without cutting the foil... this makes the whole set of brownies easy to transport... you can just move the cut brownies on foil into a storage container and GO!!
https://angrybakery.com/candy-bar-brownies/
 Didn't Get Enough Candy While Trick or Treating?
HERSHEY'S Halloween Demon Treats Snack Size Assortment (48.05-Ounce Bag, 125 Pieces)
Nestle Halloween Candy Chocolate Assorted Minis Bag, 40-Ounce
&
Step By Step Instructions with Photos
Candy Bar Brownie Recipe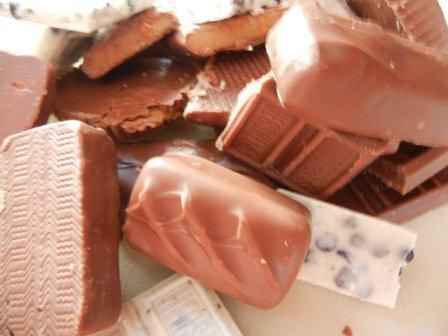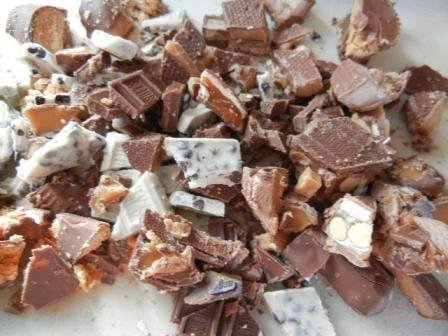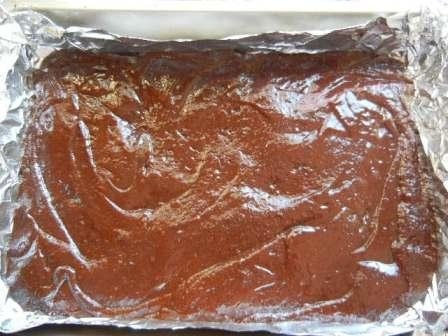 Bake a Bit