Lamingtons, Sponge Cake Made Magical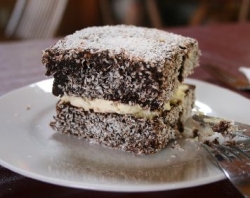 Lamingtons are a deliciously addictive cake from Australia. We don't see them often here in the US, so your best bet is to make them yourself. My friend Susanna Duffy explains exactly how to make them in her page- Lamingtons, little Australian Sweet Cream Sponges.  (All photos taken by Susanna Duffy)
[rectanglebox id=14]
Need a Sponge Cake Recipe to produce a proper Lamington? Use this one…
Simple Sponge Cake Recipe (Use for Lamingtons)
What is a Sponge Cake? Think Twinkie….
Ingredients
½ cup Butter- softened
¾ cup Granulated Sugar
1 tsp. Vanilla Extract
2 Eggs (room temp.)
2 cups Flour
4 tsp. Baking Powder
½ cup Milk
 Instructions
Preheat oven to 375 degrees Fahrenheit      Grease a 9×9 inch Baking Pan
Beat the Butter and Sugar together in a stand mixer until light and fluffy. About 5 minutes… don't shortcut this step.
Add Eggs one at a time… beat them in, scrape sides (don't forget the part under the beater)
Add the Vanilla… beat
Sift the flour and Baking Powder together to lighten them up.
Alternate adding the Flour and the milk to the butter mixture… ½ of flour then ½ of the milk, then the rest of the flour, then the milk. Scrape the sides, an finish beating until JUST INCORPORATED. Overbeating makes the cake tough.
Pour the batter into the pan and bake 30 to 40 minutes (check by jabbing it with a toothpick at 30… if it comes out clean, it's done. If not… bake on)
When done, let it rest on a wire rack for 5 minutes before turning it out.
Let cool completely.
For best success, wrap the cooled cake in plastic wrap and let it sit overnight before making the Lamingtons.