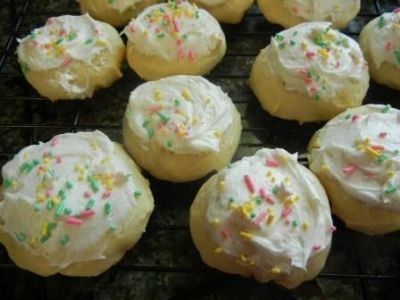 Soft Sugar Cookies Scratch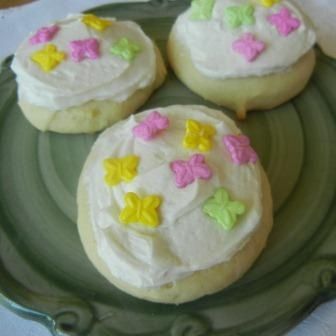 Had a few girlies in the house today working on school stuff and I figured they could taste test some Cookies for me. Baked up the Soft Sugar Cookies, scratch (of course)…. made up the Buttercream Frosting…. and went to my sprinkles storage box (yes, I have a sprinkles storage box, don't you?)… Where are all the sprinkles?
Where Are the Sprinkles?
umm… I know I bought some. I'm obsessed by buying sprinkles…
Maybe I put them in the wrong place… (it happens)…
Girls hear me rummaging through the kitchen…"did any of you see where all the sprinkles went?" They actually looked at each other, and one says…"back away slowly, maybe she won't notice us"
(sigh…pretty sure there was an ice cream sundae party that I didn't hear about , but I'll check under the beds just in case.)
(Meanwhile….. I did find some Butterflies.)
Truth is, it doesn't matter what the sprinkles look like. You can even make them WITHOUT sprinkles (but not if you are baking for 9 year olds.)
This is a fairly simple old fashioned Soft Sugar Cookie recipe, made sublime with a spread of Buttercream Frosting. You can decorate them with sprinkles… or even change the color of the frosting with food color. These cookies are like a soft, vanilla cake, and then they are frosted with a light, creamy vanilla buttercream.
Or just leave them plain. (I like plain)
Since they are made with Yogurt as well as butter, these could almost be considered healthy. (Face it, this is a world where granola bars are covered in candy…) The buttercream is light and fluffy. Yes, you have to use the shortening. It makes the texture come out right. Eat one (ok, maybe two) and feed the rest to some active kids (and don't be tempted to eat the rest of the frosting with a spoon… believe me… the excitement wears off come bathing suit season).
If you want to color your frosting so that it is in keeping with a particular event go ahead and put some food color in the frosting.. (St. Patrick's Day
"~ green, Easter
~ pink or yellow, Christmas
~red or green, Hanukkah
~ blue, Halloween
~ orange, Flag Day ~ whatever color your flag is). Sprinkle away with the sprinkles.
Soft Sugar Cookies From Scratch Recipe!
Soft Sugar Cookies Scratch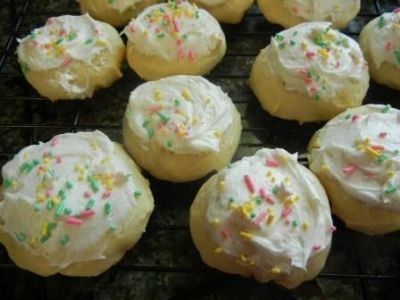 Ingredients
Cookie:
1/2 cup Butter - soft
1/2 cup Vanilla Yogurt
1 cup Granulated Sugar
1 tsp Vanilla Extract
2 Eggs
1/2 tsp Baking Soda
1 1/2 tsp. Baking Powder
3 cups Unbleached Flour
Buttercream:
1/2 cup Butter- soft
1/2 cup Shortening (plain
not flavored)
2 tsp Vanilla Extract
4 cups Powdered Sugar
2 -3 TBL Milk
Instructions
Cookies:
Preheat your oven to 350 degrees Fahrenheit
(This recipe is easier in a KitchenAid Stand Mixer, but I suppose you can do them by hand.)
In the bowl of your mixer, combine the butter, yogurt and sugar. Beat until it's all combined. It will take a few minutes... and will probably look kind of yucky along the way.
Add the vanilla extract.... beat it in.
Scrape the sides...
Beat in the eggs, one at a time... now it will really look yucky, just keep beating until it's kind of smoothed out.
Combine the flour, baking powder and baking soda.... with the mixer on low, add the flour stuff slowly to the butter/egg stuff.
Beat on low until combined.
Scrape down the sides
Beat on medium for a minute.
Stop
Now comes the fun part...
Get out your Cookie Scoop (yes, you can use a spoon if you don't have a cookie scoop... do put one on your Wish list though)
Scoop out the cookie dough onto a baking sheet (I do about 1 dozen per sheet, they do spread a bit). You want it it be a round ball.
Use the heel of your hand to kind of flatten out the ball.
Into the oven now for 8 minutes.
Done... they don't look done, but they are done.
Set the cookie pan on a cooling rack for 2 to 3 minutes...then use a spatula to move the cookies off the cookie pan and onto a rack to finish cooling (don't frost the cookies before they are cool.. unless you happen to like runny, messy, drippy cookies) (wait, that might be ok..)
While the cookies are baking and cooling... you can wash the mixing bowl and prepare the frosting.
Buttercream:
Make sure your butter is soft by leaving it out at room temperature for an hour or so.
Put 1/2 cup of the Butter into the stand mixer with a whisk attachment… turn it on to smash it up a bit.
Add 1 cup of Powdered Sugar… whip
Add 2 teaspoons Vanilla Extract… whip
scrape down sides
Add another cup of Powdered Sugar
Add the rest of the Butter
Add the rest of the Vanilla
Add the rest of the Powdered Sugar
Scrape
Whip
Ok… now look at what you have… you probably need to add some milk to smooth it out. Start with 2 teaspoons.
Whip, scrape, whip
Is it smooth? Fluffy?
If it is too stiff, add more milk
If it is too soft, add more powdered sugar.
Some Assembly Required:
Use a knife to spread frosting on the top of the cooled cookie.
Add sprinkles.
Done
Now EAT
Find an Amazing Assortment of Sprinkles on Amazon
Wilton 6 Mix Easter Sprinkle Assortment
Wilton 710-1176 Animals and Stars, Bright, 2.4-Ounce
Edible Confetti Sprinkles Cake Cookie Cupcake Quins Pastel Sequin 8 Ounces
Wilton Animals and Stars 6 Mix Sprinkle Assortment
Wilton 710-0018 Sprinkle Set Food Decorative, Pastel Blue
Whimsical Practicality Mickey Mouse Cake Decorations and Edible Candy Confetti Sprinkles for Cakes Cupcakes and Cookies
Wilton Edible Glitter, Gold Stars, 0.04 Ounce
Wilton Rainbow Chip Crunch 5.25 oz.
Wilton 6 Mix Sprinkle Assortment, Flowerful Medley
&