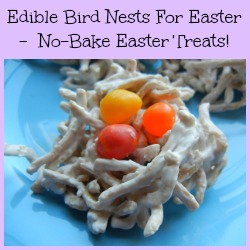 Edible Bird Nests For Easter No-Bake Easter Treats!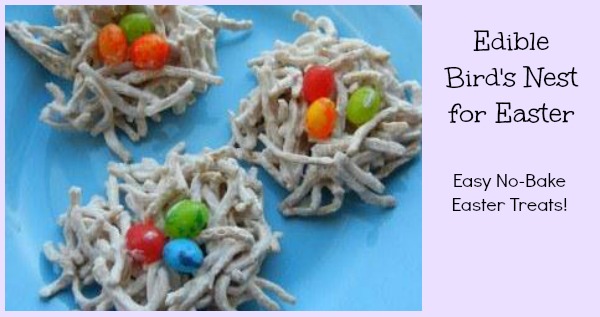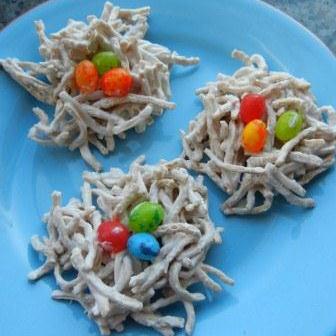 Spring Break is here, and Easter is rapidly approaching, this means that the kids are home, and need "something to do" because they are "bored". (Never ceases to amaze me, in a house full of games, toys, and electronic devices, they are bored…. I wish I had time to be bored).
Edible Bird Nests  are a great Activity that also works as a Snack. Kids can do these alone, or with minimal supervision (depends on how sticky you want your kitchen to get). You don't need many ingredients (only 3), you don't need the oven, and the whole project, from start to finish, takes about 20 to 30 minutes.
The recipe calls for while chocolate melts, jelly beans and crunchy Chow Mein noodles, but you can mix things up a bit… substitute milk or dark chocolate for the white, substitute M&Ms or other candies for the Jelly Beans, you can even substitute broken Pretzels for the Chow Mein Noodles. Make it any way you want to. This really is a versatile recipe..
This easy and fun Activity/Snack will keep the kids, the scout troop, or the young at heart busy and happy….
Step By Step Directions with photos Below…
Enjoy!
Edible Bird Nests for Easter with Jelly Bean Eggs
Bird Nest Cookies are a No-Bake treat ...you just need to melt some White Chocolate and stir it into those Crunchy Chow Mein Noodles.
Ingredients
Instructions
Don't bother preheating the oven ( unless you are planning to roast a Chicken for dinner)
Get out your ingredients
Cover a cookie sheet or two with a sheet of foil or waxed paper
Pour the White Chocolate Candy Melts into a microwave safe container, put the container in the microwave... and turn it on. Should take a couple of minutes to melt...stir every minute or so.
Pour about 2/3 of the Chow Mein noodles into a bowl...keep the rest handy.
Pour the melted White Chocolate over the Chow Mein Noodles... Mix them up... add more noodles as you go. You should use most of them. Some might accidentally get eaten by passing munchers,
All mixed up?
Take a glob in your hand, and sort of lightly mush it together.
Set that onto the covered cookie sheet, and form it to an approximate nest shape. Now... we are not weaver birds, a simple semi-round shape will do. Make a little depression in the middle...
Put a few Jelly Beans in the depression
And that's it.
Repeat until all of the noodles are nests.
**Warning... you are working a bit against the clock here, as the chocolate will begin to set. We finished in about 10 minutes, no problem.
If it is a warm day, you can set them in the fridge, otherwise, they should set at room temperature.
After they set ...
EAT!
https://angrybakery.com/no-bake-bird-nest-cookies-for-easter/
La Choy Chow Mein Noodles, 5 oz
Ghirardelli, Candy Making & Dipping, White Melting Wafers, 12oz Bag (Pack of 2)
Jelly Belly Jelly Beans, 49 Flavors, 2-Pound Stand-Up Pouch
Step By Step Instructions for Edible Birds Nest for Easter
Assemble Your Ingredients
Cover a Cookie Sheet with Foil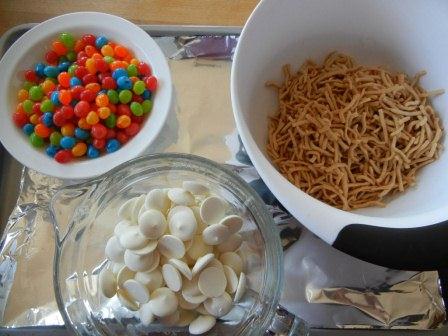 Get the Candy Melts into a Microwave safe container… melt the melts…
Pour the Melted White Chocolate Candy Melt over the Crunchy Chow Mein Noodles
Start with around 2/3 of the noodles… it's easier to add than take away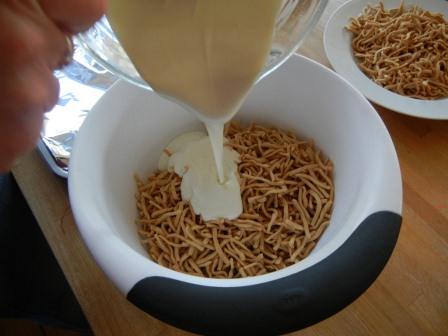 Stir it all Up
You Want an Even Coating, But Not too Goopy… Add More Noodles as You Go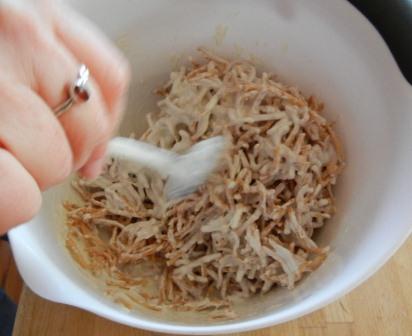 Grab a Bit of the Goop
About a palm full?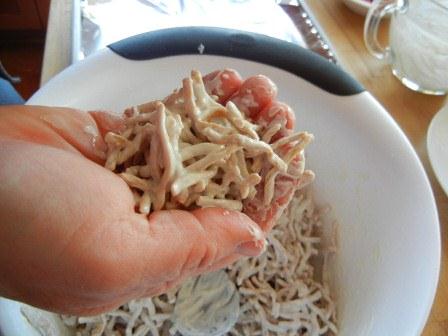 Arrange in a "Nest Shaped" shape on the Cookie Tray
Tweak a bit to get the stray bits in line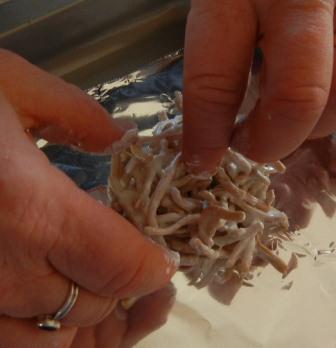 Add Jelly Beans into the Depression You Made In Your Nest
Note… sometimes it's good to have someone who doesn't have sticky fingers do the Jelly Bean part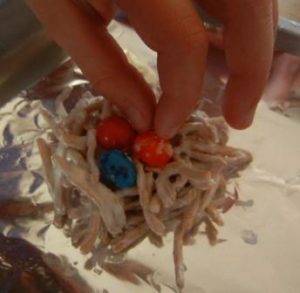 This is a GREAT activity for Kids
You just have to supervise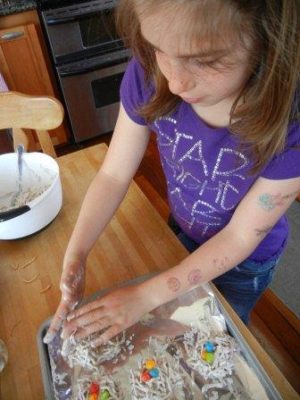 Ta DAH!!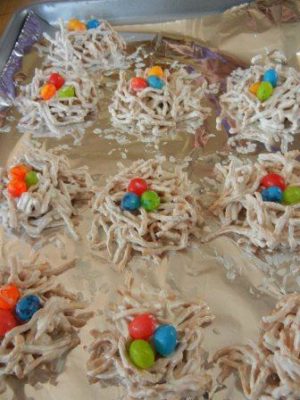 Let Set…then EAT!