Fudgy Peanut Butter Swirled Brownies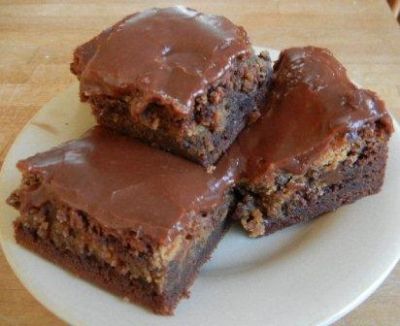 One day I had 3 neighbors ask me if we were having a party.
What? Why? Then I looked around… our front yard was a very busy place. There were around a dozen or more kids of all ages (some of them even belonged to me).
There was-
A Slip and Slide… complete with bowling pins to knock over.
A Water Balloon fight
A Water Gun battle
someone had the hose…..
Masses of towels and blankets were strewn around
It was no more than the usual Chaos. Then some more kids showed up… and everyone was hungry. No, I said, not a party, just a typical Tuesday at our house….. Luckily, I had just pulled a batch of Fudgy Peanut Butter Swirled Brownies out of the oven. The kids ate them warm and gooey, and went right back to the fun.
Now, I grew up in a German Household…. my mother never had peanut butter when she was growing up, so it wasn't something she was going to feed us. We had Nutella… much better, and it didn't need jam to make it good.
Peanut butter and jelly sandwiches were foreign to me (so was Weber's Bread). I went to school with salami on dark crusted rye bread- YUMMY, and I'd stare in wonder at my classmate's sandwiches…. peanut butter, bologna, American cheese… This was the 1970s…well before the current artisan bread movement. I got a lot of stares myself (along with comments like… "what the heck are you eating?")
Mom finally bought a jar of peanut butter when I was around 8 or 9… it must have been for a cookie recipe or something. Well, after using it for that one recipe, that 2/3 jar of peanut butter stayed in the kitchen cabinet for years. You see, no one wanted to actually EAT it… but my mom never threw any food away. Not ever. (She cut the yucky ends off of cheese, and we either ate the stale bread, or made bread crumbs). As far as I know, that jar is still in the back of the cabinet somewhere.
As I got older, and my circle of friends increased, I learned to eat peanut butter. Still, I only ever craved it once…(I was pregnant, and I also craved flat cola and turkey gravy, so… clearly not in my right mind.) Despite that, I have become a huge fan (or have I become huge because of my fan-dom?) of Peanut Butter Cups…mmmmmmmmmmm.
These Fudgy Peanut Butter Swirled Brownies have that flavor…gooey chocolate peanut butter goodness. The perfect treat for a bunch of active kids and a mom surrounded by the usual Chaos…
Fudgy Peanut Butter Swirled Brownie Recipe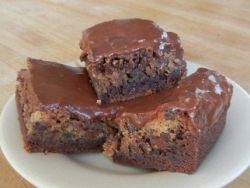 This brownie can be made with or without a chocolate glaze,  although I can't think why you'd make it without though….
If you prefer a cake-like brownie… add an extra egg to both the chocolate mixture and the peanut butter mixture, and substitute 1 cup of softened butter for the 1 cup oil.
Makes 1 9×13″ pan of brownies
Prep Time: 15 minutes
Total Time: 1 1/2 hour… including cooling time
Ingredients
CHOCOLATE BATTER
2 cups Granulated Sugar
1 cup Canola Oil
3 Eggs
2 tsp. Vanilla
1 1/2 cup Unbleached Flour
3/4 cup Unsweetened Cocoa Powder
3/4 tsp. Baking Powder
PEANUT BUTTER BATTER
3/4 cup Peanut Butter
1/3 cup Butter…soft
1/3 cup granulated Sugar
2 Tbl. Unbleached Flour
1 tsp. Vanilla
1 Egg
1 cup Semi-Sweet Chocolate Chips
Instructions
Heat Oven to 350 degrees Fahrenheit
Spray a 9×13 Cake Pan with non-stick stuff
In a mixer, combine the sugar and oil, mix until combined.
Add 3 eggs, one at a time, beating well after each one.
Scrape down.
Add Vanilla
In a bowl or mixing cup combine the flour, cocoa and baking powder.
Slowly (unless you like having flour tossed back in your face) add the flour mixture to the sugar mixture. Combine completely.
Now… spread about 2/3 of the chocolate batter into the prepared pan. (no… you don't need to be exact… this is brownies, not rocket science)
Put the rest aside in a bowl for a few minutes.
Peanut Butter Batter
In the mixing bowl (no, you don't have to wash it before starting this part… a little chocolate can only make the peanut butter better) beat the peanut butter and butter until smooth.
Add Sugar and flour, mix well.
Add Vanilla and egg… mix well.
Fold in the chocolate chips.
Spread the Peanut Butter Batter over the Chocolate Batter…. then spread the reserved Chocolate Batter over the top of the Peanut Butter.
Swirl a spatula through the whole pan… you just want to swirl, no blend.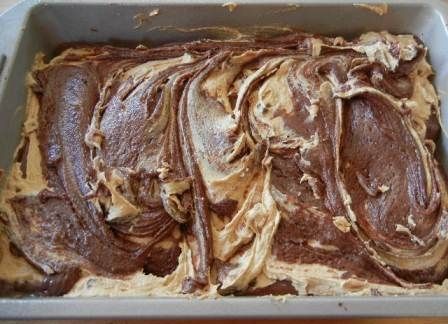 Put the pan in the oven… bake for 40 minutes.
It's a good idea to let the brownies cool completely before icing them…
Spread Fudgy Chocolate Icing over Brownies…let set, and then enjoy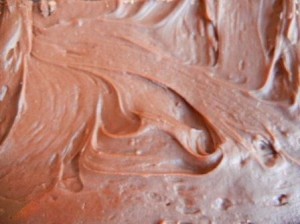 Brownie Icing Recipe
You can make this icing thicker or thinner by adjusting the amount of milk you add to the sugar.
Makes 2 cups
Prep Time: 15 min
Total Time: 15 min
 Ingredients
1/2 cup Semi-Sweet Chocolate Chips
3 Tbl Butter
2 2/3 cup Powdered Sugar
1 tsp Vanilla
4 to 5 tsp. Milk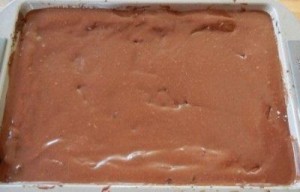 Instructions
In a saucepan, melt the chocolate chips and butter together over low heat… Stir to combine completely.
Take off heat.
Add Vanilla and Powdered Sugar… then stir
Slowly add the milk… stirring all the while… until smooth.
If you like your icing thicker… 4 tsp Milk should do it. If you like your icing looser and gooier, add more milk. Just keep stirring.
Pour over brownies… let set.
(How long? About 20 minutes if you want it totally set, otherwise, dig in to the goo.)