German Pancakes – Eierkuchen Goldgelb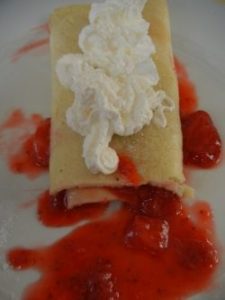 I love German Pancakes! They are a bit like a crepe… just a bit thicker. You can fill them with Sugar, Jam, Nutella, Berry Sauce, fresh Strawberries, the list goes on and on…. The batter takes no time to make in the blender, and keeps for a few days in the fridge. You can make the pancakes and store them in the fridge too.
They are the perfect way to start a busy day. And they are a staple for sleepovers at our house. My older daughter has even started making them herself!
I got my recipe from my mother… and my Oma… but since they use the "pinch of this" "bit of that" method, I translated this recipe from my favorite German Cookbook, the Dr. Oetker Schulkochbuch. Follow this link to get the recipe for German Pancakes.
Related articles across the web